It's hard to believe but Gwyneth Paltrow has recently turned 40. She is certainly one of the most fashionable women in show business and was recently named by People magazine as the best dressed woman of the year. I think she deserves that crown. Her style has been consistently chic and fashionable and she takes risks.
I have lately come to admire her more as both a style icon, but also as a mother and a fellow blog writer. It's hard to believe that a woman as famous as Gwyneth Paltrow with an equally famous husband (one of my favorite musicians Chris Martin) would want to share so much about her life in a personal blog / newsletter Goop, in which she shares details about her day to day life, the places she goes to and her health regimen.
In a recent interview for InStyle UK, carried out by Diane van Furstenberg she is described by her as a serious person that can be fun and frivolous too. I loved many of  Gwyneth's replies. Here are just a few quotes from the interview that I found very interesting.
From Gwyneth:
On the relationship with her father: " The reason I believe in myself comes from my father. I felt so understood by him"
On the success of her relationship with Chris Martin: "I would say it's because I focus more on understanding than on being understood".
On career and motherhood: "You make choices as a wife and mother, don't you? You can't have it all. I don't care what it looks like."
On eating the right foods and staying healthy: "I was very strict for a while. I was macrobiotic for a couple of years, then I got pregnant and just ate ice cream. What I've learned is I want to enjoy my life , and food is a big part of it."
On good hair: "It's simple: Good hair is good nutrition. And I leave my hair alone; I don't blow-dry it every day. I let it go frizzy and big.
On makeup: " I don't know how to do makeup well. At my core I'm a little preppy and a little irreverant, and together that makes me sort of not care (when not in the public eye). I'm more of a natural girl."
On turning 40: "I'm taking stock and really looking at everything. I'm trying to accept myself. There's a Rumi poem, "The Guest House," about welcoming in all aspects of yourself: the dark, the light, the jealous, the happy. Let them all in. But know that you're not defined by any single one of them.
From Diane:
"Your 40s are so young, but it's not the easiest decade. Fifties are better."
That's great to know. Something to look forward to!
Gwyneth Paltrow in ads
Gwyneth Paltrow defies the trend for super young models and celebrities to be featured in ads and was recently featured in high profile ad campaigns for Boss and Coach. She has also signed on as the 'creative inspiration' for makeup brand Max Factor and will be the star of a six month campaign. I'm sure we are going to see a whole lot more of her, as more and more brands embrace featuring 40+ women in their ads.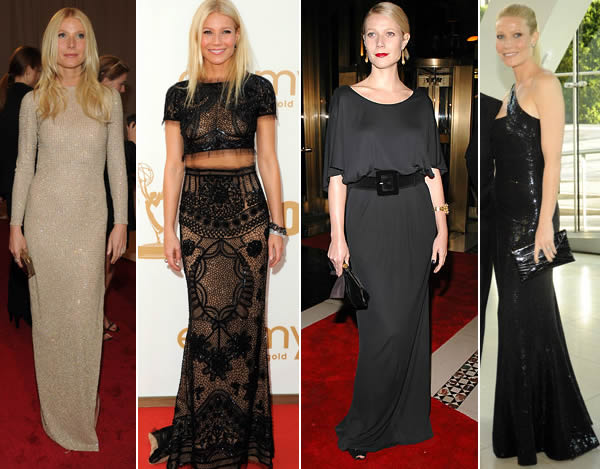 I think we will be seeing a lot more from Gwyneth Paltrow in the coming years!
What do you think of Gwyneth Paltrow's style?

Like this article? Save it on Pinterest!
Feature image by Vogue
Photos by Style.com
Want to get more articles from 40+style in your inbox, subscribe here.
You can also connect with 40+style on Facebook, Instagram or Pinterest.
Support 40+style by using the links in our articles to shop. As an associate for Amazon and many other brands, we receive a small commission (at no cost to you) on qualifying purchases which enables us to keep creating amazing free content for you. Thanks!