I recently bought  Lancome Renergie Lift Volumetry Volumetric Lifting And Shaping Cream SPF 15
, an anti-aging cream that promises to be an advanced lifting and shaping cream. I wanted to try something new and determine if a cheaper cream (as compared to my current favorites La Prairie anti-aging night cream and Skinceuticals Age Interrupter) is just as good.
What is Lancome Renergie Lift Volumetry
This lifting and shaping cream is part of Lancome's new GF-Volumetry range, which is a skincare range created to restore the balance of cellular communication factors (their words, not mine – not sure what that means..)  This cream aims to slim the jawline by redefining the facial oval and restore lost volume and remodel the cheeks. According to Lancome the cream transforms itself on your skin and leaves your skin light and soft silky and lifted. Those are big claims. Unfortunately, the description does not go into further explanation as to how this cream achieves all that. It is, however, exactly, what I need for my face, so I was keen to give this cream a try.
Ingredients
It would be nice if we were given some kind of description of how the ingredients in the cream accomplish the above mentioned goals. No mention is given on the ingredients in the brochure accompanying the cream, however, so I will need to look at the packaging. Only on the box, can I find the ingredients in incredibly small letters on a sparkling silver background. Is this cream not meant for the older ladies? Please note Lancome and many other skincare brands, that older ladies (like me) cannot read text this small! Below is an image where the ingredients are listed though.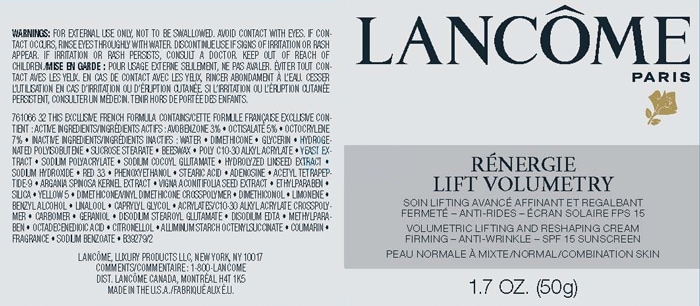 Here is an alternative  list of the ingredients though. It reveals that it contains dimethicone, a kind of silicon that may be responsible for more plumpness of the face. It also reveals that this cream has several ingredients that act as a sunscreen. This surprised me as there is no mention of this on the packiging and the sales lady that sold me this cream assured me that this cream did not have SPF and I could use it both for day and night.
My review
This is a very pleasant cream, that is easily applied to the face. It feels soft, but does not immediately absorb into the skin. This makes the skin a bit shiny which I don't like. It has quite a bit of purfume but it is not too strong and it never bothered me. It's hard to determine whether this cream has made my skin plumper. My skin DOES look plumper but since I have combined this cream with other creams and anti-aging serums + my daily supplements, it's hard to know who is the most responsible.
Conclusion
I think Lancome Renergie Lift Volumetry Volumetric Lifting And Shaping Cream SPF 15
is a good cream if you have dry skin and need additional moisture and volume. This cream adds volume to your skin but also tends to make the skin a tad shiny, especially if you live in a warm climate. So, I didn't love this cream as much as some of my other anti-aging creams, although I feel it does help make the face appear fuller than it is, which in my case is quite important.

Want to get more articles from 40+style in your inbox, subscribe here.
You can also connect with 40+style on Facebook, Instagram or Pinterest.
Support 40+style by using the links in our articles to shop. As an associate for Amazon and many other brands, we receive a small commission (at no cost to you) on qualifying purchases which enables us to keep creating amazing free content for you. Thanks!