2 weeks ago I was invited to the launch of a new TV show here in Singapore: Fit for Fashion.
Fit for Fashion is a reality TV series, sponsored by the GREAT Britain campaign, involving 12 contestants from a wide range of backgrounds who will face a series of fitness and fashion challenges that promise to push them to their limits. Over the show's 10 episodes, they will be guided and motivated by a team of celebrity judges which include Louise Roe (Host and British fashion journalist), Christine Bullock (Trainer), Mitch Chilson (Trainer) and Todd Anthony Tyler (Fashion Photographer).
The show is presented by Louise Roe whom those of you in the US and UK may know from the Style or E networks.
And here are 2 of the contestants. The lady on the right was sharing that she was very timid and insecure at the start of the show and that Fit For Fashion helped her become more confident about herself.
This was another Sylvia, looking very stylish in her fitted dress, who works for the British High Commission and was talking about another of their campaigns: Shopping Is Great (Britain) which aims to promote British designers here in Singapore.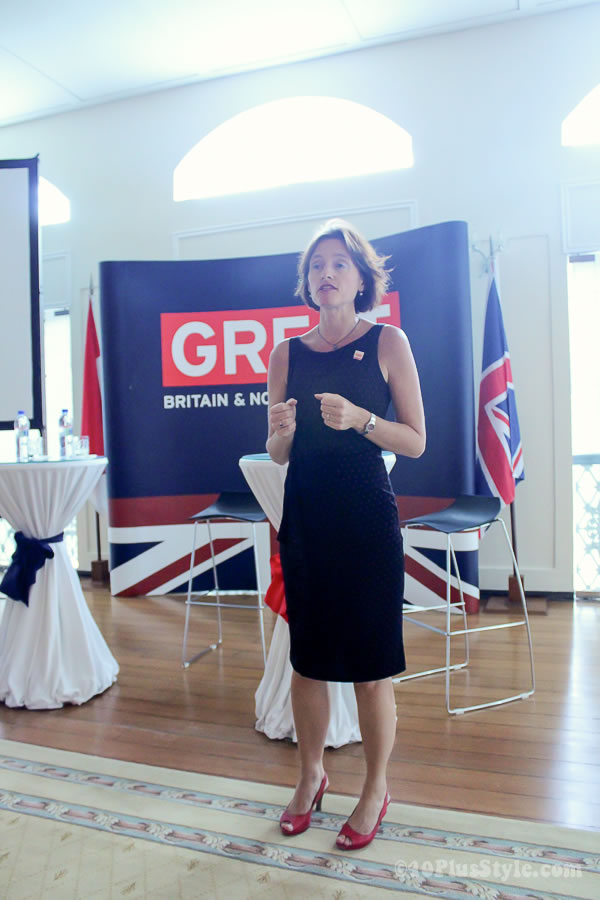 The launch was held at the beautiful residence of the British High Commissioner.
The house provided the perfect backdrop for some outfit photos! Anja was looking very colorful in a pretty flower dress.
I opted for a neutral look.
You may be surpised that I'm wearing short wide cropped pants! Don't I always tell you not to wear these as they make your legs very short? Yes, I did. But then again, I also tell you to break the 'rules' at your fancy, which I like to do on a regular basis.
I had spotted quite a lot of short wide pants on the runway and noticed the trend for culottes. These pants are a bit of a mixture of the two styles. I just could not resist the fun and hip silhouette they create.
Of course, you need to be careful of what you wear with them. They look best with a short fitted top, which still creates a 1/3 – 2/3 balance. A wider and longer top over them would just make you look huge. They are certainly not slimming and I have dubbed them my man repeller pants. Still, the few men that I asked their opinion, seem to like them, which surprised me. (Perhaps they were just being polite).
As mentioned these pants are not the flattering kind when you stand but wait what happens when you bend or sit down. These pants definitely don't look good when you are sitting but I will show you that on another day.
Fit for Fashion will air in Singapore from October 16 on the Starworld network. For more information, you can check out their website.
Outfit details:
pants and top: In Good Company
Shoes: Ecco (old)
Bracelet: Jewelry to your Doorstep (get up to 30% off with the code 40plus)
Watch: Bruno Nimaber
Have you recently broken any fashion rules? If yes what did you do?

Photos by Curly Traveller. She also wrote a (more extensive) post about the event.
Want to get more articles from 40+style in your inbox, subscribe here.
You can also connect with 40+style on Facebook, Instagram or Pinterest.
Support 40+style by using the links in our articles to shop. As an associate for Amazon and many other brands, we receive a small commission (at no cost to you) on qualifying purchases which enables us to keep creating amazing free content for you. Thanks!