Today, I present you with a guest article from Shannon, who loves to share the style and words of wisdom of her aunt Val. Over to you Shannon!
Hi everyone! It is an honor to guest post on such a seasoned, resourceful, and impressive blog! I am fortunate enough to be surrounded by some very stylish women over the age of 40 – one of those being my lovely Aunt! Here are some of her insights into dressing with style no matter what age you are! And you can catch more of my stylish Aunt Val on my blog, G.B.O. Fashion. Take it away Aunt Val!
How would you describe your style?
I'd describe my style as classic, colorful, and fun!
Where do you go for fashion inspiration?
I go to Pinterest and Redbook magazine for fashion inspiration. I always seem to find good things there.
What are the top three places you shop?
The top places I shop are Talbots, Nordstrom Rack, and Target. I also shop at Kohl's for jewelry and for items from the Vera Wang line. And when I want to splurge, I LOVE Tory Burch.
Do you take things like color profiling or body type into account when you dress?
Definitely! I've learned how to dress for my body type. I am also an interior designer, so I understand proportion and scale. I take those things into consideration when I get dressed.
Has your style changed at all after turning 40?
I used to dress more boho. But now, since being past the age of 40, my style is much more classic. However, I love to mix things up with lots of fun accessories. I also love bright colors, and I could wear a cardigan every day of my life.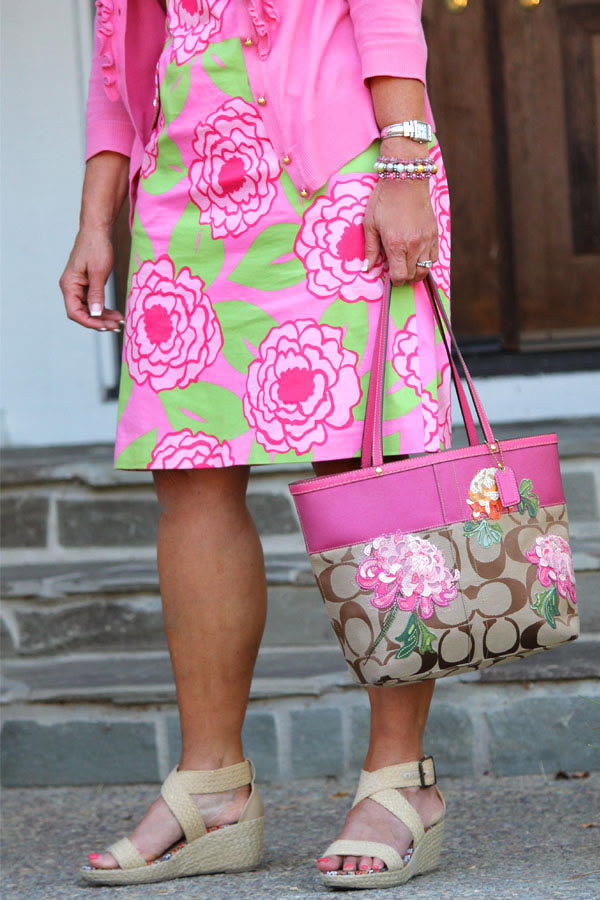 Do you believe in dressing 'age appropriately' and what does it mean to you?
I definitely believe in dressing age appropriately. I don't think that women my age should wear things that are too tight or that show a lot of cleavage. On the other hand, there's a tendency for women my age to wear clothes that are too baggy, which is very unflattering. I think dressing age appropriately is about understanding what looks best on you at whatever stage of life you may be in.
Do you follow trends? If so, what trends excite you at the moment?
Yes I follow trends, but only within the parameters of what is age appropriate. Trends that are exciting me right now are polka dot jeans, bright colors, animal print on shoes and coats, and riding boots.
Would you say that at this stage of your life you are now more, or less interested in fashion, style and the way you look?
I've always been interested in fashion, but I think I am even more interested in it now. Partly because I have more time now, and partly because I've learned a lot over the years about how to dress for my body.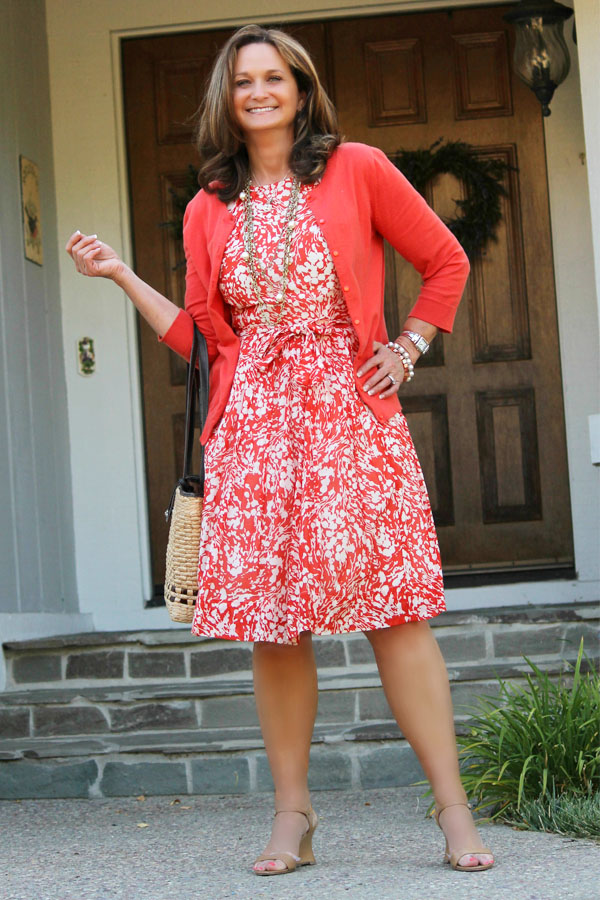 Do you have any fashion and style tips for women over 40?
Here is my advice for women over the age of 40: beware of wearing clothes that are too baggy, buy cute shoes, and get rid of the stuff in your closet from the 80's. Also, pay attention to other people who look good and try to identify why they look good. Finally, always wear one accessory less than what you originally had on.
What fashion or styling tips would you give to women who want to improve their sense of style?
Be confident. Learn how to dress for your body type. And dress to impress!
Thanks for having me 40-plus Style!
You are very welcome Shannon. Be sure to check out Shannon's style at her own blog!