When I heard that Madonna would be performing in Amsterdam, just as I was there visiting, I jumped at the chance to finally see Madonna live. Although I did not manage to get tickets for her first concert, I was lucky to score some for the second concert that she added on Sunday 8 July.
Of course I did not want to wear anything boring. Nor did I care if I looked "age appropriate" or not. I just wanted to look fun! So I had planned this bright summer dress for the occasion. Since it was rather cold that day I wore it over my skinny capris and paired it with some new shoes I picked up a few days ago from Hester van Eeghen. They are actually brighter than they look on these pictures and they have very fancy heels, so I will need to take some better pictures of the shoes for future posts.
I attended the concert with my 14 year old niece Nikki, who also sported some very fancy (and high!) shoes for the occasion.
But overall the general look for the concert was very casual and very often quite boring. There was a very varied audience which included many women from my age category. Clearly I wasn't the only one who remembered her from long ago! Below is a sample of the audience and what they wore.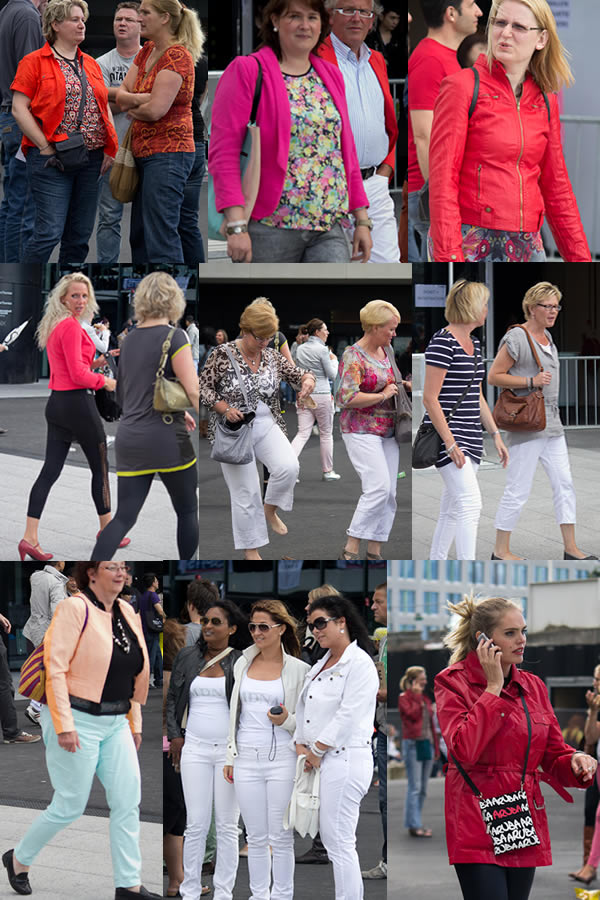 Although the show was planned to start at 7.30 pm, it was not until about 8.15 that the warming up act started. This was DJ Marin Solveig, known for his big smash hit "I just came to say hello". He played many current dance tracks and a few mixes of Madonna songs.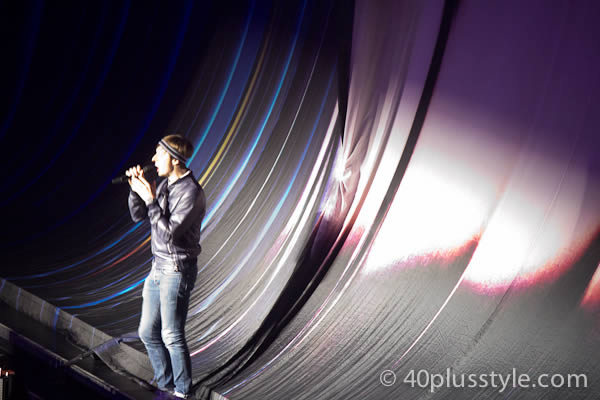 Madonna's concert did not actually start until 10 pm, by which time we were surely ready to be entertained. The show did not disappointed. It started with a lot of theatricals, featuring all the known themes like religion, sex and in this case quite a bit of violence. The show started with songs from her latest album that basically noone knew. Even I did not purchase her latest album which I thought was rather weak. The drama and dancers made up for that though and you were not bored for a second.
I loved the below version of Give me all your Lovin' which was wonderfully displayed.
After the initial set of songs from MDNA, Madonna played some of her more popular songs, including Vogue and Respect Yourself. The latter was mixed with Lady Gaga's Born this Way and followed by "You're not me", clearly signaling how Madonna's feels about Lady Gaga vertically copying her song!
Other highlights included familiar songs such as Like a Virgin, which was changed into a really slow version, where Madonna basically started a striptease. Like a Prayer got the whole stadium on their feet and it turned into a huge party.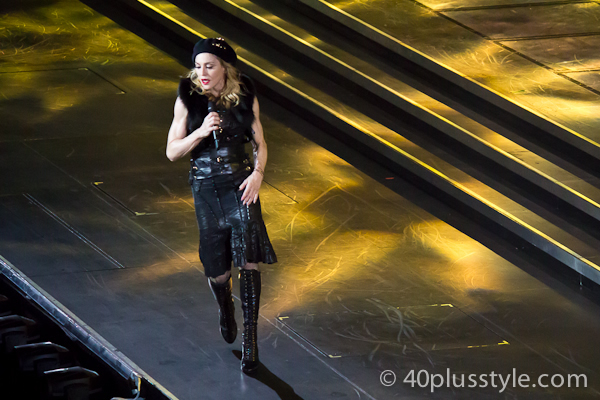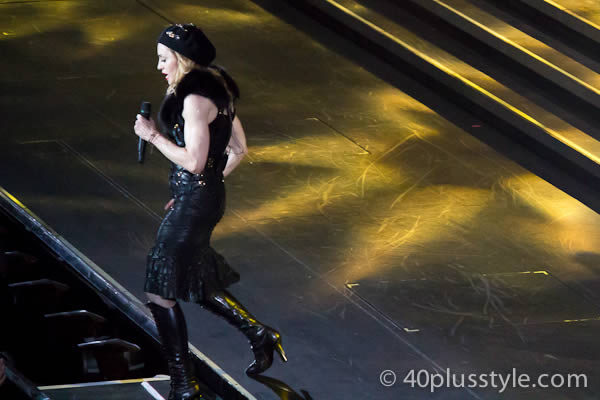 I was amazed by both Madonna's energy and appearance. I previously had a nice discussion on Madonna and how we are supposed to age at this site, so will not go much detail about that here, but suffice to say, that I personally am very impressed. I'm amazed that she still has the guts, energy and desire to present herself the way she does. I feel like hitting the gym a bit more after seeing this!
It was an amazing show and I'm happy I got to experience it live!
Do you still enjoy going to concerts?
Want to get more articles from 40+style in your inbox, subscribe here.
You can also connect with 40+style on Facebook, Instagram or Pinterest.
Support 40+style by using the links in our articles to shop. As an associate for Amazon and many other brands, we receive a small commission (at no cost to you) on qualifying purchases which enables us to keep creating amazing free content for you. Thanks!