When it comes to your accessories, your outfit is never really fully complete without them. But while accessories in other seasons may be purely decorative, for winter your accessories will be both practical AND stylish, keeping you warm while adding interest to your looks. Let's take a look at some of the best winter accessories to elevate your winter outfits.
I've partnered with Nordstrom to bring you all the best winter accessories from their Nordstrom made range of brands.
Why you shouldn't forget your winter accessories
While you may be considering how to stay cozy when the temperatures dip, there are plenty of reasons not to forget your winter accessories. All the options below are from Nordstrom Made brands.
Here are some good reasons why you may like to add winter accessories:
they Add color
Winter weather can be dreary so accessories are a great way to add a pop of color. You could, for example, choose a neutral gray or black coat and add color with a red scarf like the Nordstrom cashmere scarf (below).
winter accessories that Create warmth
Your accessories can be warm AND stylish. Add a scarf, hat and gloves to ensure you stay cozy. If you want to opt for the current trend of layering different shades of a neutral like cream and beige, you could try the knit cowl (below) and wear with a cream coat and sweater and tan boots.
Treasure & Bond Cable Knit Cowl
winter accessories that Add texture
The cooler months are a time when you want to stay cozy. Adding tactile fabrics can ensure you also add interest. Try faux fur, cashmere, velvet and leather. Or, you could add some texture and glamor with the sequin hat (below).
Nordstrom Gem Wool & Cashmere Cuffed Beanie
winter accessories that Add confidence
Accessories can really make or break an outfit. Adding carefully chosen winter accessories can make you feel great when you look in the mirror before stepping out. The cocktail ring (below) would be perfect to add to your little black dress for a night out.
Nordstrom Jade Stone Cocktail Ring
winter accessories that help you Switch from day to night
During the holiday season, you may be heading straight from the office to an event. No problem, just switch your scarf for a statement necklace, add a different pair of shoes and swap your tote for a clutch like the option (below) and you're good to go.
Nordstrom Jewel Clasp Minaudière
winter accessories that Make great gifts
It can be tricky to choose gifts for all your nearest and dearest, particularly if you don't know their dress size. Accessories can be perfect – as everyone fits a scarf! And they're easy to pack too if you are traveling to see loved ones during the holiday season.
Nordstrom has handily highlighted accessories that will arrive before Christmas so you can narrow your choices down if you're gift shopping.
You could choose a pair of lined leather gloves like the pair below.
Nordstrom Cashmere Lined Leather Touchscreen Gloves
The best winter accessories to choose – and how to wear them
Now, let's take a look at some more of my favorite winter accessories.
Cashmere and silk wrap
If you have an evening event to attend this holiday season, a cashmere and silk wrap could be the ideal cover-up over your party dress.
Nordstrom Cashmere & Silk Wrap
Statement earrings
If you want to add some oomph to an existing outfit, adding a pair of statement earrings will definitely do the trick. These silver earrings (below) would look great worn with a white shirt and full skirt, your little black dress or a pair of wide leg pants and silky top.
Open Edit Folded Metal Statement Drop Earrings
fedora
Do you usually wear hats? A fedora will add impact to your daywear looks and would look great with even the simplest outfits like a pair of jeans, sweater and wool coat.
Treasure & Bond Braided Band Wool Fedora
print scarf
If you are a minimalist and you don't tend to wear a lot of pattern, you could introduce some with your accessories.
Nordstrom Tissue Print Wool & Cashmere Wrap Scarf
beret
Another hat choice for you! A beret can make your winter outfits look extra chic. Pull down to one side for the most flattering effect.
cashmere cape
Layering is the perfect way to stay cozy during the winter months. Layer a cashmere wrap over a turtleneck or white shirt. A wrap is also ideal for traveling to keep you cozy on your trip.
Nordstrom Wool & Cashmere Cape
Dual strand necklace
Layering your necklaces is an on-trend way to wear them. The Nordstrom pendant (below) does the layering for you so you don't have to think about which of your necklaces go with each other.
Nordstrom Two Strand Pendant Necklace
Cashmere fingerless gloves
If you're working from home and like to stay cozy while using your keyboard, then a pair of fingerless gloves could be a good addition to your outfit.
Nordstrom Cashmere Fingerless Gloves
resin rings
Stacking rings is an on-trend way to wear them. The BP rings (below) all go together so you can opt to wear some on the same finger, or one on each.
BP. 5-Pack Multicolor Resin Rings
floppy hat
If you like bohemian style, then the floppy hat (below) could fit perfectly into your existing looks.
Nordstrom Wool Felt Floppy Hat
Light blocking glasses
If you use a screen of some sort regularly, whether your laptop, computer or other electronic device, you may suffer from eye strain. The square glasses (below) are not only on-trend, they help to block out blue light, minimizing the strain on your eyes.
BP. 52mm Blue Light Blocking Square Glasses
face masks
It goes without saying that you probably need a face mask, at least for some of your day-to-day activities. The print and plain facemasks below should match most outfits.
Nordstrom Assorted 4-Pack Adult Face Masks
Tiered necklace
The tiered necklace (below) is the perfect way to elevate your favorite top. Wear over a plain top to instantly add interest.
Halogen Tiered Bead & Stone Necklace
graphic tote bag
While you might usually take a smaller crossbody or other handbag with you, there are times when you need to carry a bit more. The graphic print tote (below) can be folded up into your handbag for when you need it.
Nordstrom Cristina Martinez Graphic Tote
a classic tote
A classic tote bag is always a good addition to your wardrobe and this one in vegan leather is very affordable.
lug sole loafer
These shoes combine a very classic model with super hip soles. You'll definitely make a statement with these shoes.
Open Edit Ellie Lug Sole Loafer
chelsea boot
One of the most on-trend shoes this season, this simple and super stylish chelsea boots will go with almost all your outfits this winter.
Caslon Miller Water Resistant Chelsea Boot
style your winter accessories
Combine some of the winter accessories above in one stylish look. Wear your leggings with a warm sweater dress and drape the cashmere cape over it. Finish off with a warm hat, leather gloves and add texture with a scarf.
Nordstrom Wool & Cashmere Cape – BP. Easy Crewneck Long Sleeve Sweater Dress – Zella Live In High Waist Leggings – Caslon Miller Water Resistant Chelsea Boot – BP. Faux Leather Classic Tote – Nordstrom Cashmere Lined Leather Touchscreen Gloves – Nordstrom Gem Wool & Cashmere Cuffed Beanie – Nordstrom Tissue Print Wool & Cashmere Wrap Scarf
Look just as stylish indoors as well as outdoors with this shirt dress and the best winter accessories. This look is simple and chic by combining 2 of the most classic colors for winter. If short booties are too cold for you, just replace them with long boots.
Nordstrom Signature Waterfall Lapel Double Face Wool & Cashmere Coat – Halogen Marbleized Long Sleeve Shirtdress – Open Edit Talulla Pointed Toe Bootie – BP. Faux Leather Classic Tote – Nordstrom Cashmere Lined Leather Touchscreen Gloves – Halogen Wool Blend Beret – Nordstrom Tissue Print Wool & Cashmere Wrap Scarf – Open Edit Folded Metal Statement Drop Earrings
shop the winter accessories above here
Want to read more articles related to winter accessories:
How to wear your sweaters with jeans
Which winter accessories do you wear most during the winter season? Let me know in the comments below.
Like this article on the best winter accessories? Share it on Pinterest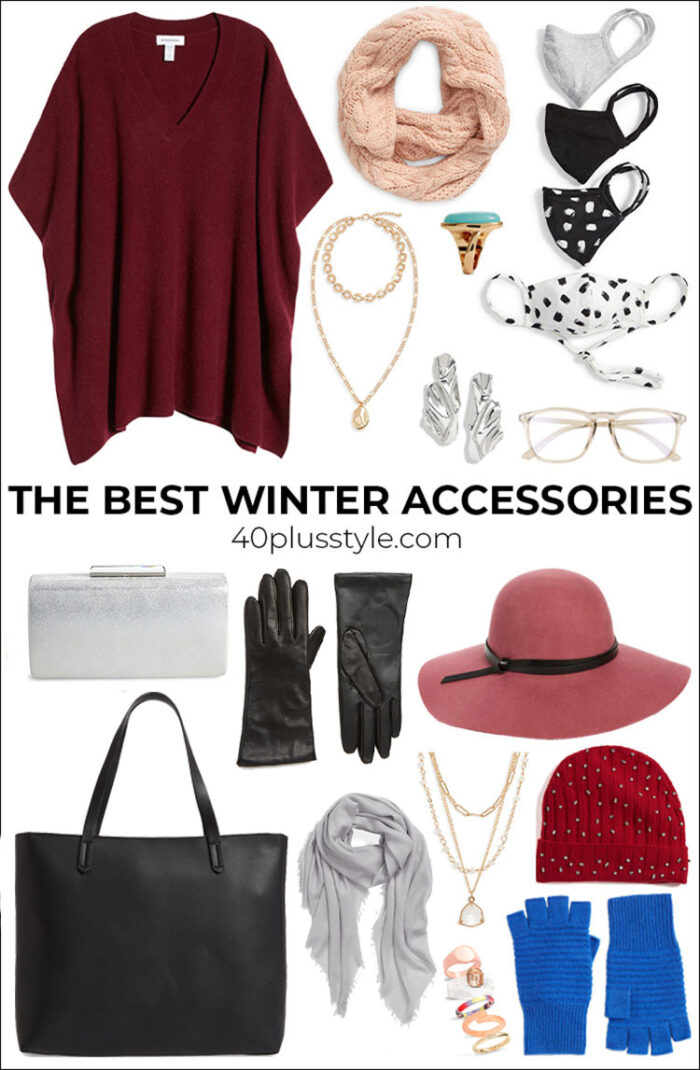 This article was sponsored by Nordstrom
Want to get more articles from 40+style in your inbox, subscribe here.
You can also connect with 40+style on Facebook, Instagram or Pinterest.
Support 40+style by using the links in our articles to shop. As an associate for Amazon and many other brands, we receive a small commission (at no cost to you) on qualifying purchases which enables us to keep creating amazing free content for you. Thanks!