Party season is approaching and you may have several holiday parties or christmas parties to attend.
So what should you wear?
There are several options and outfit formulas for holiday parties.
1. A dress
You can never really go wrong with a knee-high dress. However, it may be important for you to choose one that keeps you both warm and comfortable. A stretchy dress with long sleeves may be the way to go. If you choose one without too much glitter, you can wear it year-round!
If your party is a bit more formal or you want to add a bit more glamour, go for a lovely sparkly dress! Lace is also popular. Have a look at all the beautiful dresses from Tadashi Shoji, who has a great collection of party dresses.
For even more formal events, a long dress will be very chic and I have included a few options at the bottom of this article.
2. Pants and a beautiful top
If you are more comfortable in pants, then wearing dressy pants with a beautiful top is a great option too.
One big advantage is that you can mix and match both items so you could swap them around for different parties. Try to go for a top that is slightly more special. It may have a special shape or drape, a bit of sparkle or an interesting print or pattern.
3. A jumpsuit
I have never worn a jumpsuit but have seen many examples of women looking absolutely stunning in them. They are trickier to fit though and a good fit is essential for this look.
Keep your overall jumpsuit simple and add some special accessories.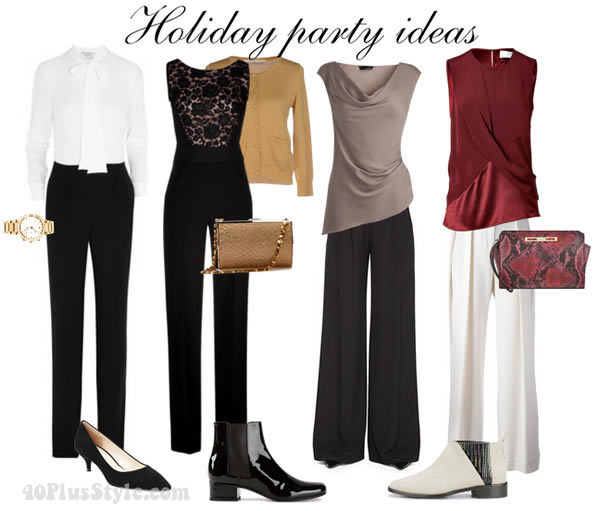 4. Pants, blouse and a beautiful jacket
Dressy trousers or good quality skinnies with a blouse and jacket can look very chic. An advantage of this formula is that it will keep you comfortably warm.
Play with silk scarves or beautiful accessories to make this look extra special.
5. Skirt and knitted top
Skirts are very hip this season. This may be a good option if you like to wear a knitted sweater. Combining a knee-high or longer straight or pencil skirt with a knitted sweater is a very fashionable option this season. Combine with closely fitting ankle booties.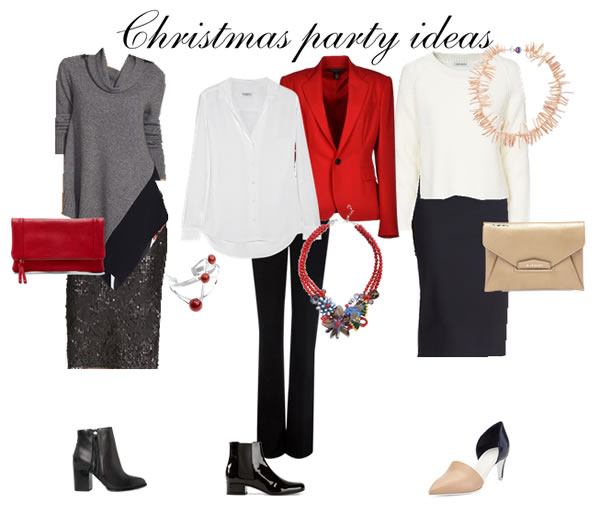 6. Keep your outfit simple and let your jewelry stand out
Another great formula for holiday parties is just to choose a simple classic look. It could be a black jumpsuit as described above or a simple black and white outfit.
Then choose a special necklace or stunning earrings to make the look special. This could be the time to get your precious jewelry out of your jewelry cabinet or make a statement with a bold necklace!
Some of the items featured above are currently available online. Where possible I have also selected some alternatives. Happy shopping or use as inspiration!

Have you planned any of your holiday party and christmas outfits yet? Which holiday party dressing formula appeals to you the most?

Any purchases from links in this article may generate commission for 40+ Style
Related posts: