What should I wear today? It's a question we all ask ourselves, whether consciously or subconsciously, every day before we get dressed.
But, if you are finding it difficult to decide what to wear today, then asking yourself a few more questions can really help you to make a choice you will be happy with.
Here are the 10 questions to ask yourself when deciding on today's outfit…
What is the weather like?
I know, I know, as a Brit, I'm obsessed with the weather. So, I'm going to make that my first question. There's nothing worse than feeling uncomfortable in what you're wearing, and it's hard to feel comfortable if you're too hot or too cold.
If you're heading out for a brisk walk on a windy, chilly day in the middle of winter, then you will want to make a warm coat your focal point.
Meanwhile, if you're busy coping with hot flashes, you're in the southern hemisphere right now or you're lucky enough to be vacationing somewhere warm, then you'll want to make sure the hero piece in your outfit is your sundress or a beautiful blouse, for example.
Image Source: Vogue
What am I doing today?
It goes without saying that what you are planning to do today will have a big impact on what you will wear. You're not going to wear the same outfit if you're heading into work as you would to meet your friends for lunch, to run errands or for a trip to the gym.
By dressing appropriately for the day, you'll feel confident to face whatever the day holds for you.
Of course, our days are usually filled with so many things. So you may have to think about making your outfit as flexible as possible. It may be that by adding a blazer to a pair of black jeans or pants, and a tee or blouse, that you can make your casual outfit work ready.
Or by packing leggings and a tank into your bag, you can fit in a walk, run or gym trip before you head home.

How can I add a bit of pizzazz?
If you're not excited by what you're wearing, then how can you expect anyone else to love it? You don't have to overcomplicate your outfit, or be dressed top-to-toe in sequins to add a wow factor.
Even a simple jeans and tee could be elevated. You could, for example, think about adding a pop of color with your shoes, picking up a leopard print handbag, adding a statement piece of jewelry, a hat or scarf, or simply finishing off your outfit with a slick of bright lipstick.
I love 40+ stylish Ruth Essex's suggestions here in her article on 5 tips to instantly improving your style. Number #1 is definitely something I need to give more thought to when shopping.
Image Source: Vogue
What kind of impression do I want to create with my outfit?
Whether we like it or not, we send a message to the world with the clothes, shoes and accessories we choose, and how we put them together.
If you leave the house without putting any care into what you're wearing, then that will show. Conversely, if you make an effort, you'll find that the way people react to you is completely different.
Think about what kind of impression you want to create. For example, do you want to look friendly and approachable?
Do you want to look powerful and confident? Do you want to look creative and interesting?
By honing in on the vibe you want to give out, you may well find your outfit choice changes.

Do I want to blend in or stand out?
I've talked above about thinking about what kind of impression you want to create. And, this often depends on what kind of mood we are in.
There's absolutely nothing wrong with dressing to fit your mood. It may be that you're having a day when you're feeling fairly introverted and you simply want to blend into the background a little and get on with your day.
We often choose pieces like our favorite cozy sweater for comfort, and a pair of jeans that we know fit.
But, you may be feeling ready to take on the world today, and want to show everyone else that you mean business. You might want to opt for brighter colors and larger pieces or jewelry, or a hat.
You may wish to read this thought-provoking piece on why we all like to blend in so much.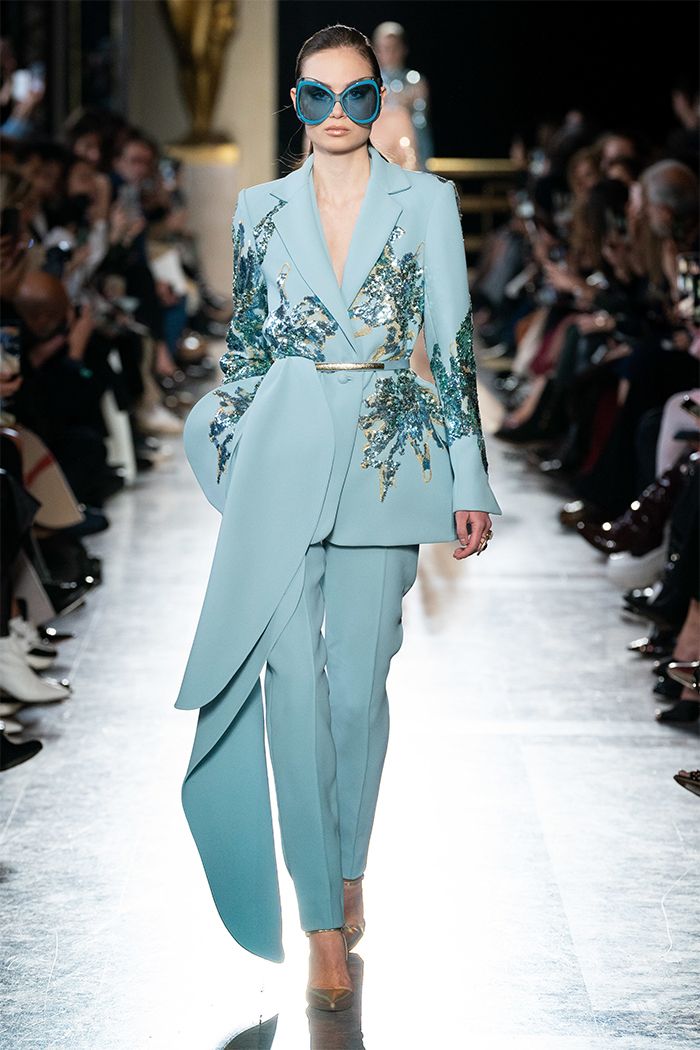 Image Source: Vogue
Does everything fit properly?
I've already touched upon making sure that you feel comfortable as well as stylish. As well as ensuring that your outfit is weather-appropriate, you will want to make sure that it all fits properly.
If you're constantly tugging at your skirt because you feel that it's too short, your buttons are gaping on your blouse, your waistband is too tight, or your shoes are pinching, then you will never feel good about what you're wearing, even if it looks good.

Am I on trend? Do I want to be on trend?
Often the way to elevate an outfit can be to use your own style as a base and then to perhaps add a piece which is bang on trend this season.
For example, you might want to add a circular bag, a belt or a pair of shoes with a statement heel. There's a round-up here on the trends to look out for in 2019 if you're looking for some additional inspiration.
But you don't necessarily have to be on-trend. By all means, think about trends and keep an eye on the runways. But, the most stylish women in the world dance to the beat of their own drum, rather than the rhythm set by the fashion industry.
Is this my style?
More important than thinking about whether you are trendy, is thinking about whether your outfit suits your own style. The more you understand about your style, the easier it will be to choose what to wear each day.
One way to truly discover your style is to join my course: 21 Steps to a More Stylish You.
@fashionsthebesttherapy
Can I take my jacket off?
I'm a huge blazer fan. I wear them with everything. While working in the UK, I simply added a striped or floral blazer to an outfit to add some impact to a pair of black jeans and a tee, or a pair of pants and blouse.
Because I met so many different people during my working days, I could be chatting to anyone from a chef in the kitchen of a new restaurant, or the CEO of a major company in the boardroom. Having a blazer with me meant I could instantly add formality to my outfit.
But, you do need to ensure that, if you're going to be taking your jacket off when you get to your destination, that your outfit still works without it.
Do I feel great?
I've left the most important question until last. Ask yourself: "How does this outfit make me feel?"
Do you feel strong, confident and energized? Does what you're wearing make you feel good about yourself? Does it give you an extra spring in your step?
If you walk out of your front door in what you're wearing, are you happy in your choice, no matter who you happen to run into while out and about?
If your stylish friend asks you to meet for coffee, will you regret what you've chosen? If your boss calls you in for an unexpected meeting at work, do you feel like your outfit is on point?
I've talked a lot about being comfortable. And, I do truly feel that's incredibly important. While, when I was younger, I may have put up with an outfit being too tight because I was worried about how I looked rather than how I felt, I think it's impossible now to feel uncomfortable AND confident at the same time.
However, having said that, see being comfortable as a necessity, but don't settle just for being comfortable. The same goes for dressing appropriately for the occasion, or for worrying too much about being on-trend. Think about it, but don't make that your focus.
The real test of an outfit when thinking about what to wear today is how it makes you feel. If you feel ready to take on the world, then you're ready to leave the house!
If you like help with any of these questions and want to make dressing yourself easier and fun, why not treat yourself to the 21 Steps to a More Stylish You course! Enrollment is now open but is closing soon!
What do you ask yourself when considering what should I wear today? Do you have any other questions you ask yourself before you choose an outfit?
Like this article? Save it on Pinterest!
Want to get more articles from 40+style in your inbox, subscribe here.
You can also connect with 40+style on Facebook, Instagram or Pinterest.
Support 40+style by using the links in our articles to shop. As an associate for Amazon and many other brands, we receive a small commission (at no cost to you) on qualifying purchases which enables us to keep creating amazing free content for you. Thanks!