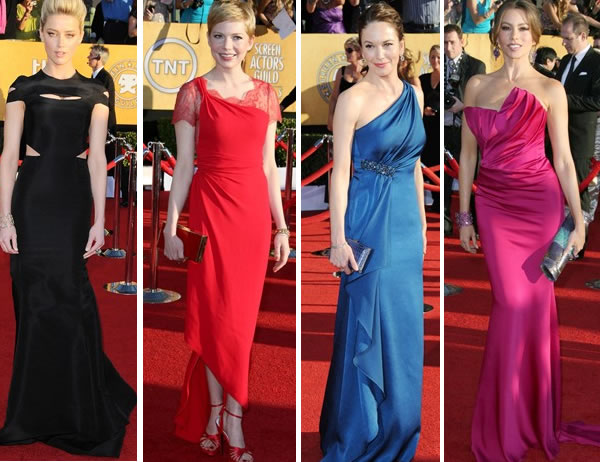 Interesting question from IFB and quite honestly, one I don't have an easy answer for. Of course going to the Oscars would be a dream, but there may be another important occasion that you may want to choose a dress for. There are many things to consider when choosing your perfect dress for something like the Oscars:
Do you want to stand out?…
or do you want to play it safe?
Do you want to be fashion forward?..
or do you want a timeless dress?
Do you want to be comfortable for the night?…
or do you sacrifice your comfort to look absolutely stunning and sexy?
Which dresses have you previously liked at lot?
Where to start? In this instance, I think it would be good to really know your style, and perhaps even your style statement, so you can fall back on what you know will be right. It also helps if you know your own personality. Would you mind if you ended up on the worst dressed list, even though you felt amazing on the night? Would your nerves cope? Would you be comfortable in a strapless dress or would you worry the whole night wether or not the dress will stay in place?
Ask yourself what is important to you
Let's take myself as an example here. Let's try to be honest.
1. Do I want to stand out? Yes, I would, but I am not sure if I have the confidence and nerve to pull it off. I'm tempted to go for a safer dress, perhaps timeless black and white?
2. But then again, I don't really want to play it safe either. This would be my time to shine, time to get noticed. The last thing I want to be, is boring.
3. Yes, I like trends so would want to be fashion forward, but I don't want to be a fashion victim!
4. It would be nice if my dress was timelessly beautiful. You never know, this may be my only time at the Oscars, and those photos will keep coming back forever. Better not choose something that will look awful in 3 years time.
5 / 6. Yes, I think I want to be comfortable. I think it would show if my dress were too tight, or I would be afraid if it stays on my body.
7. Have a look at some of the dresses I liked from the recent SAG awards.
Where to start choosing?
With those answers in mind, a good place to start, are the recent spring 2012 couture collections, which feature some fabulous gowns.
I like Chanel's dropped waistline dress which features a bit of color as well, but unfortunately, I would find it too dark.
I like their light blue dress as well, although it looks a bit too sweet.
I love Jean Paul Gaultier's simple tight dress, but it is a bit too bright and perhaps a bit too body hugging.
I like the color of the Elie Saab dress, but I think this dress would be too romantic and there is a little too much going on.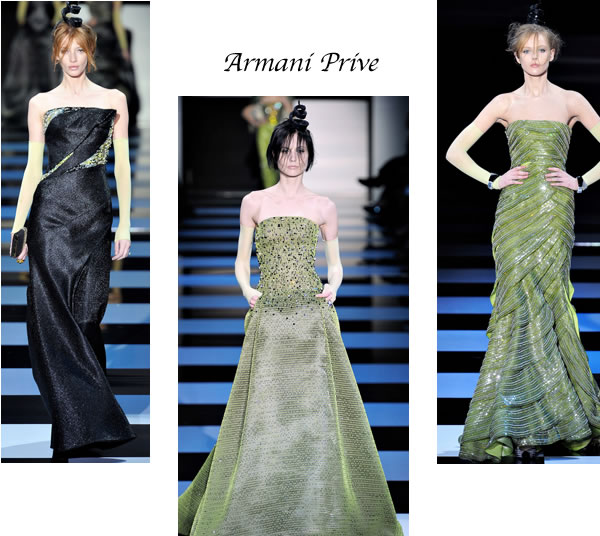 I really liked the collection of Armani Prive. I actually really love this color green (although I don't wear it much, it's featured a lot in the the decor of my house) and think that would be a perfect color to wear to the Oscars this year.
I really like the dress on the left, but would want it to be a bit more green.
I love the color and texture of the gown in the middle, but the cut is a bit too princess like.
The last is a bit too shimmery.
Not easy picking a dress! Nothing seems to be quite right.
What I would really want is the first dress with perhaps a bit more assymatry and one over the shoulder piece (for comfort as well), as shown in the picture on the left. I guess that if it were true that I would go to the Oscars this year, I would have to have a little chat with Mr. Armani. I'm sure that between the 2 of us, we could create the perfect dress for me to wear to the Oscars and I could accept my award(s) in style!
Now I would LOVE to hear from you. Have you ever thought about what you would wear to the Oscars? Have you seen anything from the collections that you would consider wearing? How would you answer the questions above?

Images from Style.com
Related posts: