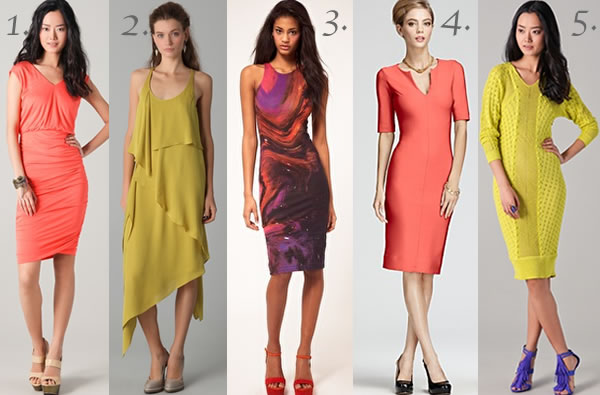 As mentioned in our Spring 2012 Trend report, Another wonderful trend this summer are the bright citrus colours. They are a great way for adding more colour to your wardrobe. But how to wear these bright, bright colours?
Wearing bright colours full on
The most daring way to wear the bright citrus colour trend is to buy a dress or a top in a bright colour. As you know I have recently experimented with a bright red dress (which is currently up for grabs in my stylish giveaway) and my bright blue dress. I actually felt I looked good in both, and wearing something in a bright colour really does lift your mood.
It also forces you to be out there, face the world head on as you cannot really act like a wall flower in bright clothes. I adore all the dresses from the image above, but the Max Azria's asymmetrical dress and Diane van Furstenberg's orange dress are my favorites.
Wearing bright colours as accessories
Another way to wear brights is to add them as accessories or just to choose one clothing item like a top. Great to combine with white for a more neutral look, or you can colour block with another bright garment. Colour blocking is still very much on trend as well! It's easy and fun and there are  just so many great bright accessories available in the shops right now. Above are just some of my favorites.
For more shopping ideas and bright dresses and accessories you can check out my shop.
So how bright will you go this coming season? Have you already bought some brights?