The weather is usually hotting up on Memorial Day so it's a great time to enjoy the Great Outdoors, and to gather with loved ones for barbecues and pool parties. But, the Memorial Day sales are also a great time to snap up a bargain for your summer wardrobe!
Here's a round-up of some of the best buys from the Nordstrom Half-yearly sale, which runs through to June 3.
Bags are always a great purchase in the sale. Because, unlike those yellow, polka dot flared trousers you bought because they had 90% off (apologies to anyone who really does own a pair of those!), you're likely to actually get some use out of a classy handbag!

The same goes for shoes as it does for bags. If you've had your eye on a designer pair for a while, now is the best time to buy them. If you're anything like me, you'll hang onto your shoes for a lot longer than you do your clothes, wearing them season after season. I've definitely got my eye on these DVF mules!

Another one of those purchases that should see you through summer after summer. Unless you happen to have a teenage daughter who wears them and promptly loses them, like mine does! There's 40% off top name designer brands like Prada and Fendi, so it may well be worth treating yourself! The Fendi glasses, for example, are down from $325 to $194, while the Burberry pair are down to $119 from $200!

I tend to see sale time as the chance to pick up a designer piece that would otherwise have been too pricey. After all, the designer pieces you invest in are likely to stay in your wardrobe for a long time. I'd wear this Isabel Marant shirt with cropped jeans and mules, and I really like the versatile shape of these Veronica Beard jeans.

A wardrobe classic
Sales tend to be the time when we make errors of judgement. We think those jeans are such a bargain that we'll buy them, even if we have to lose a dress size to fit into them. Or we buy pieces that don't go with anything else in our closets, so we never wear them. Rather than thinking about what has the biggest discount, think about what you will still be wearing a few seasons from now.
Sales are the perfect time to invest in some classic pieces that won't date! It can be hard to justify spending more than $500 on a top, but this Armani one is now just over $200. I really like the forest green of this peacoat for fall. And, it's only $37.90!!

Buy now, wear now
While the Memorial Day sales are a great time to pick up bargains for fall and winter – you'll find coats and boots in there! They are also a good time to pick up instant gratification pieces, particularly if you haven't had your summer vacation yet. There's swimwear, sandals, cover-ups and frocks on sale that you can wear within the coming weeks! One of the Miraclesuit swimsuits I've had my eye on is now in the sale. I'm hoping it may create the illusion of a waist!

Special event
I know I just talked about buying something you can wear now. But, the sales are also the perfect opportunity for a bit of forward planning. If you have a special occasion coming up, such as a wedding. Or, even if you just want to put something away ready for Christmas and New Year parties, there are bargains to be had on event wear! Some Adrianna Pappell dresses are down 50% from $150 to $75, for example.

Will you be treating yourself to something in the half-yearly sales? Do you have a strategy for bagging a bargain? Let me know what you get!!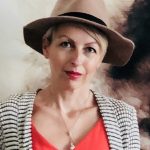 Author bio: Liz Hands is a fashion journalist and stylist from the UK who has styled fashion shoots for newspapers, magazines and high-end clients including 5* hotels and BMW. She's now happiest either blogging about style, or donning her favorite Barbour jacket and Brogini boots.
Like this article? Save it on Pinterest!