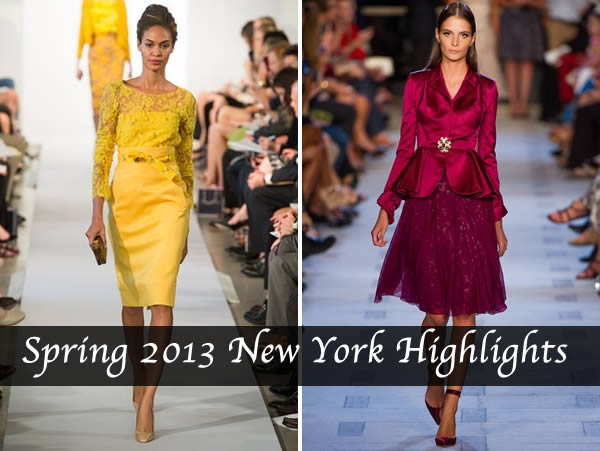 Some may find it confusing to look ahead at the spring and summer of 2013 when the new 2012 fall season is only just starting. But currently the fashion shows for the summer season are in full swing and it's always fun to know that the upcoming trends are going to be. If you want to refresh your memory on the current trends then you can always have a look at the current 2012 fall trends.
Another reason I like looking ahead, is that it is comforting to know that a certain trend is not too short-lived so you can safely buy something new and know that you can wear if for a whole year.
Plus, it's always great to look at the new creations of designers and be inspired by all the wonderful fashion. Use the inspiration to be extra creative with your fall outfits or just enjoy all the fabulous clothes. So here is my first round-up of the fashion shows. This week it is New York and I have selected all my favorites from the shows held so far with the best wearable looks for women over 40.
Narciso Rodriguez
Narciso Rodriguez had one of the best collections at New York Fashion week. Great colours and silhouettes, many very wearable for 40+ women. Although many designers opted for more pastel colours, I was pleased to see that Rodriguez had stronger colours.
Oscar de la Renta
I also like Oscar de la Renta's collection who showed a lot of very flattering silhouettes and some of my favorite colour combinations like black, white and yellow. The lady-like silhouette is still very much in favour here. And how elegant is the safari suit on the left with an eye catching belt!
Tory Birch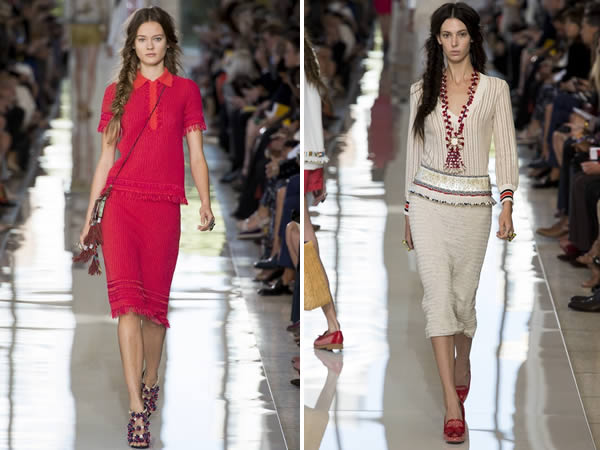 Although not really my style, Tory Birch presented a very wearable collection for women over 40. Very much inspired by tribal and african elements, her clothes were fun and seemed very comfortable.
Escada
Escada's collection was full of graphical elements, bright colours and black and white. Although there were also many neutral outfits in clean lines.
BCBG Max Azria
BCBG Max Azria's collection featured a lot of black and white and many graphical elements as usual. I love their unusual comfortable dresses with the top left one my absolute favorite. (loving the shoes too!)
Michael Kors
Michael Kors' collection was very graphical too which is right up my alley. Lots of stripes and my favorite colours green, red and white with some bright yellow thrown in as well.
New York presented a good start to the new spring and summer 2013 collections. I felt though that many of the current collections were very much a continuation of what we have seen the previous seasons. Not that that is a bad thing as I love the graphical feel of many collections and the strong colour contrasts. There were a lot of pastels to be seen as well, but I personally was mainly attracted to the collections that showed stronger colours. Other collections that I liked and were not included in the line-up above include: Vivienne Tam, Proenza Schouler and Donna Karan. I'm also really looking forward to seeing Calvin Klein who will show today.
All my favorites from the collections so far have been pinned to my pinterest board spring & summer 2013 trends, so be sure to have a look!
It will be exciting to see what London, Milan and Paris have in store for us. I will keep you posted.
What do you think of the new collections for spring / summer 2013 so far?

All images by Style.com