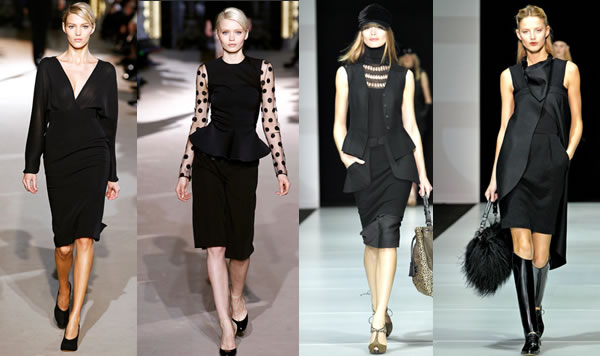 As I mentioned before in how to dress after 40, a little black dress is a classic asseet for every woman over 40. Although it was not that easy to find many good little black dresses (since there are so many colours in the collections!), I picked out some really stylish dresses AND ensembles that leave the same impression as a black dress.
The dresses and ensembles are very ladylike, many inspired by forties glamour and are perfect for us ladies over 40. If you want to look stylish and classy you cannot go wrong with one of the black outfits featured here.
Image above from left to right:
This Prada ensemble is not really a little black dress, but it exudes the same class and style. A bit of a plunging neckline for those that dare!
Stella McCartney's very chic combination with polka dot arms will give you a wonderful silluette that is just so chic.
There is quite a lot happening in Emporio Armani's ensemble and I love the total look which is a bit more sporty.
Another very modern dress from Emporio Armani with various lenghts and layers. Love it.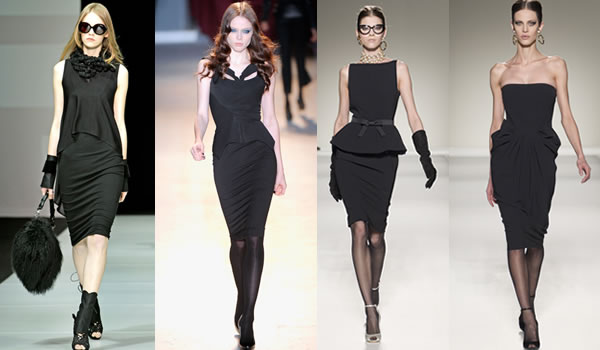 From Left to right:
Emporio Armani featured a lot of black in his collection which is why here is another from him. I think this would be a very comfortable dress to wear and I love this combination with small boots.
Zac Posen also opts for a very lady like style. I love the details at the neckline.
I absolutely adore this ensemble from Moschino. Tres, tres chic.
Not many strapless dresses this fall but this dress from Moschino is superb.
Did you spot a dress you really like? Which one is your favourite?