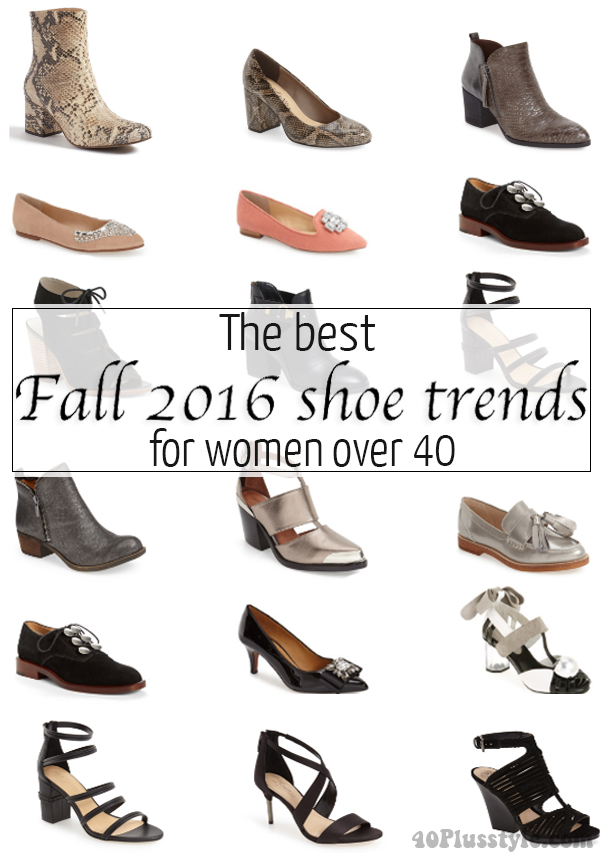 In a previous post on Fall 2016 trends, we covered 11 trends that came off the runways and easily translate into chic looks for the fall and winter months (many of them timeless enough to carryover season after season).
In today's post, we highlight 8 of our favorite chic shoe trends that continuously made themselves known across fashion houses during the Fall/Winter 2016 shows. From Miu Miu's out of the box embellishments to Anna Sui's subdued strappy heels, there is much to look forward to as the temperature begins to lower.
A walk on the wild side
The runways were filled with animal print shoes. While snakeskin dominated (from Givenchy's boots to J. Crew's loafers), zebra and leopard print were also heavy hitters. Find a style you are most comfortable with and achieve a great look by utilizing the print as a neutral.

Black and Strappy
From a single strap to multiple straps coming up the leg, black and strap-laden shoes were the new basic black shoe for Fall 2016. Take this look down a notch (literally) by selecting lower heels, booties, and flats that look even more visually interesting with the addition of strategically placed straps.

Blush Pink
Like a nude shoe infused with more color, blush pink tone shoes bring in a bit of light as the days begin to get shorter and colder. Make them stand out by pairing the light pink hue with a monochromatic look (like all black or gray), or create a complementary and intriguing look with a pairing against metallic and print pieces (like Oscar de la Renta's take on the look).

Embellished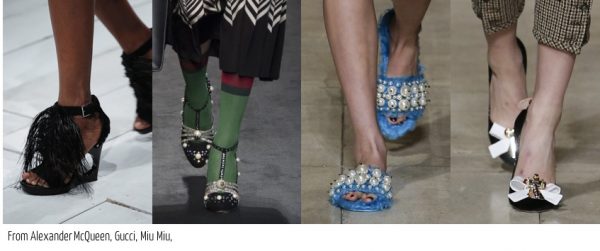 From a torrent of feathers to oversized pearls (Miu Miu style), over-the-top shoes were a big hit. They added extensive amounts of visual interest to looks and were a playful way to achieve a unique and chic look.
If too much ornamentation on the shoe doesn't work for you, consider a jewel encrusted heel or a few out-of-the-box elements on a shoe that take it from a basic flat or heel to a pair that draws a bit of attention.

All that glitters
Feet were glittering with all of the metallic interpretations for the Fall. From sandals to booties, metallics were quite visible. They tended to be favored by pointed toe styles of sandals contrasting with bright and fishnet stockings.

Pointed-toe
Yes, the pointed toe shoes is still on trend for the Fall and Winter. It's a shoe silhouette that is not going anywhere and has pushed brands to become more creative in what type of shoe with which they choose to incorporate a pointed toe.
Almost all of the key shoe trends seen on the runways had a pointed toe equivalent. Keep wearing yours, or select a pair you think you might get the most mileage out of (this is a trend that is not going away anytime soon).

Tough it out
It is always fascinating to see what boots will become the focus of each Fall season. In this instance, tough boots (from heavy metal embellishments to chunky soles) were the toast of the boot season.
Doc Marten inspired boots (such as Rag & Bone's offerings) to a more sporty Prada interpretation gave quite a bit of room for creatively incorporating the look into your wardrobe rotation.
If you're interested in a less severe interpretation of the look, go for a boot with a few visible metallic embellishments that toughen it up without being too overpowering.

Velvet
From shirts to skirts, velvet was a runway mainstay. Of course this would translate to the season's most coveted shoes as well. From flats (a la Kate Spade) to thigh high boots (like Anna Sui's), velvet shoes popped up in numerous interpretations of the material.

Shop all of the looks featured here below.

What are your favorite Fall 2016 shoe trends? What new trend are you looking forward to trying out?

This article contains affiliate links