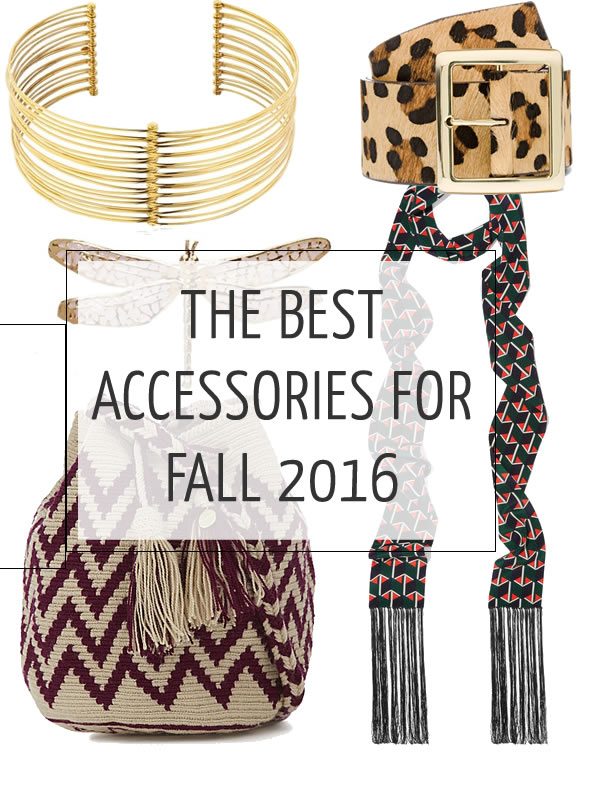 Accessories are absolutely key and were a big part of my style transformation. They can make or break an outfit and are a significant element of Fall 2016 style trends.
From classic pearls (which received creative makeovers across runways) to animal print belts, there are a number of playful and chic accessory trends to really take your look from drab to fab.
In today's article, we dive into ten trends we picked up from the Fall 2016 runways that are easy to integrate into your wardrobe (or simply remind you to dust off some items you haven't been wearing) and breathe new life into your look.
Pearls
The accessory mantra for fall and winter seemed to be an emphasis on drawing attention with classic pieces that had an extravagant and larger than life edge. Pearls definitely fell in this category as they graced everything from multilayered strands to gorgeous statement rings.
Maison Margiela showed a low key approach with a single strand (and other more raw and simplistic pieces).

Fur Scarves, Stoles, and Wraps
Fur was everywhere for Fall. One of the most decadent and classic looks, fashion houses presented a variety of fur scarves, stoles, and wraps. The flexibility of Banana Republic's stoles (from wraparound to effortless over the shoulder styling) were a very achievable approach to the style.

Earthy Pieces
With a boho chic foundation, a number of designers presented seemingly unique, raw, and earthy pieces with looks ranging from classic and refined to flowy and bohemian.
While large and bold necklaces (as presented by Givenchy) add an unexpected element to looks, less bold options (like Bottega Veneta's bracelets) were also a prominent option.

Animal Print Belt
It should come as no surprise that animal print belts play such a dominant role in Fall 2016 looks. Animal print shoes and clothing pieces (especially snakeskin) were quite prevalent on the runways, and belts followed suit.
Blumarine offered a more subdued approach to the trend which showcased its everyday appeal, while Jeremy Scott (and others) created a more extravagant and bold approach with the accessory.
For more tricks and tips on wearing belts, take a look at our article on how to wear a belt.

Showstopping Gloves
Gloves are always going to be a classic Fall and Winter mainstay. However, the slight edge to this look was the pairing of brighter and bolder hues (or supple brown leather shades) with a variety of looks (much like Oscar de da Renta's berry shade).
As the temperature begins to drop and you find yourself reaching for the gloves, I recommend our article on stylish ways to wear gloves.

Crossbody Bags
Another past season resurgence, crossbody bags are still on trend. They were made more appropriate for Fall with somber tones and heavier materials that showcased a more luxe and fall-ready approach. Sizes ranged from smaller bags to larger bags that carried more weight.

Statement Chokers
A carryover from the Spring, chokers of all styles made it onto the runways. Very much a throwback to the 90's, it seems that Fall designers took an even more extravagant and larger than life approach to the style.
They definitely were a statement making piece (although the more simplistic and raw styles from fashion houses like Maison Margiela offered a chic and understated approach to the look).

Scarves Galore
Another classic piece that received significant attention was the scarf. From a shorter silk knotted approach to extra long interpretations, scarves were a defining piece for bringing in a contrasting hue or print.

Brooches
Brooches appeared on numerous runways in a plethora of ways. From traditional pearl pieces worn on the lapel to more artistic and ornate pieces (like Luisa Beccaria's), brooches added a chic highlight to both casual and dressy looks.
Use this accessory to craft a unique look!

Duster Earrings
Very long earrings (that lightly or fully "dust" your collar and shoulder) provided some of the best craftsmanship when it came to jewelry trends for Fall 2016.
In line with the attention-drawing theme of Fall accessories, duster earrings can be either worn as heavy pieces or very light and thin pieces.
One helpful note when it comes to the duster earring trend: go with an unfussy collar. With the earrings length, a more complex collar could create opportunities for your earrings to both lose their emphasis and get caught (which is a very painful challenge for your ears).

For more on how to wear accessories I recommend my article on how to complete your outfits with accessories or my accessories course for a more customized approach to finding the best accessories to flatter your body shape and style.
What accessories do you have your eye on this fall? What are some of your all time favorite pieces?