Good news! Shopbop has just added a new wave of pieces to its sale. Plus, there are lots of designer items among there. It's the perfect opportunity to buy an investment piece for less.
It's easy to make mistakes in the sale – to pick up a piece just because it's cheap (not that I have any of those lurking in the back of my wardrobe, of course!). But, it's also possible to buy pieces which are truly timeless, and to choose quality items which you will love season upon season.
Here are 8 key styles I have my eye on in the Shopbop sale
1. A Diane von Furstenberg top
Like Sylvia, I had previously dismissed Diane von Furstenberg for creating pieces I didn't think would suit me. But, reading about Sylvia's new-found love affair with DVF persuaded me to take a second look too.
There are some very classy DVF pieces in the Shopbop sale that I can see myself wearing time and time again. I particularly love the print shirt with the contrasting piping and the blue and green stripe tee. But the gray sweater and white shirt are true style staples that can help to form a timeless capsule wardrobe.
Diane von Furstenberg scoop neck striped tee – Shopbop collared shirt – Diane von Furstenberg 3/4 sleeve sweater – Diane von Furstenberg pin tuck shirt
2. A pair of sneakers
Has anyone else become sneaker-obsessed this season? I was always a heels type of gal before moving to the countryside in the UK, where wellies were the order of the day.
Now that I'm in Singapore, I'm walking a lot more and wearing sneakers with everything! There's more sneaker style inspiration here in this piece on the best sneakers for women over 40.
Dazed sneakers – Shopbop star sneakers – Ash Nak Bis sneakers – Tory Sport ruffle sneakers – San rafael sneaker
3. Fancy summer shoes
A sale is the perfect time to buy quality fancy shoes!

4. A chic bag
These bags will add a bit of chic and hipness to your style.

5. A new vacation swimsuit
I always think swimsuits are a great buy in the sale. As, unless you're opting for one of those styles where there seems to be more cut out than there is material, they don't tend to go out of style, so you can use them year after year (just as long as you remember to rinse them properly!).
There are some good choices from the Shopbop sale, including Kate Spade and Stella McCartney pieces for under $200. You'll find more inspiration here on how to dress for the beach.
Heidi Klum cross back one piece – Tori Praver striped swim wear – Kate Spade scallop one piece – Stella McCartney striped one piece suit
6. A cozy cardigan
Not only am I thinking about summer, but I've also spotted some cozy cardigans and wraps that could be a good buy now to put away ready for the colder months.
I love long cardigans for creating a long, lean silhouette, and these ones have luxe detailing that makes them stand out from the crowd, including fringing, and the over-sized collar. I wouldn't normally spend more than $200 on a sweater, but Shopbop also has 100% cashmere knitwear at a discount, so I think it's worth splashing out.
Skin boucle rob – Cupcakes and Cashmere drape cardigan – Cashmere Crew side tie sweater – Brochu Walk wrap sweater
7. A timeless top
I know trends come and go. A few years ago, for example, cold shoulder tops weren't in fashion, and Bardot-style tops fell out of favor for decades. But I tend to think that pant-styles date quicker than tops. And, there are definitely some top styles which are truly timeless. A classic tee, Breton top or pattern blouse will see you through year after year.
Joseph crew kneck tee – Veronica Beard Jean mariner top – Velvet audrey star blouse – Joie star blouse
8. A new pair of pajamas
I always think sales are a great time to pick up a new pair of pajamas. After all, so long as you find a pair which are comfortable and stylish, pajamas really don't go out of style, so you can wear season upon season. The pretty wolf-print PJs from Three J NYC are a particular bargain as they are now reduced by 70%. There's advice here from Sharon on choosing the best pajamas for women over 40.
Splendid vogue pj set set – Three J NYC moss pj set – Eberjay maya pj jumpsuit – Cosabella ivory pj set
How about you? Do you love the sales? Will you be taking advantage of reductions to treat yourself? Let me know if you find a bargain you love!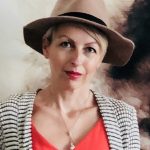 Author bio: Liz Hands is a fashion journalist and stylist from the UK who has styled fashion shoots for newspapers, magazines and high-end clients including 5* hotels and BMW. She's now happiest either blogging about style, or donning her favorite Barbour jacket and Brogini boots for a hack out on
Like this article? Save it on Pinterest!