2016 is here and designers have managed to come up with collections that breathe new inspiration to help us rework our old closet classics. 2016's inspiration is updated and modern 70s chic, so get ready to go slightly Boho, mixing it with some polish and a city vibe.
Here are the best 2016 accessory trends!
2016 Trend for Handbags – Keyword: Graphic
Designers showed a great collection of bags in all shapes and sizes on the runway for 2016. One repeating theme about these handbags that was quite striking was the graphics and patterns. Stripes, florals and patterns were printed on leather and other materials. Pattern and texture mix and match are essential–if you're not sure how to pull it off you can always check out the post How to Mix Prints and Patterns Like an Expert. And handbags are even easier to mix, since nearly anything goes.
2016 Trend for 
Glasses – Keyword: Rounded
Sunglasses have gone softer, more feminine and retro or vintage. Shapes are rounded and the frame colors are lighter and softer. Translucent frames in pastel colors like light blue, jade and the favorite trend color of light pink will soften your face.
2016 Trend for 
Scarves – Keyword: Skinny
Scarves have taken on a light, necktie look for 2016. They're long and sexy and can be wrapped or left to hang freely. Chloe really embraced the style.
2016 Trend for 
Jewelry – Keyword: Neckline
The trend for jewelry in 2016 is about enhancing the neckline. Long earrings called dusters that graze the edge of the neck and shoulders are hot. And you'll be seeing lots of chokers in store. Both these trends are far from subtle, so get ready to push your comfort zone to give this jewelry trend a try.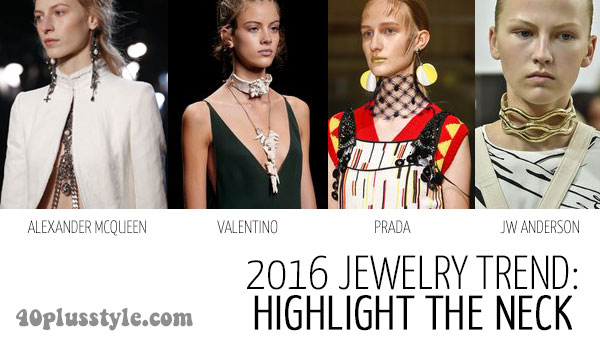 2016 Trend for 
Shoes – Keyword: Chunky
Platforms have taken on a chunkier, earthier vibe for 2016. Add a lace up tie to them and you are ready to own the trend! The lace up can be criss-crossed and tied as you wish. Designers and stylists showed the lace up look tied around the ankle to showcase your ankle and soften the clunky platform.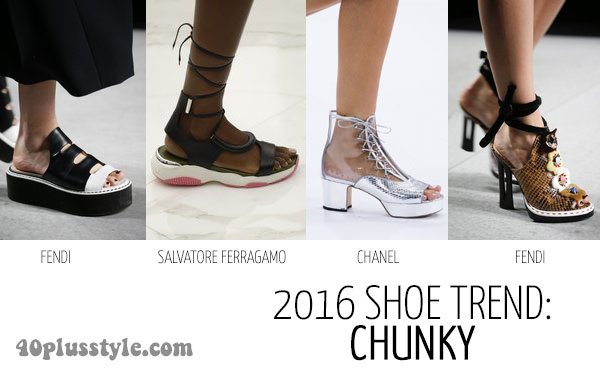 Accessories are the easiest way to look on-trend. You can find cheap and chic accessories that can elevate your wardrobe and give last year's outfit today's look by incorporating one or two or more 2016 fashion accessory trends.
Have you started to see any of these trends on the street? What is your favorite trend?
P.S. Do you want to learn a lot more about accessorizing and how to complete your outfits? Our style course Accessorize Me Confident & Beautiful is now open for enrolment!