First of all congratulations to Erin Low, who won the beautiful and colourful Asrey bracelet from my recent Jooix contest! I hope you enjoy your new accessory and feel free to upload a photo of you wearing it to our style forum! I will reveal the winner of my most recent contest for a red dress and contemporary bracelet tomorrow.
One of the books I've been reading on my recent detox retreats was The Essentials of Fabulous by Ellen Lubin-Sherman. I will write more on this book later, but one of the points she makes to look fabulous is to wear bold and interesting statement necklaces. As you know I couldn't agree more, so when I found these fabulous colourful necklaces from Karen London, I wanted to show them to you.
They are a great way to add extra colour and pizazz to your outfit and show your fun personality. They are all available online for purchase. Take for example this gorgeous Indian Gold Necklace which features an eye-catching, floral design with bright blue tones.
She also writes: "grow older and get wackier" , wear bolder accessories and more saturated colours. I agree. And what could be better than this totally gorgeous cuff? You will find that it will be a great conversation starter as well!
The following necklace is fun as well and features turtles.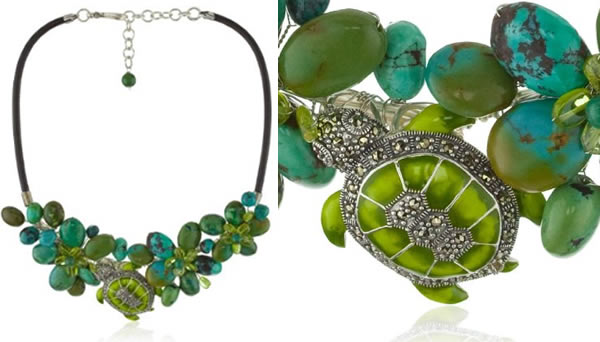 Last not not least is this rock turtle cuff bracelet. Elegant and fun and it adds the season's hit colour orange to your outfit!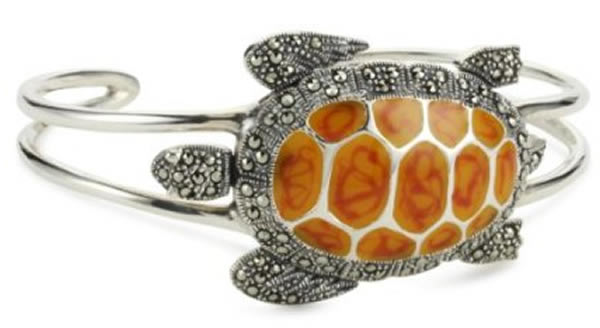 Would you wear this jewellery or is it too playful for you?