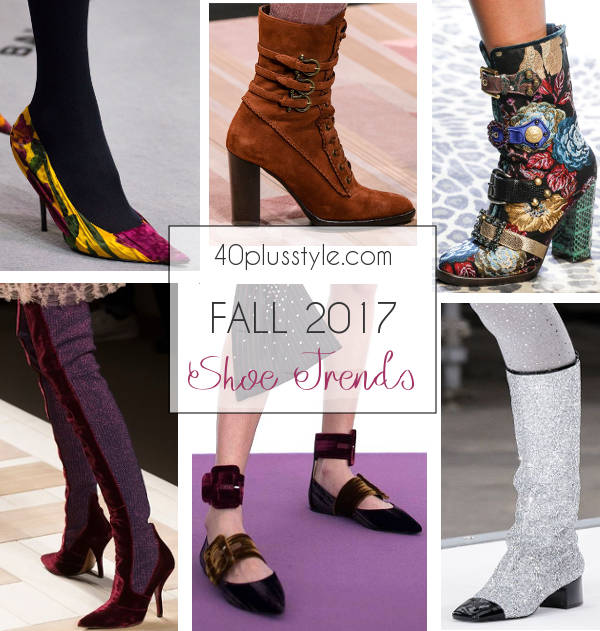 Designers made bold choices for their shoes and accessories for Fall 2017. High heels, ankle booties, pointy or square-toe shoes and high boots were the top trends.
Take inspiration from some of the most memorable styles, which I've rounded up for you in seven different Fall 2017 shoe trends, to add some fresh flavor to your every day looks.
1. Cowboy boots and booties
Americana was a big Fall 2017 fashion runway trend that included a mix of denim, patchwork, the Seventies and the western look. The cowboy boot sums up the trend. To look fresh and modern for this fall, choose a cowboy boot in an indigo blue, a floral pattern, velvet or some unusual and ornate detailing.
In stores now:

2. Velvet shoes, boots & booties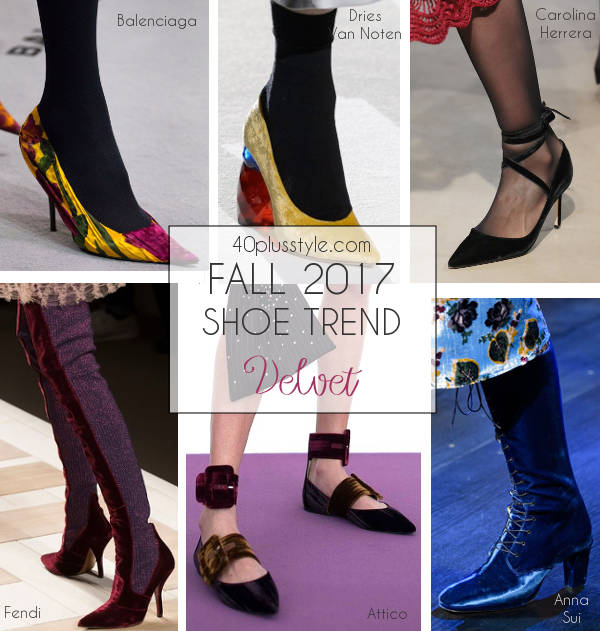 Nothing feels more fall season than velvet fabric. And you'll have plenty of gorgeous shoe choices in velvet this fall. Regardless of whether you choose a flat, heel, boot or pump, choose a richly colored or patterned velvet one to work into your fall everyday look.
In stores now:

3. Red footwear
Designers didn't deliver many bright colors or patterns for Fall 2017 fashion. The overall tones include earthy colors, denim and understated-hue plaids, tartans and florals. So how can you stand out from all the browns, greys and beiges? With a sexy red shoe. The new red works well with most tones and patterns to create a vibrant look.
In stores now:

4. Brown suede boots
Consider brown suede as the new neutral for Fall 2017. A brown suede boot adds polish to the Seventies florals, cords and denim looks. It looks great with the many indigos and reds. And it doesn't compete with the plaids and velvets that are so popular for fall.

5. Floral pattern shoes and boots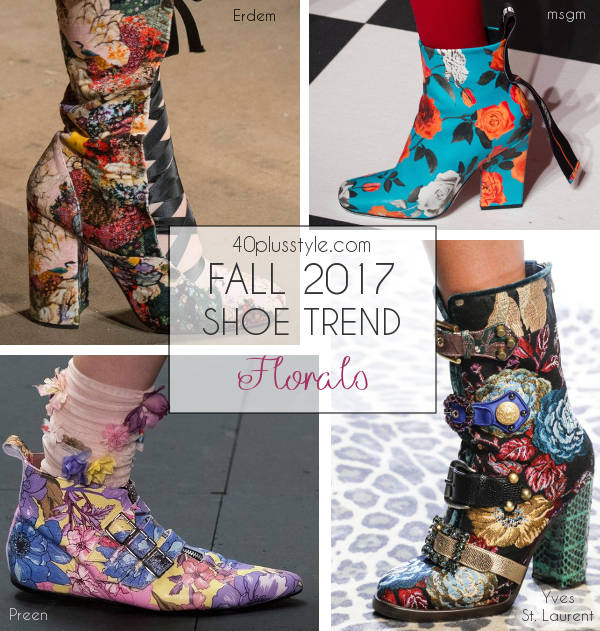 Couch florals, seventies flowers and exotic asian florals all have one thing in common: they're all in vogue for your fall 2017 footwear.
Most designers went over the top with their florals, layering floral shoes with floral socks and floral mid length dresses or skirts. You can mix many florals if you're feeling adventurous. Or simply wear an understated, monochromatic look with floral shoes as the exclamation point to your outfit.
In stores now:

6. The mule
For women who cherish comfort, you'll rejoice that one fall 2017 shoe trend doesn't demand that you stuff your foot into a pointy shoe or walk around in a sky-high heel. And that's the mule.
The flat slip-on doesn't have to be boring. In fact, choose one for fall that adds texture to your outfit with a rich pattern, some ornamentation or a contrasting color like white or red. For more on-trend mules, check out our previous roundup of some of our favorite mules in stores.

7. Sparkle and shine
It was hard to ignore this Fall 2017 runway trend. There was a lot of sparkle, sequins and glitz on the models' feet.
It's a great look for evening, but you can also add some sparkle to your daytime outfit by choosing a metallic shoe, or a shoe or boot with studs, spikes, metal hardware or a small touch of rhinestones, sequins or sparkle.
In stores now: 

Which of these 7 fall 2017 shoe trends will you try and what will you wear it with?

P.S. I just released the fabulous new Fall Capsule in the 40+Style Club! Create more than 84 outfits from just 15 pieces!
You will get style training on the trends, a complete shopping list (all items are currently available online), a 10 outfit challenge that will start on 16 September where you can (optionally) share your outfits with the community and a complete list of all 84 outfits that you can create from the capsule. As a bonus you will get access to all other style training in the club too!
You will also get to interact with the many other women of the club in the private member community. You can join the style club here.