Some really nice sales for you this week!
Net-a-Porter is having a clearance – hurry, hurry, while stocks last! Sizes are going fast!
J.Crew still has 50% final sale items, with an extra 30% off some items with the code DAYFIVE (although this ended on 26 June, J.Crew seems to have similar-themed codes on offer every week, so check in with jcrew.com to find out the latest codes (for the deepest discounts!).
Don't miss the Outnet sale – depending on the category (4th July, ALC brand, etc.), you will find items between 30% and 65% off.
Ninewest seems to have upped their sales game this week, with a Buy One, Get One 50% off (BOGO) offer for all shoes and handbags on the site, not just the items on sale.
SSense.com has a sale going on at the moment of up to 70% off, but again, hurry, because sizes are going fast! Shoes and bags seem to be well stocked for sizes, though.
Nordstrom's summer clearance sale officially ended on 28 June – but we've spied quite a few nice items still on sale, so take a look.
Saks Fifth Avenue is still running their sale of up to 60% on their high-end designer clothes, bags, and shoes.
If you're looking to refresh your look with some great jewelry (costume and statement), head over to Baublebar.com. For a limited time only, they have sales of up to 25% off certain items. I've included a great statement collar necklace in one of the looks below.
For chic investment pieces, head on over to Farfetch.com. Last week, they were running a 40% sale….well, now it's up to 50%!
Simply Soles has a great sale on shoes, accessories, and jewelry right now – I've seen discounts of up to 60% off.
A Relaxed Tailoring Look for This Week!
This week, I'm serving up some style inspiration based on a key trend emerging from the S/S 15 RTW shows – relaxed, loose tailoring. This is a look that has evolved from the evergreen trend of 'borrowing from the boys' tailoring, but is more relaxed, and less formal than we've seen before.
The focus here is on silky fabrics, a loose, flattering (but modern-looking) fit, and an overall aesthetic that is very feminine.
The core piece I've chosen is a silky, navy draped pant by Eileen Fisher ($136.80 in the Nordstrom sale, 40% off retail price). The silk here provides a beautiful draped effect to the harem-inspired pants, and end in a tapered ankle-length leg for a modern silhouette.
I'm going to be showing you three looks using the same pant – a business look, a casual look, and a night out look. A drapey silk pant is enormously versatile and can be dressed up or down, depending on what purpose you want it to serve – so I think it makes for a great core investment piece.
Look 1: Business
For a chic, minimalistic, 'clean' look that would suit a busy professional woman very well, I've paired the Eileen Fisher pant with a black silk-georgette cap-sleeve J.Crew blouse ($44.99, down from $88, a 49% discount) and a sleek, tailored sleeveless suit vest in maroon by Theory ($130 in the net-a-porter sale, 60% down from retail). The vest is loose-fitting but has a clean drape to it that skims past lumps and bumps, and just provides that sleek, modern look we are aiming for.
I've finished off the look with a silver statement triple-chain collar by BaubleBar ($22, a 42% discount) and a pair of sleek black Nine West Panatlas pointed-toe pumps ($69.99, at a 21% discount).
Look 2: Casual
In this scenario, I imagine a woman heading off for a fun day out with her girlfriends, perhaps visiting some antique shops or going to a new place for brunch. The vibe is casual and relaxed – but she still wants to look well put-together. The silky Eileen Fisher drape pant is still the core piece, therefore.
I've paired the pant with a light grey and white Breton top by J.Crew in a breathable linen and cotton blend ($25, at 50% off in the Net-a-Porter sale), a super soft cotton scarf by J.Crew ($34.99, almost 30% off retail – and with further cuts of up to 30% using the code of the week, for which check the site), silver/white Ninewest Hartbreak slip-on sneakers (now $49.99, over 43% off the original price), and a silver Triple Ring in hammered silver by BaubleBar.com ($18, which is 25% off retail).
The cool whites, silver, and grey tones work off the navy blue silk of the pant very nicely – it looks classy and laid-back at the same time. If it starts to rain, a lightly distressed or antiqued denim jacket would look great on top.
Look 3: Night Out
For a night out with the husband or with the girls, I wanted a look that was bold, a little sexy, but still smartly-tailored. So here I went for a bold red silk blouse with lapel details that kind of mimic the loosely tailored look we see in the pant, and added a shiny red pump (for chic sex appeal), and a minimalist a pewter clutch. The look is not too "done" or "fussy". But it still manages to be sexy and pulled-together.
The red silk blouse is a Lanvin red silk draped top from the Farfetch sale – and a bit spendy at $490, but since it represents a 60% saving from the retail price of $1,225, I think we can just about file it under the category of 'Investment Piece'. And to be fair, it is a beautiful investment piece. It will pair wonderfully with a black cigarette pant, jeans, pencil skirts, and silky culottes.
I've added a chic pair of patent Andriana pumps from the Ninewest.com sale (in various colors, $49.99, down from $79, for a total saving of 36%), and a light pewter Python Embossed Iridescent Minaudiere by Glint ($46.80 in the Nordstrom sale, at 40% off). A chunky silver bangle or a wrap-around leather bracelet would be a great finishing touch to this outfit, if you care to accessorize.
If you like the items featured in this post and are interested in similarly-themed items, you might like to shop the items below.

So that's how I'd dress this core piece of clothing – the silky draped pant by Eileen Fisher – to suit three different occasions. How about you? Do you borrow tailoring ideas from the boys, and if so, how do you wear it? Do you try to find ways to feminize the look, or do you try to keep the boyish theme going in your choice of accessories, outwear, shoes, and so on? I'd love to hear from you on this!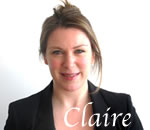 Claire Vukcevic is a mother of 2 who is passionate about fragrances and how it relates to style. She contributes articles on fragrance, style and dressing to 40+Style. She currently lives in Ireland.
Related posts: