If you leap out of bed, only to want to leap back in again because of a stabbing pain in your heels, then you may well be suffering from Plantar Fasciitis. In this article, you will find the best Plantar Fasciitis shoes for women to stay stylish AND pain-free.
Read on to find out what to look out for if choosing shoes for plantar fasciitis, along with some of the best options in stores now for plantar fasciitis sandals, flats, heels, sneakers and boots.

The good news is that beauty, or fashion, as the saying goes, does not have to be painful!
There are plenty of Plantar Fasciitis shoes available which offer support without looking ugly.
No one will ever know that you're wearing heel or arch support shoes.
What is Plantar Fasciitis?
First of all, what is plantar fasciitis, and could you be suffering from this condition? A common foot pain problem among runners, plantar fasciitis also affects many of us as we hit middle age because our feet naturally start to widen and flatten, putting extra pressure on the ligaments in the foot.
Your feet are also places where you start to lose some padding (if only we could remove some 'padding' from elsewhere and put it in our heels!) so your heel bone isn't as well protected as it was when you were younger.
Do you need plantar fasciitis shoes?
While plantar fasciitis shoes won't cure the condition, they can help to avoid further damage, so it's definitely worth investing in a pair to safeguard your long-term foot health. You'll find some of the best plantar fasciitis shoes for women to choose from below.
How to choose the best shoes for heel pain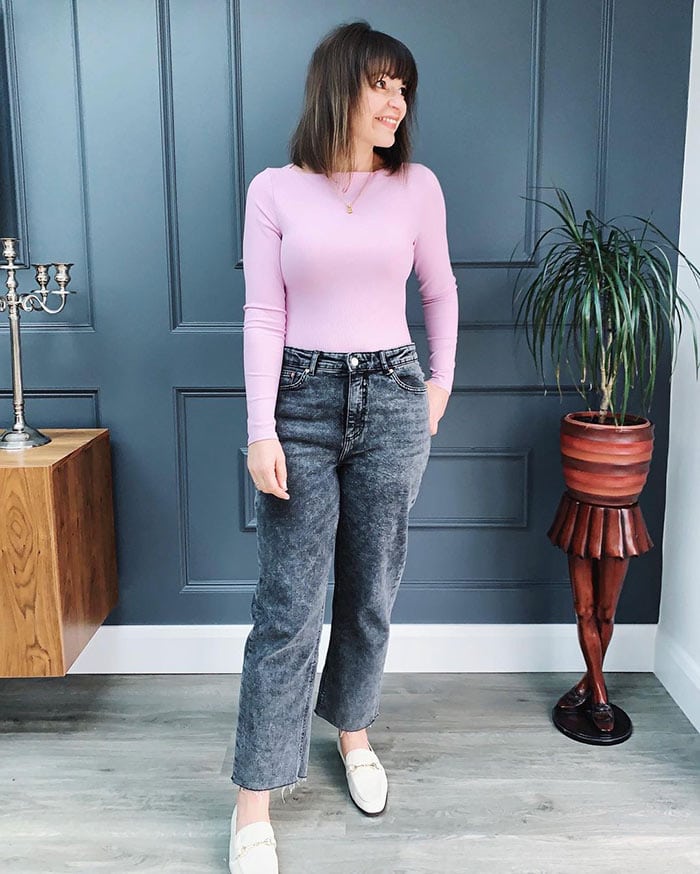 Podiatrists have even coined the term shoe-icide when they talk about wearing ultra high heels.
Stilettos are a big no-no if you suffer from Plantar Fasciitis as they raise your foot arch to an unnatural angle.
But, flats are equally problematic when it comes to choosing the best plantar fasciitis shoes for women.
They offer no support for your arches so your Plantar Fascia (the tissues in your foot), can't distribute your weight and movement properly.
Lizzi (above) wears a stylish pair of loafers. If you opt for similar flats, look out for a pair with arch support.
Recreate her outfit with this similar pair of loafers, top, jeans and necklace.
For more inspiration check out our article on what shoes to wear with different styles of pants.
What to look out for when choosing shoes for plantar fasciitis
There really is no one-size-fits-all because everyone's feet are unique.
However, these are some things to look for when searching for comfortable shoes if you suffer from plantar fasciitis. Let's take a look at a quick checklist when looking for the perfect plantar fasciitis shoes for women.
Good arch support
A heel with a broad base, rather than narrow heels, to absorb movement. Take a look at these comfortable heels
Removable insoles so you can use them if they work for you and take them out if they don't
A deep heel cup to keep your heel in the correct position
Cushioned footbeds to offer comfort and keep your foot where it should be
Heels of no more than two to three inches (no stilettos!)
A shoe which offers a rocking motion to reduce heel stress. Fitflop shoes are a classic example which rock to absorb stress. Plus they now come in many more styles than flip flops.
Shoes for heel pain – What to wear to get Plantar Fasciitis support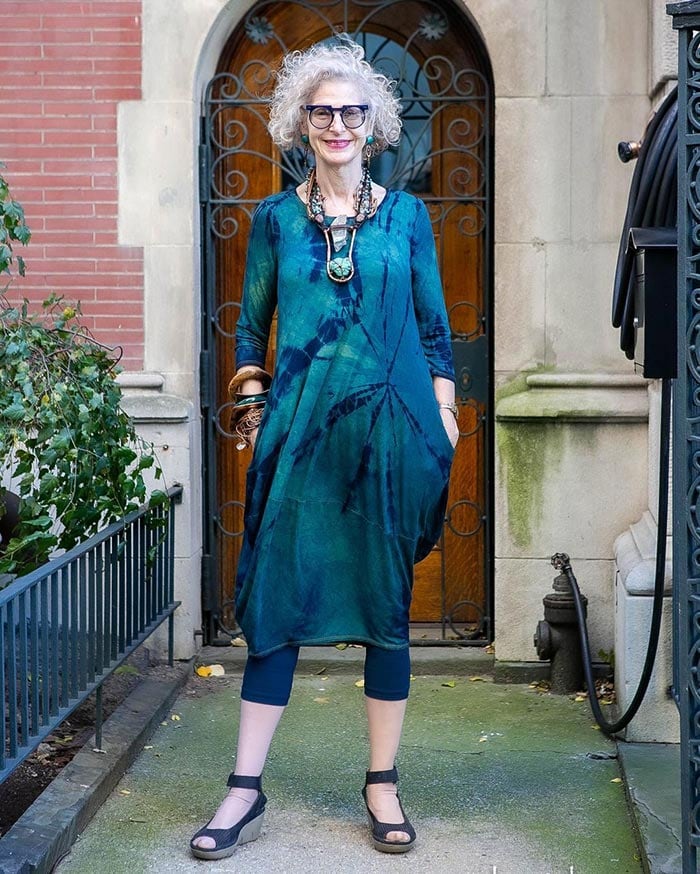 Okay, so you can't wear high heels and you can't wear flats! So what can you wear if you need Plantar Fasciitis footwear?
Shoes which offer good arch support are vital.
While everyone's foot shape is different and you may have to try a few before you find your favorite brand, there are now lots of arch support shoes which look trendy.
Below you'll find my favorite shoes for Plantar Fasciitis.
But, don't forget to tell me what your favorite shoes and brands are in the comments.
I also wanted to mention that we have a separate article on arch support shoes as well, which includes a complete roundup of all brands that offer arch support shoes.
Dayle (above) wears a pair of wedges that would be ideal for offering plantar fasciitis support.
Steal her look with this similar sandals, dress and leggings.
Good shoes for plantar fasciitis
There are so many stylish arch support shoes available nowadays and they really don't look any different to 'normal' shoes.
It's often advisable to start to look at comfort shoes even before you suffer any foot pain, as a preventative measure.
You will find that same plantar fasciitis shoes your friend swears by simply won't work for you so you may have to try a few before finding the brand which best suits your feet.
Sandals for plantar fasciitis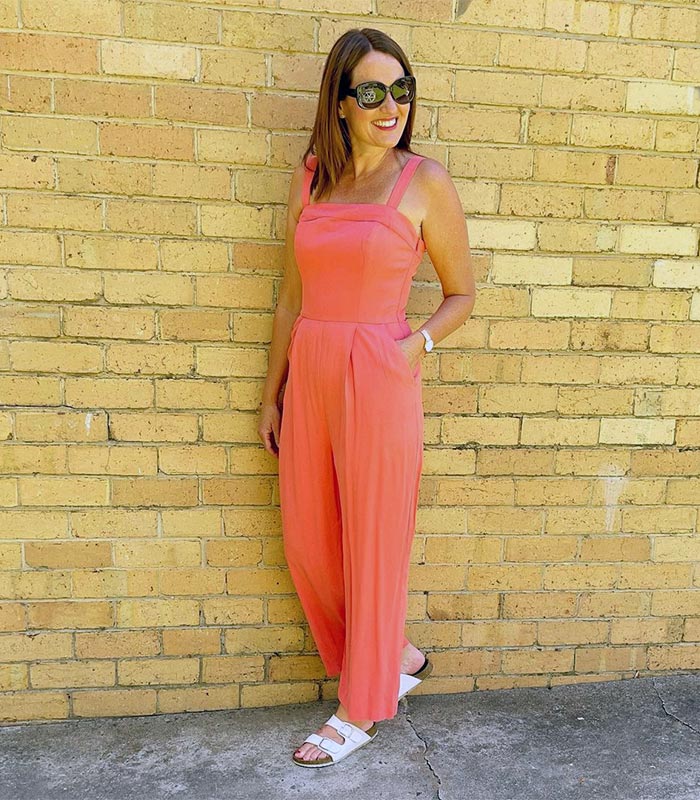 Just because you suffer from Plantar Fasciitis, that doesn't mean you need to miss out on the latest sandal trends, either for evening wear or for warmer weather (depending on where you are in the world).
Thankfully, arch support shoes are a lot hipper these days and comfort sandals incorporate the latest trends including chunky soles, metallics and gladiator styles.
Karen (above) wears a pair of Birkenstock sandals with her lovely coral-colored jumpsuit.
Complete recreating her look with this similar jumpsuit and sunglasses.
1. Birkenstock
Birkenstock's like the slide sandals (below) are often recommended for anyone suffering from foot problems such as plantar fasciitis as they are moulded to offer foot and heel support.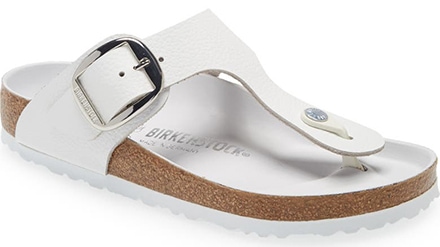 Birkenstock Gizeh Big Buckle Slide Sandal
2. Kork-Ease
Another good brand to try is Kork-Ease as the cork soles offer support and mould to the shape of your feet.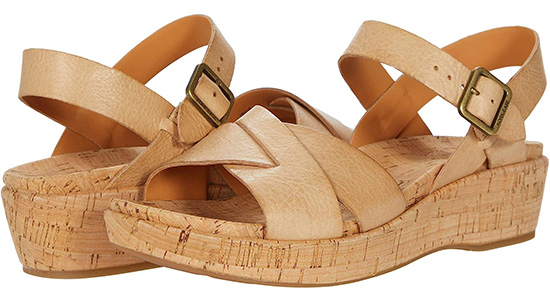 3. Cole Haan
For a minimal style that offers support and will go with everything, how about the Cole Haan flats (below). They have a cushioned insole for shock absorption.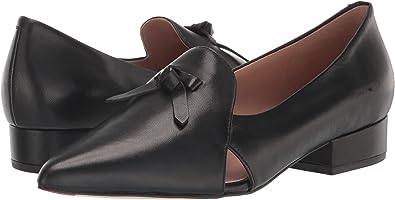 Cole Haan Viola Skimmer Ballet Flat
4. Söfft
If you're swapping your booties for sandals for the spring and summer season, the Söfft Mirabelle sandals (below) has a cushioned footbed, and the adjustable straps mean you can alter the fit to suit your feet and ankles.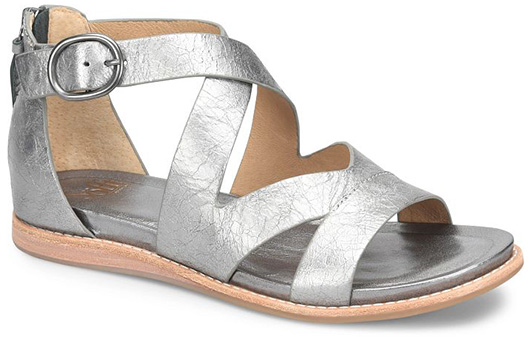 5. VIONIC
To add a little edge to your summer outfits, you could try a pair of textured sandals like these one from Vionic (below). They would look beautiful to add a pop of color to your white jeans.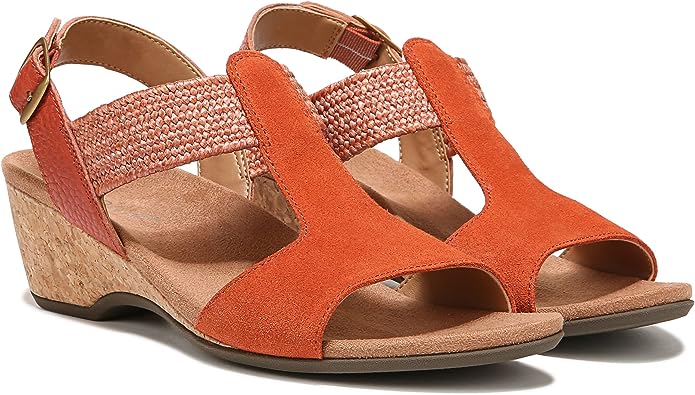 6. aetrex
If you like the look of flipflops but find they don't offer you enough support, another good option could be a pair of minimalist slides. The Aetrex slides (below) have a footbed that is anatomically designed for support and relief.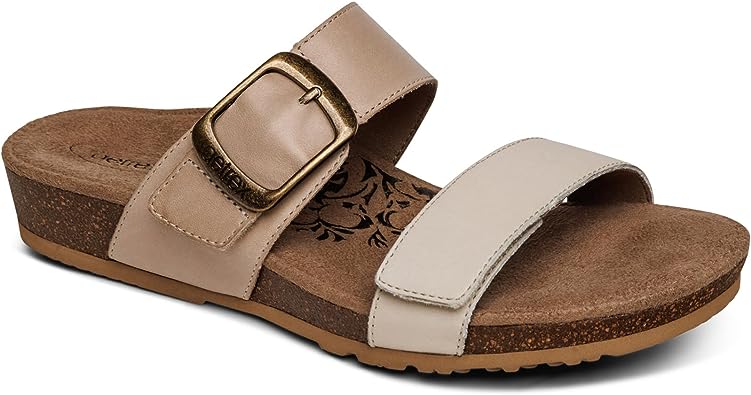 7. Gentle Souls Signature
A pair of wedges is always a stylish option when the weather starts to warm up. The Gentle Souls wedges (below) have cushioning and come in a wide range of neutrals colors.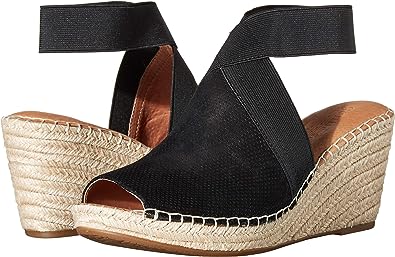 Gentle Souls Signature Colleen Wedge Sandal
9. bernardo
With flipflop styling but additional support, Bernardo's Gala sandals (below) have a small stacked heel which you may find offers you comfort if you have plantar fasciitis.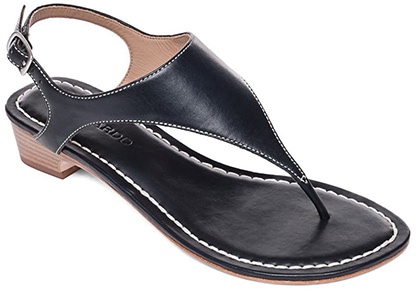 Plantar fasciitis shoes: Flats
I know! I also said flats were also a no-no. But, these aren't just any flats.
Below, you will find flats with arch support and cushioned insoles which will provide more support than a normal flip-flop or sandal, for example, making them a great option if you have plantar fasciitis.
If you do opt for flats, you will need to make sure they have great arch support and heel support.
A great look featuring flats: flats, blouse, coat, jeans, necklace and sunglasses.
For more style inspiration on how to wear your pair of loafers, see our article on the best loafers for women over 40.
1. Ballet flats
If you love a timeless, classic style a pair of ballet flats could be the ideal option for you. The Cole Haan ballet flats (below) have a fully padded construction and come in neutral colors.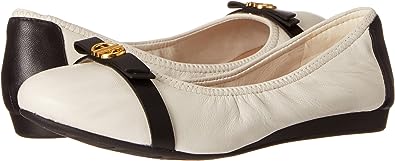 Cole Haan Tova Bow Ballet Flat
2. D'Orsay flats
A pair of pointed flats can be a beautiful option for both daytime and evening. They're also a great option if yo are looking at tips to look taller and slimmer (only if you want to, of course).
This Naturalizer Samantha style can usually be found year after year in a variety of colors so you can be sure they will remain on trend. Plus, they have good built-in heel support.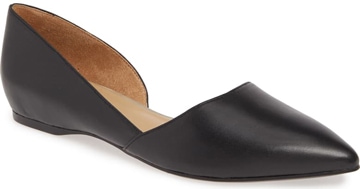 Naturalizer 'Samantha' half d'Orsay flat
3. Animal print flats
A pair of animal print flats would look lovely with your skinny jeans for spring and summer. Dr. Scholl's slip-ons (below) have stretch, heel support and are also kind to the environment as they are made from recycled bottles.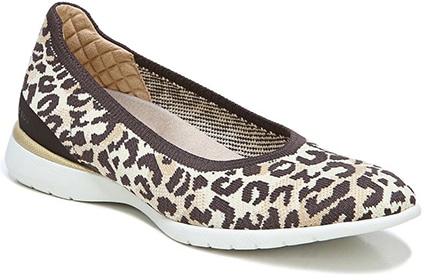 Dr. Scholl's Jayla Knit Slip-On
4. Pointed flats
A pair of pointed flats can be perfect for adding the illusion of extra height even when wearing flats, as they have an elongating effect.
The Linea Paolo flats (below) are minimally stylish on the outside, but have a cushioned footbed inside.

Linea Paolo Marais Pointed Toe Flat
5. LOAFERS
Loafers and lug soles are particularly on trend at the moment, and the Vionic pair (below) combines both. they have a cushioned footbed as well as arch support.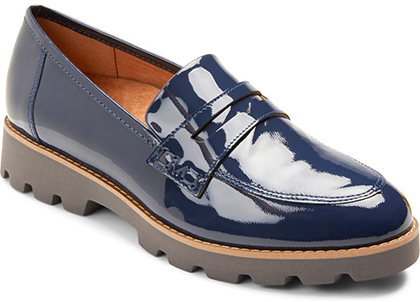 6. gold flats
A pair of metallic shoes is always a good investment as they go with everything. The Naturalizer ballet flats (below) would be a great way to elevate a simple jeans and t-shirt look.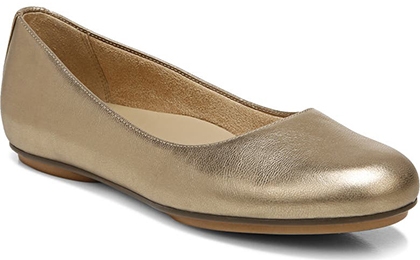 Naturalizer True Colors Maxwell Flat
7. Trotters flat
Trotters is another good choice when looking for supportive shoes. The Trotters flats (below) have a square toe and come in a good choice of colors.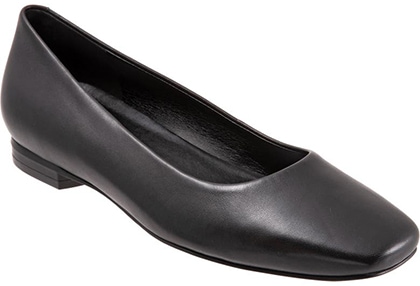 8. børn flat
Minimalist and subtly stylish, the Born flats (below) will go with anything in your closet.
Can you wear heels if you have plantar fasciitis?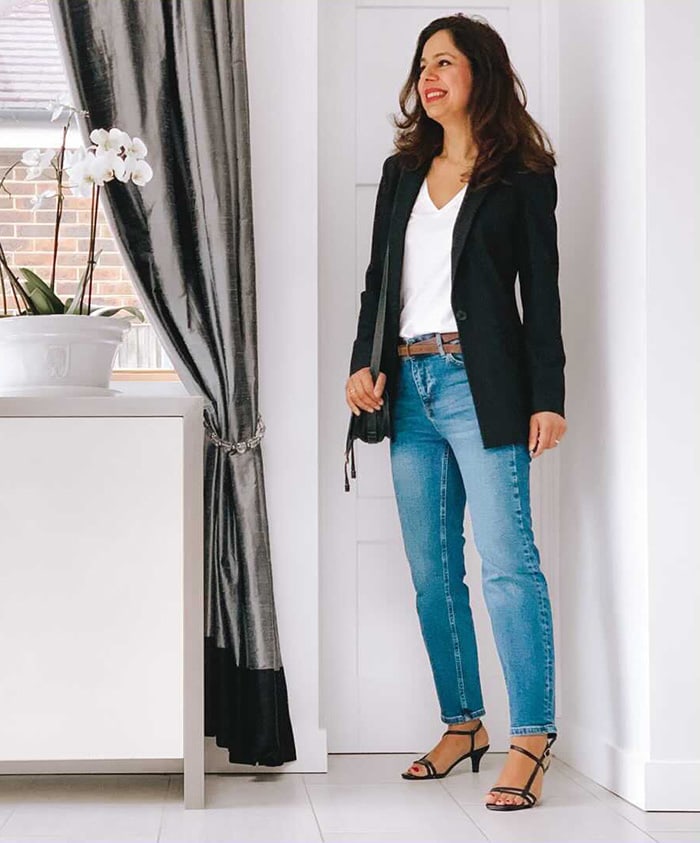 Whether you have plantar fasciitis or not, you may find that a pair of shoes with a small heel works best for you.
As we are heading into the season where you may wish to wear a heel for summer events or on your vacation, here are two comfort heels options for you.
Yes, I know I said you couldn't wear heels and I've already given you some heel options. Now I'm giving you more!
What I really meant was not to wear those skyscraper heels of four inches or more if you suffer from plantar fasciitis.
There are plenty of comfortable options out there if you want to wear heels for a dinner party or, well, just because you want to.
You may find it more comfortable to choose a lower heel, like a kitten heel, or a block heel.
Anita (above) shows how a small pair of heels can be just as stylish as skyscraper stilettos .
Ger her look with this similar pair of heels, top, blazer, jeans, bag and belt.
Also take a look at the best comfortable and stylish heels.
Plantar fasciitis shoes for women – heels
1. Classic black sandals
I can't think of anything these black Rockport pumps won't go with.
This heel may be too high for you but it does come with a foam footbed with arch support, rebound and shock-absorbing technology which will help to reduce the pressure on your feet.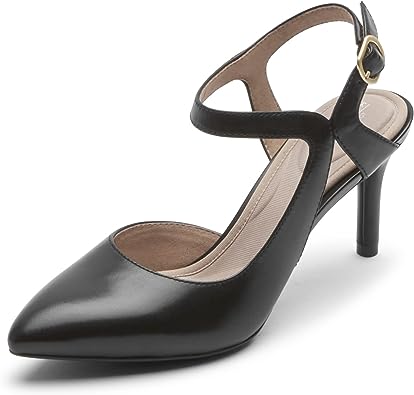 Rockport Total Motion Cross Strap Pump
2. Comfy kitten heels
A narrower heel can be harder to wear if you have plantar fasciitis. But if you do prefer a narrow heel, I would look at kitten heels rather than stilettos. The good news is they are skill bang on trend.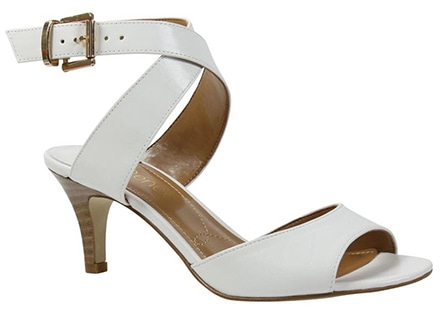 J. Reneé Soncino Ankle Strap Sandal
A block heel like both of these below will make sure that your weight is more evenly distributed so won't put as much strain on your feet.
3. block heel
The Söfft Mendi sandal will go with everything in your summer closet from your dresses to jeans.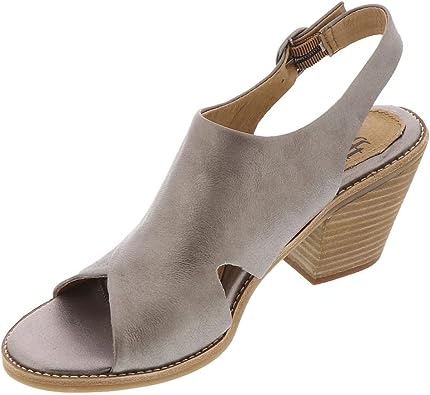 4. Ankle strap
Naturalizer's ankle strap sandals (below) are available each season in different colors, including the metallic shade shown.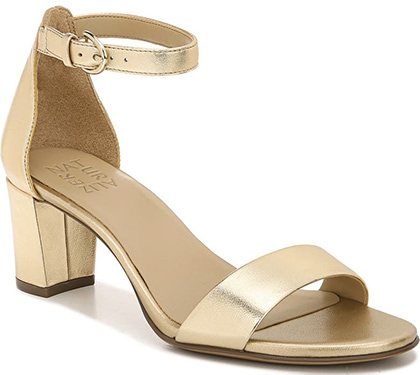 Naturalizer True Colors Vera Ankle Strap Sandal
Best sneakers for plantar fasciitis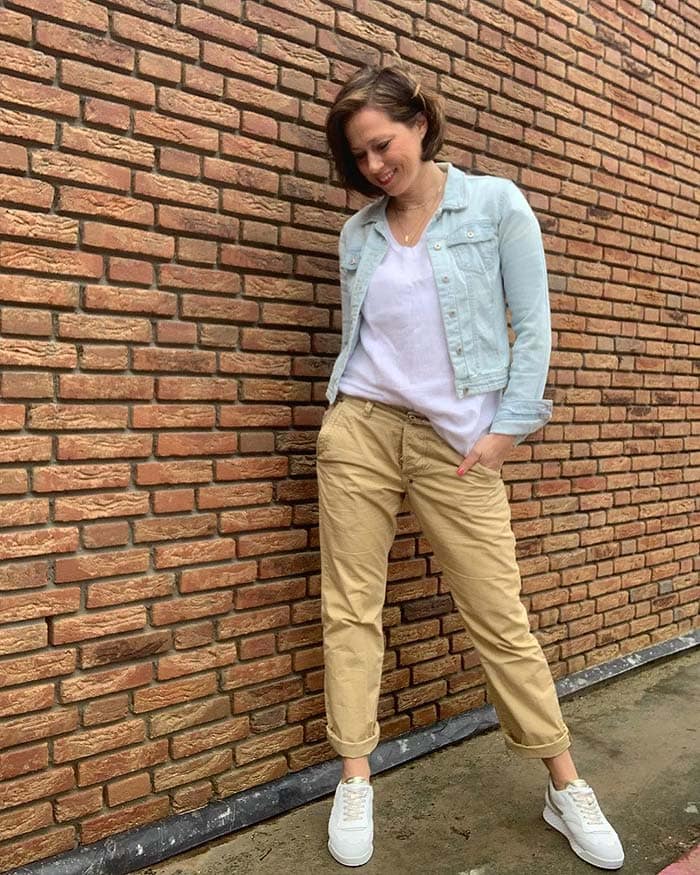 Sneakers are always a good option for comfort, whether you have plantar fasciitis or not. Plus, they're still very on trend.
Tamara (above) teams her white sneakers with her beige pants.
Steal her look with this similar pair of sneakers, shirt, denim jacket and pants.
1. Classic white sneakers
A pair of white sneakers is always a good addition to any closet, and is a good pair of shoes to think about if you are putting together a capsule closet.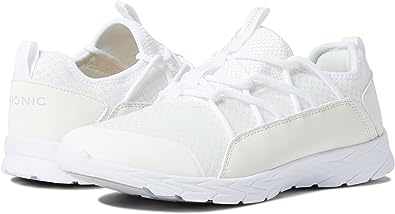 Vionic Brisk Zeliya Slip-on Sneaker
2. Slip-ons
A pair of slip-on sneakers is always an easy style to wear. Naturalizer's slip-ons (below) feature an on-trend tie-dye print.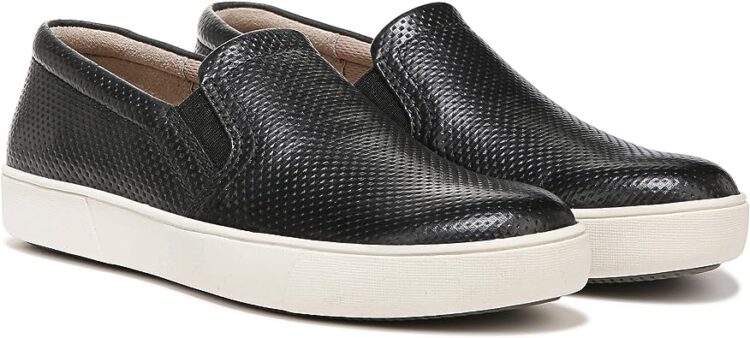 Naturalizer Marianne Slip-On Sneaker
3. Gold sneakers
If you want a pair of sneakers which go with everything, metallics are another good option.
The Cole Haan oxfords (below) combine the style of sneakers with Oxfords.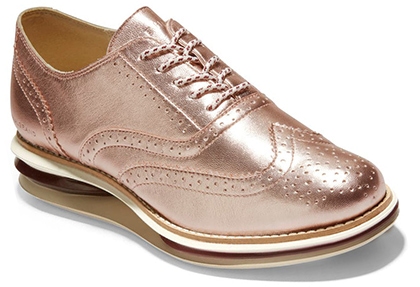 Cole Haan ØriginalGrand Wingtip Oxford
4. vans sneaker
Vans' Old Skool Sneakers (below) are a good option for summer as they feature moisture-wicking material inside.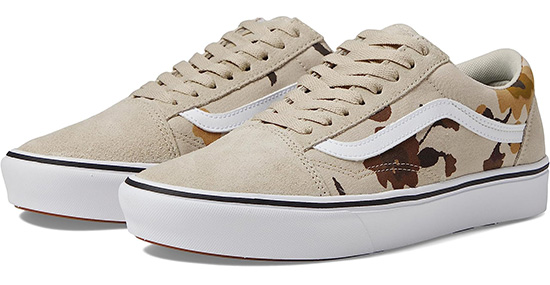 Vans ComfyCush Old Skool Sneaker
5. rag & bone sneaker
Another retro option for you; the rag & bone sneakers (below) have a removable sole and cushioned footbed.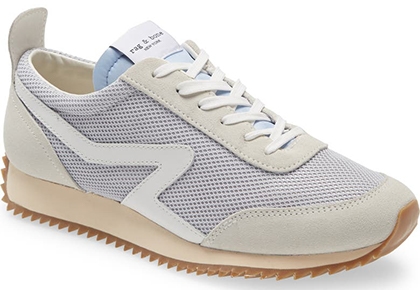 rag & bone Retro Runner Sneaker
Running shoes for plantar fasciitis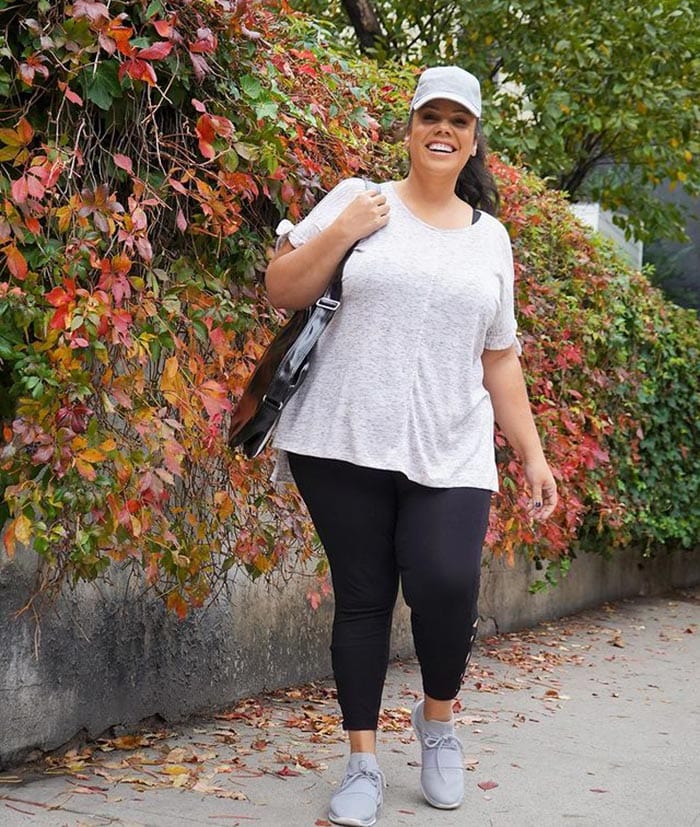 Of course, it may be that you prefer more aerobic exercise rather than a walk. In that case, you will want to look for running shoes which offer the right support.
Madeline (above) looks stylish and ready for an exercise session in her gray sneakers.
Steal her look with this similar pair of sneakers, shirt, leggings, shoulder bag and cap.
1. skechers
Skechers are often recommended for plantar fasciitis when looking for suggestions for plantar fasciitis shoes for women because they have good ankle support and memory foam inserts.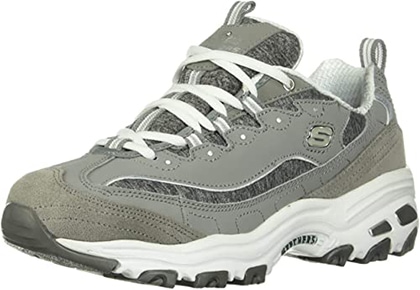 Skechers D'Lites Memory Foam Lace-up Sneaker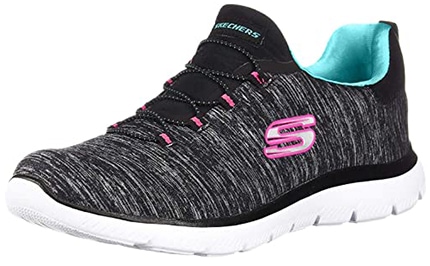 Skechers Summits-Quick Getaway Sneaker
2. asics
ASICS is another brand to consider if you're looking for sneakers to exercise in rather than just for casual wear. The running shoes (below) feature a gel insert to keep your feet comfy.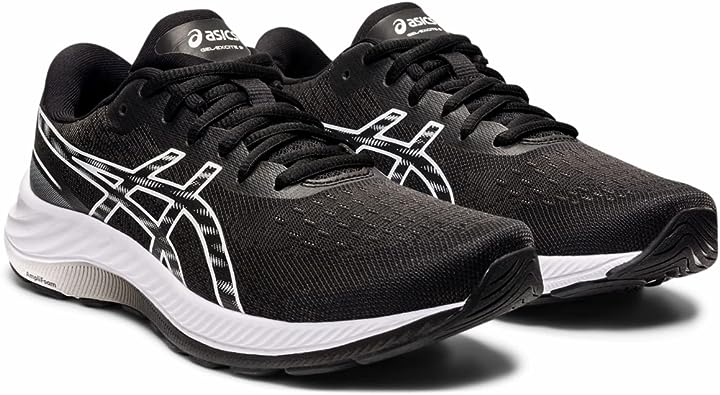 ASICS Gel-Excite 9 Running Shoes
Plantar fasciitis boot options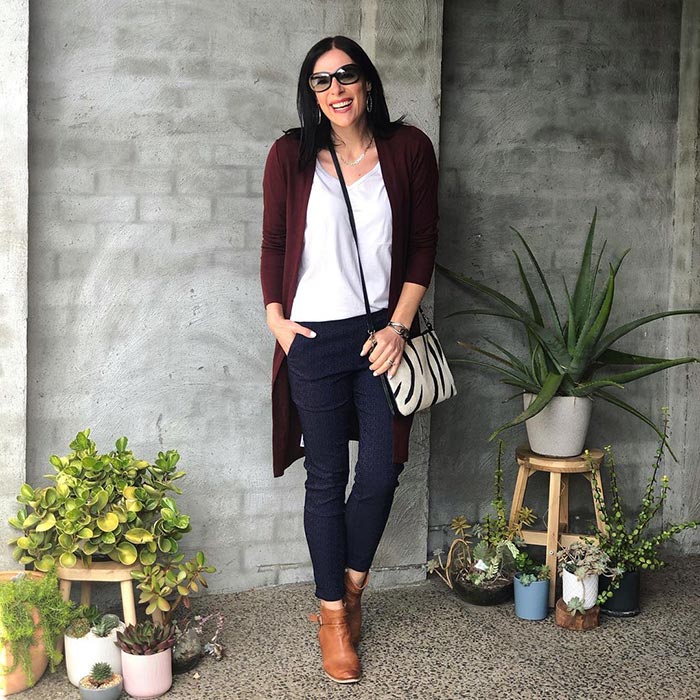 There are some fabulous shoe or ankle booties in stores now if you're searching for stylish plantar fasciitis shoes for women, which are ideal for transitional weather as the weather warms up.
Booties can be a great option if you need some ankle support as well as arch support.
They add casual chic to an outfit and look great paired with jeans, or with a summer dress for transitioning from winter to spring.
If you opt for paler colors such as taupe or grey, rather than black, you will instantly get a more spring and summer-like vibe.
Or you can opt to add your black booties with black opaque tights to transform a summer dress into a piece you can wear during the cooler months too.
Gabbi (above) chooses tan booties with her black pants.
Check out this similar pair of booties, top, cardigan, jeans, crossbody bag, earrings and sunglasses.
1. Söfft
Söfft's peep-toe ankle booties (below) are kind of a cross between an ankle boot and a sandal, which makes them perfect for wearing with your summer dresses.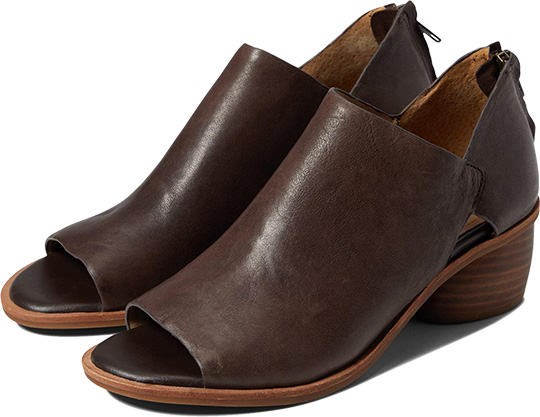 2. ecco
ECCO has another option for you if you like the warmth and support of a bootie, but prefer to keep your look more casual. The high-top sneaker boots (below) have a cushioned insole to alleviate pressure on your heels.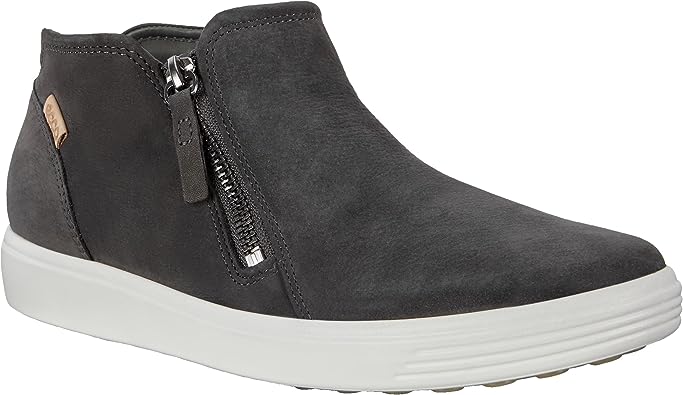 ECCO Soft 7 Side Zip Bootie Sneaker
3. munro
Munro is a good go-to for classic booties that won't date, like the gray pair (below). the zip up sides mean these will be easy to get on, and the different textures on the back and front of the boots add interest.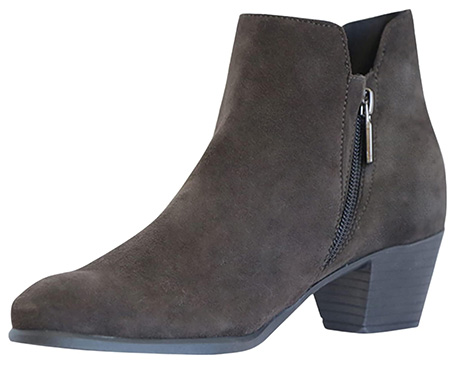 4. Lucky Brand
Animal print is always on-trend. If you opt for either a leopard print or a snakeprint, you can be sure you'll get plenty of wear out of your booties for many seasons to come.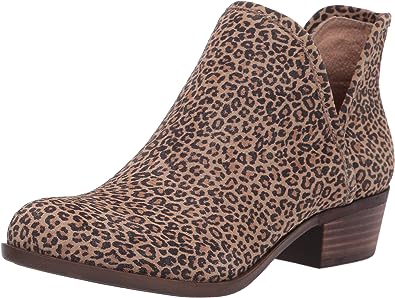 5. pikolinos
PIKOLINOS have a timeless pair of knee boots (below) if the weather is still cool where you are. You could add a pair of opaque tights and wear with a dress or wear over skinny jeans or leggings.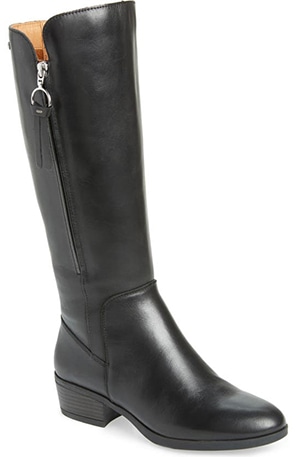 PIKOLINOS Daroca Knee High Boot
Best walking shoes for plantar fasciitis
While embarking on a long walk or a hike may seem like the stuff of nightmares if you suffer from the heel pain that comes with plantar fasciitis, if you opt for specially-designed walking shoes which provide the support you need, you will find that your feet are aligned correctly and you can walk in comfort.
You could either opt for athletic shoes, or special walking shoes.
1. skecehers
If the weather is warm, you might prefer a pair of walking sandals to full walking shoes. The sandals below are adjustable to help you get the right fit, and they have a cushioned sole for comfort.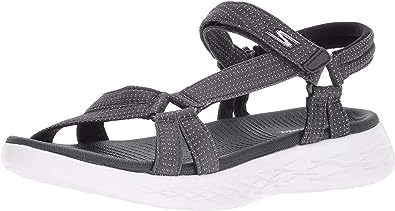 Skechers On-The-go 600-Brilliancy Sport Sandal
2. ECCO
If you're thinking you may do some sightseeing (if you can travel), but you aren't going for a full-on hike, how about this pair from ECCO, which have an on-trend sole.
They would look good worn with shorts or cropped pants.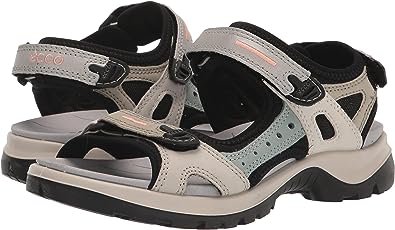 You may also like to take a look at this article on the best sneakers for plantar fasciitis.
Slippers for plantar fasciitis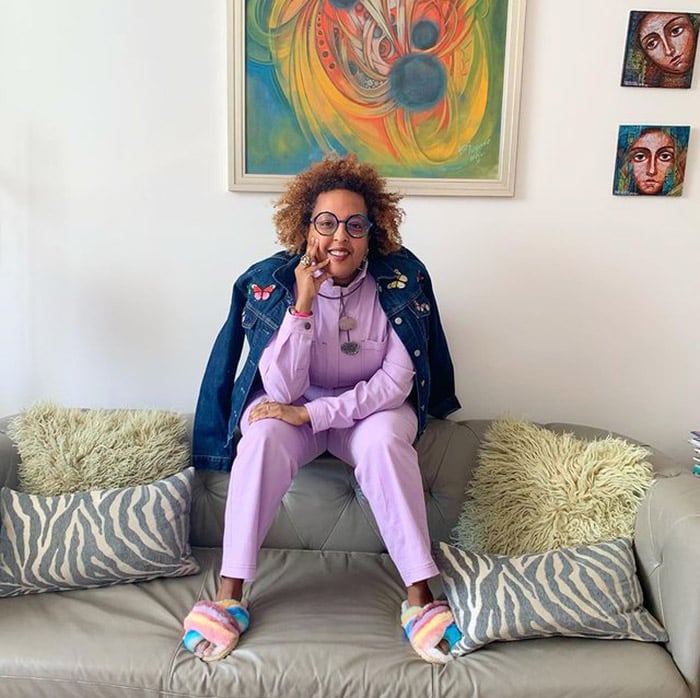 You may find that walking barefoot hurts your feet if you have plantar fasciitis.
But you obviously won't want to wear your plantar fasciitis shoes 24/7, when you are at home. That's where a pair of comfort slippers could come in handy.
Lydia (above) wears a pair of colorful slippers from EMU Australia that can't help but make you smile.
Complete her look with this similar lounge set and denim jacket.
1. vionic
A pair of crisscross slippers like the ones from Vionic (below) are easy to put on. There's a small heel so you don't have the discomfort of walking on bare, flat feet, and the sculpted footbed should keep your feet secure.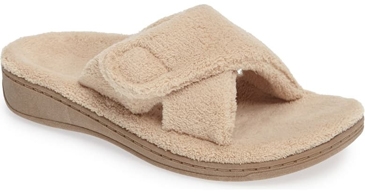 2. easy spirit
These slippers from Easy Spirit (below) are good if you want to keep your toes warm! There's a cushioned footbed and a tractioned sole to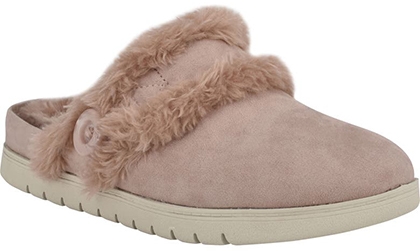 Easy Spirit Season Faux Fur Slipper
Shoe brands for plantar fasciitis
There are so many brands which have realized that women need shoes which are both comfy AND stylish.
These are some of my favorites. What are yours? Don't forget to let me know in the comments below, so together we can make this a great resource for women with plantar fasciitis.
Plantar Fasciitis Insoles
If you have shoes you love, but which don't offer the support you need, there's no need to bin them, or give them away.
There are plenty of insoles on the market but not all offer the same level of support.
Look for plantar fasciitis inserts which offer good support in the arch, as this helps to take the strain from the heel.
Proper heel support is also vital, and a deep heel cup will provide stability and keep the bones of your foot properly aligned.
Nicewin – Nazaroo – Airplus Orthotic
Plantar Fasciitis Inserts
Just as choosing the shoe brand which is best for your feet can need a bit of trial and error, not all Plantar Fasciitis inserts fit in the same way.
Some well-regarded brands include Tread Labs, Orthaheel, Superfeet, Nazaroo, Profoot and Sof Sole. Powerstep Pinnacle are reported as being particularly good for people with very high arches.
Rather than switching insoles between shoes, many people opt to buy several pairs of inserts and leave them in their favorite shoes.
Plantar Fasciitis Orthotics
Plantar fasciitis orthotics are designed to relieve the pain you may feel from this condition.
You can wear them all day or just when you feel you need them.
SBSOX compression arch sleeves – Compression sleeves – AEX foot brace
Continue reading:
Do you suffer from Plantar Fasciitis? What are the best plantar fasciitis shoes for women you have worn? Which shoe brands and styles do you find gives you comfort from heel pain? Let us know!
Like this article on the best plantar fasciitis shoes for women? Save it on Pinterest!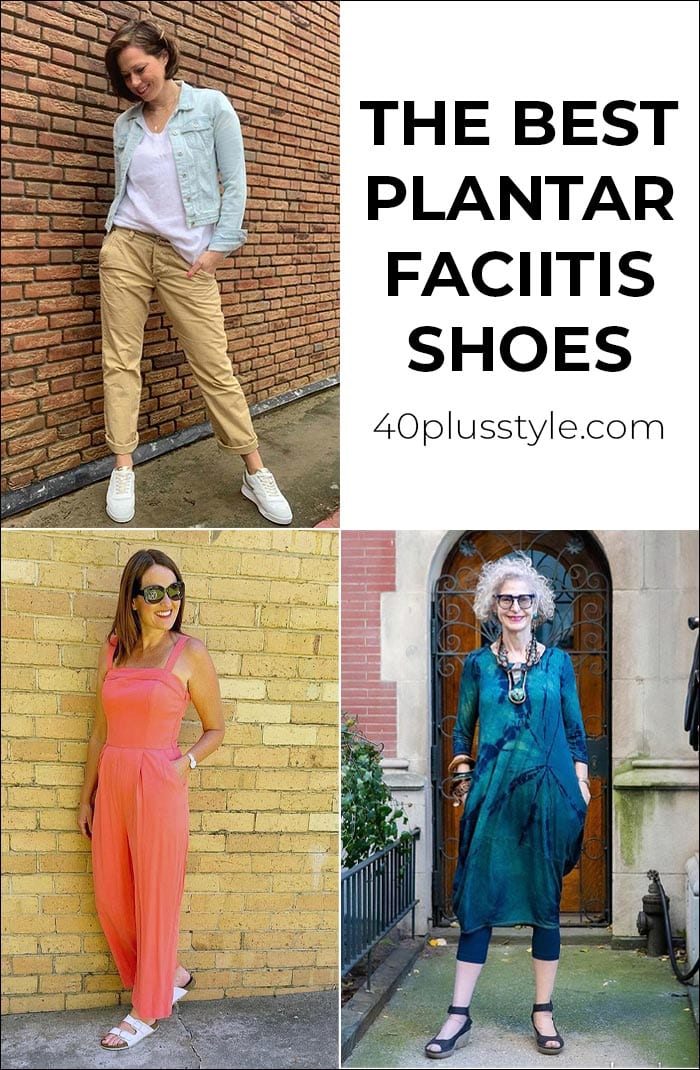 Feature image by Karen
Want to get more articles from 40+style in your inbox, subscribe here.
You can also connect with 40+style on Facebook, Instagram or Pinterest.
Support 40+style by using the links in our articles to shop. As an associate for Amazon and many other brands, we receive a small commission (at no cost to you) on qualifying purchases which enables us to keep creating amazing free content for you. Thanks!