It's been a fantastic year at 40PlusStyle! Many, many more of you read and followed this site, left comments, added your outfits to the style forum, took part in my massive giveaway and even participated in my recently introduced style challenge. The growth of this site greatly exceeded my expectations and I thank you all for that. I will do my best to continue this growth and give you even more practical how-to-dress tips, inspiring outfits, the latest trend updates and articles on how to be and look even more stylish in 2013.
In fact I have planned a great start for 2013 and will tell you more about that tomorrow!
For now, as I promised earlier, let's look back for a moment at the year that was and let's look at some of my favorite outfits.
See image above.
Why I like it: I love the fun playing with patterns. It's a comfortable, relaxed yet trendy outfit that I could wear all day and I can easily take the top layer off when needed to. I'm sure I will be able to wear this outfit again in the coming year as the graphical trend is still strong.
Why I like it: This is a good casual mom on the go outfit. Simple, comfortable and stylish. Everything you need when you are running around and doing errands.
Why I like it: I love graphics, asymmetry, trendiness and comfort. I think this outfit has all of that.
Why I like it: this is an elegant, yet very comfortable and airy dress for Singapore. Good for occasions but also for visits into the city.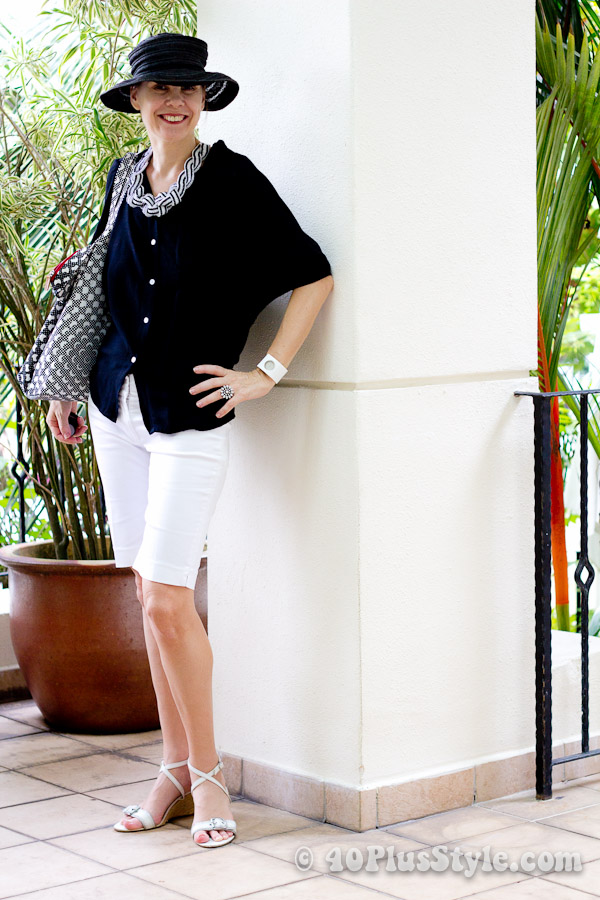 Why I like it: this is my favorite casual holiday outfit. Comfortable, airy, beachy yet still stylish.
Why I like it: I like this colour combination and my laced pants. I also think the animal print belt is a great accessory that completes the look.
Why I like it: flrty and girly, yet still chic and modern. I like the Japanese vibe of this top.
Why I like it: My most festive dress that incorporates many of the signature elements of my style: asymetry, red, drapes and silk.  This is the best picture of this dress, although I may like it even better with my open toe booties and Alldressedup necklace.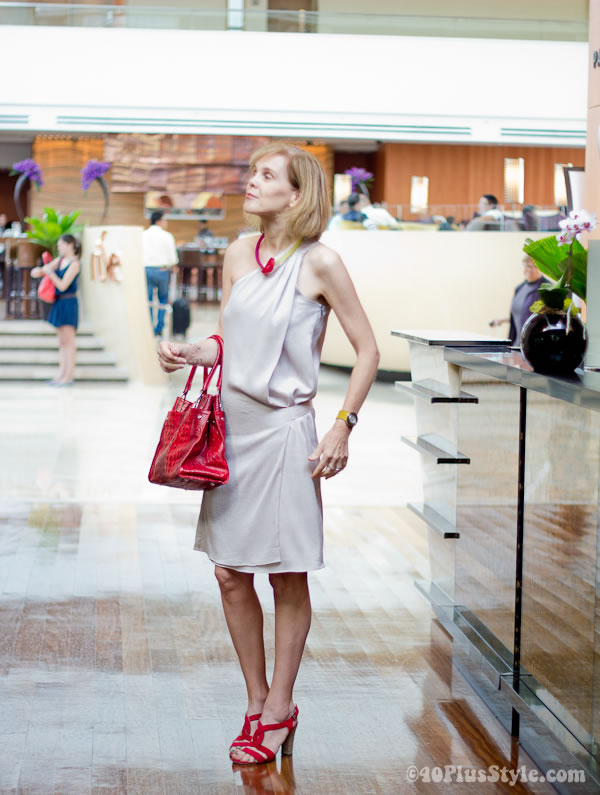 Why I like it: again a asymmetrical dress that is comfortable (and does not require any shape wear). It's different and chic and I can have fun with accessorizing it.
Why I like it: White pants are the basic I always turn to in this climate and I like it with this print. Black and white gives you lots of room to play with other colours that you can add to the outfit.
Well ladies, there you have it: my favorite outfits this year. I'm planning on being even more creative in the next year so watch this space.
What has been your favorite outfit you wore this year and why?

Want to get more articles from 40+style in your inbox, subscribe here.
You can also connect with 40+style on Facebook, Instagram or Pinterest.
Support 40+style by using the links in our articles to shop. As an associate for Amazon and many other brands, we receive a small commission (at no cost to you) on qualifying purchases which enables us to keep creating amazing free content for you. Thanks!