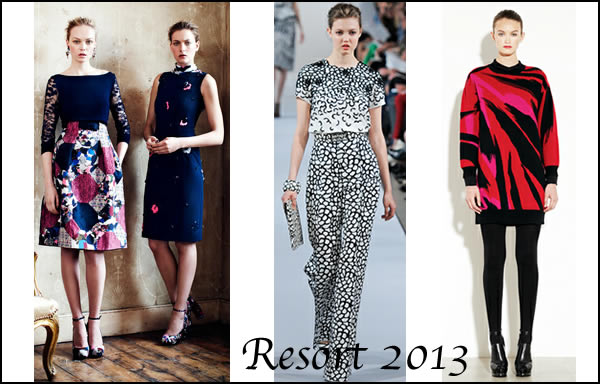 Some designers have showed their newest resort 2013 collections and today I will hightlight some of the best outfits for women over 40 from the collections of Bottega Veneta, DKNY, Chanel, Erdem and Oscar de la Renta. I always like to look at high fashion collections, as they give me inspiration for the season ahead, PLUS they help me to make wise decisions for when I go out shopping during the sales the coming 2 months (can't wait!). You may also want to check my earlier predictions for the fall 2012 trends or check some other highlights of the fall collections. If you have a good idea of what will be on trend the coming season, you will be better at knowing which shapes and colours to buy. Only if those trends, shapes and colour suit YOU, of course. 
Bottega Veneta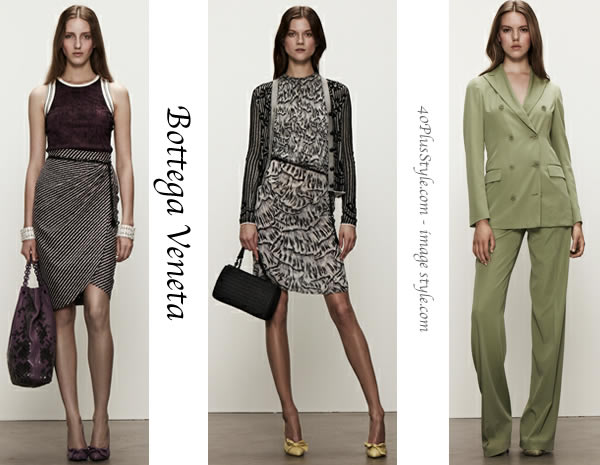 Bottega Veneta showed some wonderful pant suits in various colours, but the collection was dominated by black and white. The 2 black and white looks are very elegant for women over 40.
Chanel
Although it was fun to look at, I did not see very many wearable pieces at Chanel's resort collection. The whole collection was also a bit too romantic for me, with too many details and frills and I much preferred Chanel's earlier Fall collection. The pieces above were the most wearable pieces I could find and even these would be a huge challenge to pull off for many women over 40.
Dkny
The DKNY collection was very heavy on black and short skirts. 2 things that are not great for us. Perhaps not surprising as this is the 'younger' collection of Donna Karen.  The coloured pieces stood out and the marvellous jumper shown above would suit many a 40+ woman as would the blouse on the left!
Erdem
Erdem had a whole lot more to offer for the over 40 woman. Beautiful dresses at knee length in glorious colours and patterns. Lady chic with just the right amount of quirkiness.
Oscar de la Renta
Oscar de la Renta showed a lot of black and white too and I loved the combination shown above. Dresses and skirts were pretty and the accent was mainly on the waist.
What do you think of these collections?