This past week has been a feast for fashion again, as some of the world's best designers showed us their art at Milan Fashion Week. Although I like many of the young & hip styles of designers like Roberto Cavalli & Dolce & Gabbena, many of their styles don't really work for us women over 40. We need a more elegant and chic look that covers us in all the right places! Here are some of my picks of the best outfits from Milan Fashion week for women over 40.
Picture above: I'm a big fan of Prada and Miuccia did not disappoint this season. The collecting was based on a car theme combined with 'sweetness' and featured lots of pastel colours in different prints. I love the combination of colors in this flowy collection. The hemlines are perfect too and the clothes look elegant and comfortable.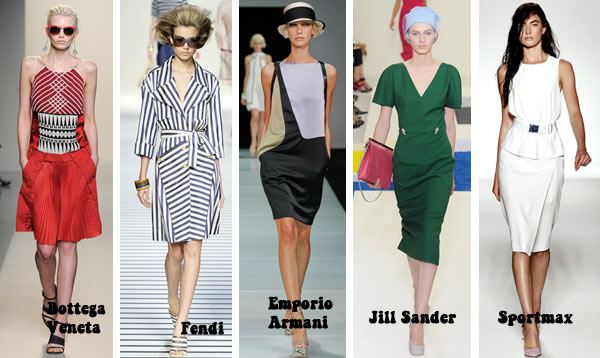 Here are some of my favorite dresses from the Milan spring collections. The lady like silhouettes that we saw in the fall collections are still present for coming spring. Hemlines are mostly on top or just over the knee and the accent is on the waist.
More gorgeous ladylike and chic looks from Gucci, Gianfranco Ferre and Armani. All exuding CHIC.
I'm also a big fan of men's inspired wear and a good suit. If you combine that with the all enduring black and white combination, you will almost always have a winner outfit. Loving these suits from the Emperio Armani collection and Gucci!
How about you? What did you think of the collections in Milan? Do you have a favorite?
All the best,

Related posts: