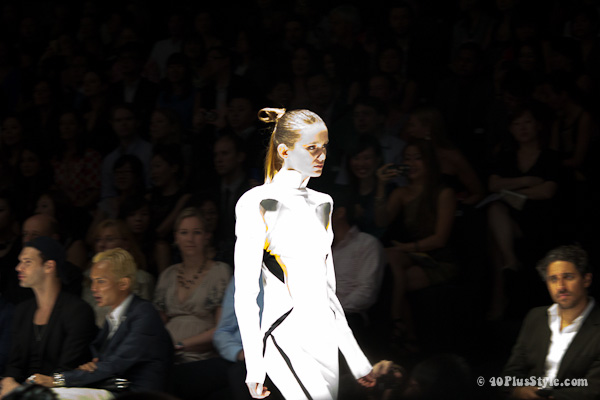 Yesterday was quite the day. I first attended the Asia Fashion Summit and later on visited the Mugler Fashion Show which was part of the Audi Fashion Festival in Singapore. My plan was to photograph all the fashionable people attending the show, but as it turned out I was offered a seat and watched the whole show inside! It was an evening of hits and misses though. Hits, because I met so many wonderful people from all over the world and got to the see the fabulous fashion of Mugler and misses, because all my footage of the show itself failed. I decided to film it instead of photograph, but due to the wrong setting of my camera, only managed to get blurry footage. The only footage I have is of Nicola Formichetti and Sebastien Piegne walking the runway! Luckily I did manage to get some fabulous shots of people attending the show.
Models before the show
I  had heard before that fashion shows are over before you know it and I certainly experienced that this time. The waiting was pretty long (that seems to be the fashion too with fashion shows) and the show did not start until about 9.15 (instead of the planned 7pm). The models came in quick succession and before long it was over.
This lovely lady from France (left) was the only one I personally encountered that wore Mugler!
Luckily I had more time to photograph some of the models and attendees before the show, so you will all get a flavour of all the fashionable people here in Singapore. The audience was varied and featured men and women of all ages. Photographing in the evening and low light without flash is a challenge too, so not all photos came out right. One of my personal challenges for this coming year is to become better at photography (or buy better lenses!)
Photographing with flash inside the venue. The lady on the right is doctor to the stars Georgia Lee
It was a fabulous night. Although it goes by so quick, there is nothing quite like experiencing a fashion show live. I hope to be back next year! A big thank you to all who agreed to have their photos taken.
If you like to see the fashion show in its full glory you can watch the photos on the official Audi Festival Facebook page.
Here are the final moments of the show where Nicola Formichetti and Sebastien Piegne walk the runway and forget to pick up their flowers!
Have you ever attended a fashion show? What did you think of attending it live?