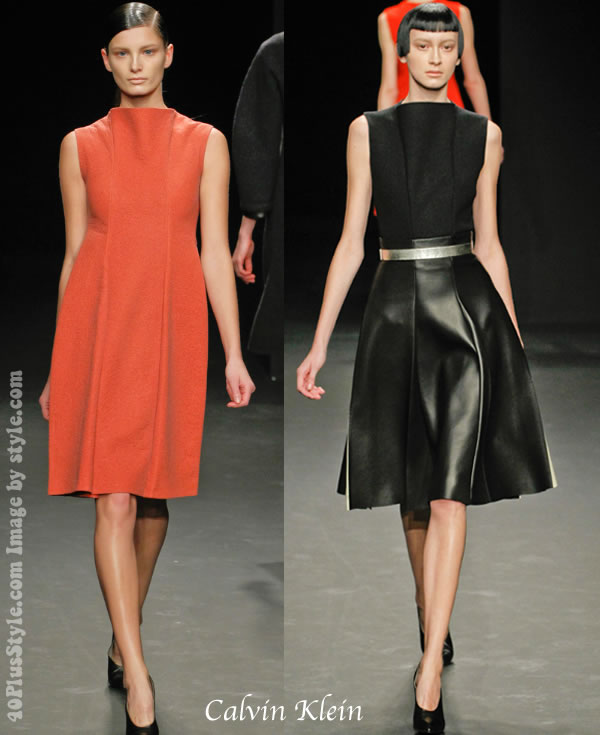 Although the Spring clothes and collections are hitting our stores now, designers are currently showing their collections for Fall in London fashion week. Last week collections were shown during New York fashion week, which I featured earlier last week. Here are some more highlights for women over 40 from the New York collections.
Calvin Klein
Calvin Klein's collection (as seen above) was rather somber, but featured a lot of knee length skirts and dresses, which is great. I especially like the look of that leather shirt. Very chic, yet hip. My prediction is that leather is going to be seen a lot next season, as it was featured in quite a lot of collections. The wonderful orange dress was one of the few exceptions to the otherwise grey and white collection.
Jason Wu
Jason Wu took his inspiration from Taiwan and China this year. He even incorporated his version of Stella McCartney's famous slimming dress into his collection.
Carolina Herrera
There was much to like about Carolina Herrera's collection for women over 40 and it was hard to pick my 2 favorites. Lovely dresses in various colours, with the accent firmly on the waist. I also especially liked her evening gowns. For more of my favorites check out my pinboard.
Diane von Furstenberg
Diane van Furstenberg's collection was colorful as usual, featuring many prints. I was most attracted though to her one toned dresses and the color blocking ensemble at top left. She  also had quite of few little black dresses that would suit many 40+ women.
Donna Karan
Donna Karan showed both her DKNY and Donna Karan collections at New York. The DKNY collection was entirely black and featured a lot of leather, something that was seen a lot in New York. Her  Donna Karan collection, however, showed a bit more colour and had a lot of interesting designs. My eye fell on this spectacular dress in a green colour and I love the combination with skirt as well! And the cute hats, of course!
Victoria Beckham
Victoria Beckham showed a lot of dresses with her usual lean and lengthening dresses, perfect for petites. Her latest collection is also suitable for 40+ women though as the fabrics are more flexible and the stripes on the tummy area, will draw attention away from any tummy you may have. I could definitely see myself wearing the above.
More favorites at my Fall 2012 Pinterest pinboard.
Did you see any of the New York collections? Which were your favorites?