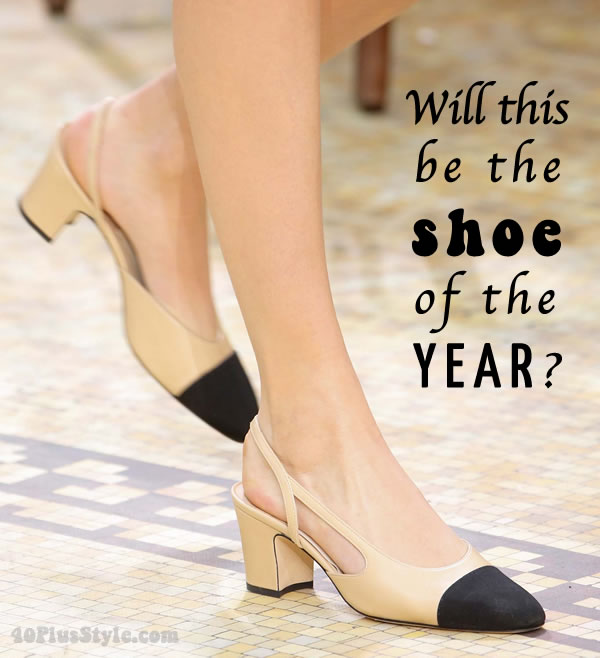 2 weeks ago I featured my funky Chie Mihari shoes and uploaded them to Cherie's Shoe & Tell linkup. They were promptly chosen as her favorite shoes, so here I am co-hosting the linkup this week.
I have decided to dedicate this special shoe article to the block heeled slingback.
Why?
Well, because of this shoe.
This Chanel toe capped mid heeled slingback was featured with almost all of their 98 looks at their fall 2015 ready to wear show! Looking amazing every single time.
I think it may just become the shoe of the year. I, for one, would very much like to have them.
Have a look at a few closeup looks from the show sporting these shoes.
Here are a few reasons why I think this shoe is so fabulous:
They are very chic.
They are still funky too because of the colorblock effect.
They go with almost any outfit.
They look good with pants, skirts and dresses.
They look comfortable and easy to walk in!
If you are like me and like to add some similar shoes to your closet, here is what I found currently available online.

Even more of my favorite shoes (including shoes with arch support) in the 40+Style Shop!
These are the slingbacks I have in my wardrobe right now, so the mid heeled slingback with block heels would be a a welcome addition!
I hope you will join the fun Shoe & Tell linkup and show me some of your favorite shoes, the shoes that are on you wish list or an outfit featuring some great shoes! You don't need to be a blogger to join. Just make sure that you have an image that is somewhere online.
Which shoes are on your wish list at the moment?

To join the link up follow these steps…
1. Please follow your hosts on one or more of these social networks (Cherie: Facebook, Instagram, Bloglovin and/or Pinterest and Sylvia: Facebook, Instagram, Bloglovin, Pinterest). Thank you!
2. Feature your entire outfit or just your shoes.
3. Visit other link up blogs. It's a great way to get to know other style bloggers, as well as their shoes!
4. Cherie will be selecting her favorite shoe/outfit post. The chosen blogger will be invited to be the next Shoe and Tell co-host the following week.
5. Please link back to this article by posting a link in your post or grab the Shoe and Tell widget below and paste to your link up post.
Link-up will be live every Monday morning. Click to join below
Chanel photos: style.com
Related posts: