Do you think you can't look good while practicing yoga?
Think again! Let's discover how you can look good doing yoga too with these fashionable yoga clothes.
The fashionable yoga clothes I took to a trip to Phuket
Last week I wrote about my new challenge to improve my posture.
I decided to kickstart that journey with a week totally dedicated to detoxing, yoga and health.
As you read this this I'm already in Phuket at the Atmanja detox retreat. I have been there since Saturday and haven't eaten anything since Sunday. I will be on a fast for 5 days and will practice yoga every day. I will write more on detoxing and this particular retreat in an upcoming post, but for now let's focus on yoga clothes!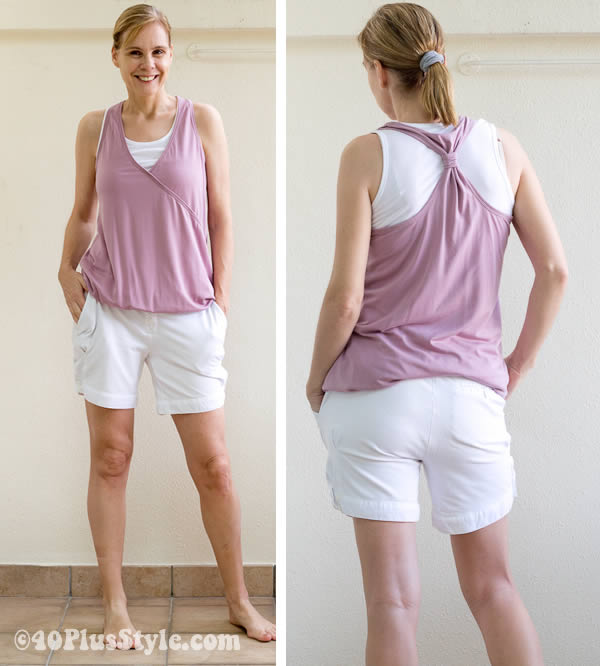 I have written before about my love for great sport clothes and particular Stella McCartney's sport clothes for women.
Well, it's no different for yoga clothing and over the years I've accumulated a small collection of mainly Stella McCartney's and Adidas yoga outfits. This is partly due to an adidas outlet store being just around the corner and I hardly ever pay full price.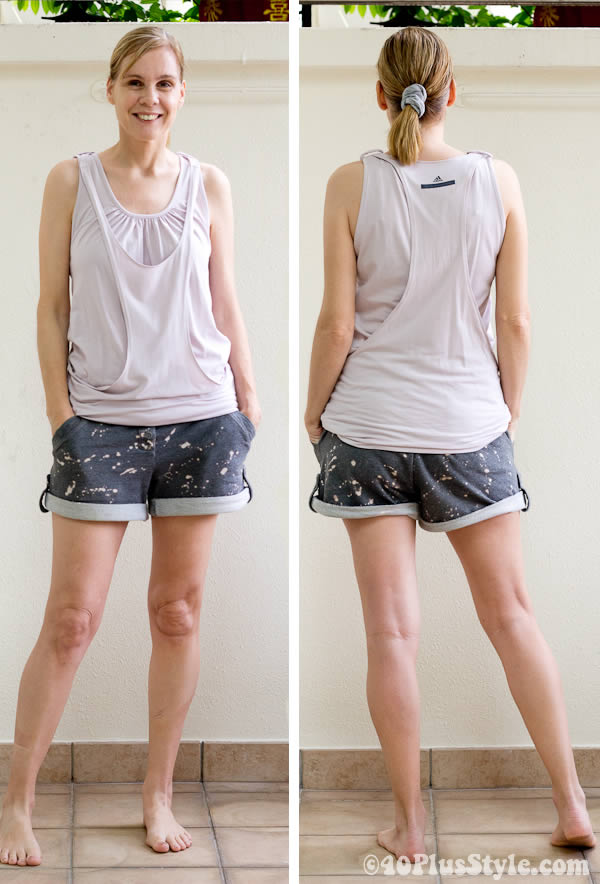 I do love her shorts for example and I wear them a LOT and not just for yoga. As you know, I work from home, and my outfit of choice is a pair of shorts and a comfy t-shirt. The outfit above is one of my favorite outfits for work!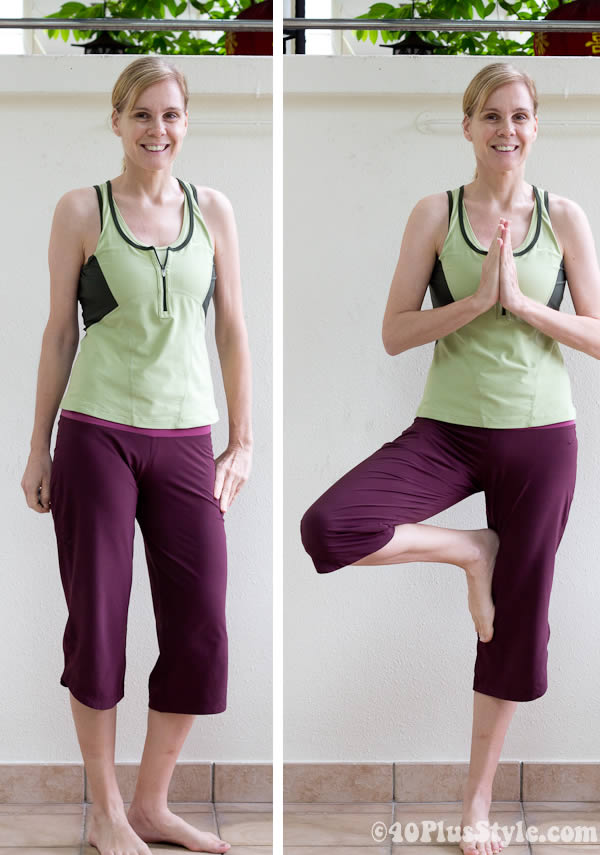 I believe that looking good  and being fashionable shouldn't stop when you're doing sports. I always feel so much better when I like my outfit, and it's no different when I'm practising yoga. And who says you can't do colour blocking at yoga too? Of course I combine these three quarter pants with other tops too. A lot of my yoga clothes can be mixed and matched so I actually have a lot of different combinations.
I like to wear colours too. This top looks particularly good with white but can easily be worn with black!
As with my other clothes, I like clothing that has interesting details. Like the flap on top this yoga short and the strange way the seams are created. The dark pink t-shirt at the right is one of the oldest items I have from Stella McCartney for Adidas and I still love it. It's so versatile and I wear if for any sport and even as casual clothing.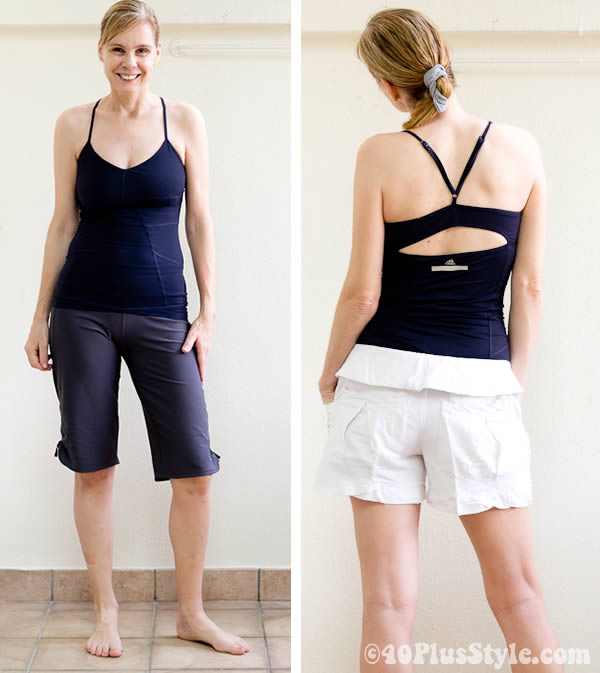 The blue top has an interesting back detail.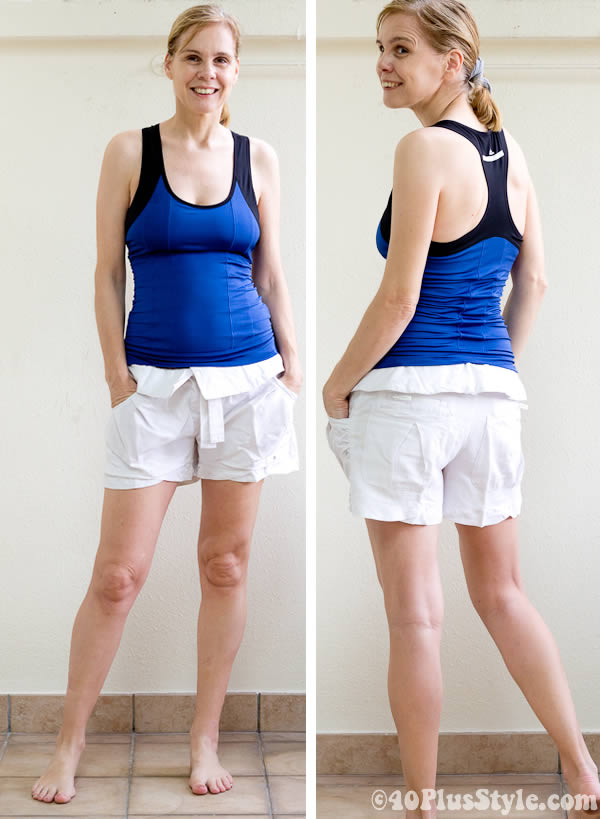 I also don't wear JUST yoga clothes. I play tennis too, go for walks and occasionally go to the gym. All of my sport clothes are mixed and matched with eachother and worn to almost every sport activity.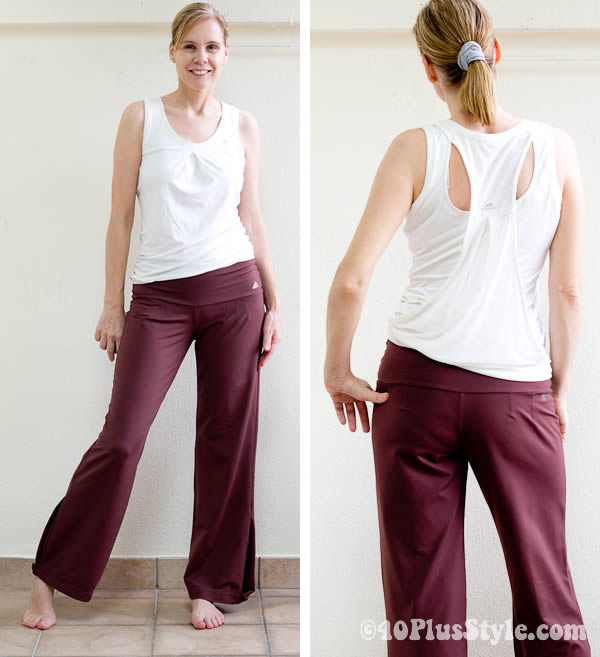 Another intersting back detail from this top. I just love the colour of these pants. Unfortunately, I don't get to wear my long pants so often. It's just too hot here.
You have also seen this top before when I wore it with formal pants. It's actually a yoga top that I most often wear for tennis. The shorts are the oldest on this page.
They are a bit worn and the buttons on the side have changed colour, but it's still one of my favorites and Stella hasn't made a short as creative and comfortable as this one since.
Fore more ideas you can also check what I wear to a fitness workout!
Are you picky about your yoga or other sport clothes? Which of the above outfits do you like best?

Want to get more articles from 40+style in your inbox, subscribe here.
You can also connect with 40+style on Facebook, Instagram or Pinterest.
Support 40+style by using the links in our articles to shop. As an associate for Amazon and many other brands, we receive a small commission (at no cost to you) on qualifying purchases which enables us to keep creating amazing free content for you. Thanks!