Do you feel like adding more color to your cupboard? Yesterday, I highlighted some colorful and graphic winter coats. Today I can't resist showing you some more wonderful graphical coats and clothes for the coming season that I saw in the Karen Millen shop today. These garments, Inspired by the ongoing graphical trend, are great for women over 40 and I think these would really light up the streets and your day!
Blue & Cobalt
I'm loving the blue & cobalt graphical combination. And if you wanted to add the IT color orange to the mix, you could easily do that that by adding an orange bag or shoe.
Black white and orange
Instead of black, white and red, you will see a lot of black, white and orange next season. When worn with a graphical pattern, you are truly hip and on trend. I'm loving the pieces below.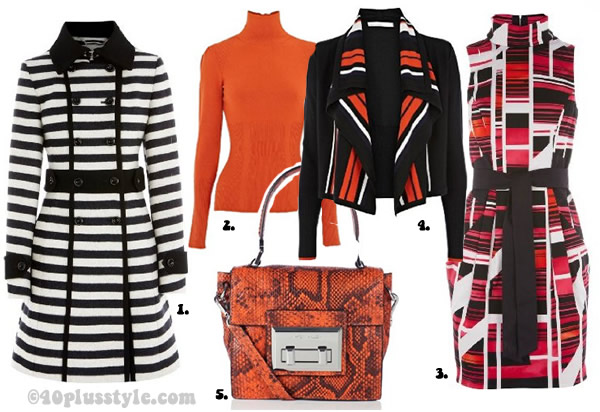 Will you be wearing graphical items this coming season? Which new collection has taken your fancy?

This post contains affiliate links.
Related posts: