Oxblood red is one of the most popular colours for Fall, but how to wear it? One way to get some inspiration for great colour combinations is to go to Colourlovers.com. I found the above palettes which all have rather fancy names.
Parlor Chair is a a perfect palette for country-like chic. Ideal for more timid personalities who like to stick to more moderate colours.
I also really like the Curtain closed palette which combines the dark oxblood red with more vivid reds. Perfect if this colour is too dark for you and you want to add a little bit of vibrancy to your outfit. This would also be a good way to wear oxblood red in a warm country like Singapore.
Any Given Thursday is very sophisticated. Great for lovers of a more graphical style.
And then there is Basic Neuroscience which turns the dark red into a rich and colourful combination. Perfect for the more outgoing bubbly types, who want to add more colour to their outfit.
Translating it into outfits
I mainly used the Curtain closed palette for my inspiration board on how to wear oxblood red. I love this colour combined with natural ecru coloured pants. But also with black. I couldn't resist adding the perfect A-line leather skirt into the mix as well as a lovely asymmetric top. Definitely on my wish list! Or how about wearing a long dress with these amazing long boots? For winter you can easily combine with a long cardigan or short blazer. Or keep it simple and just add this wonderful bow tie belt for a great eye catcher! Then just choose a shoe or a boot that is chic or a little more edgy and you are good to go!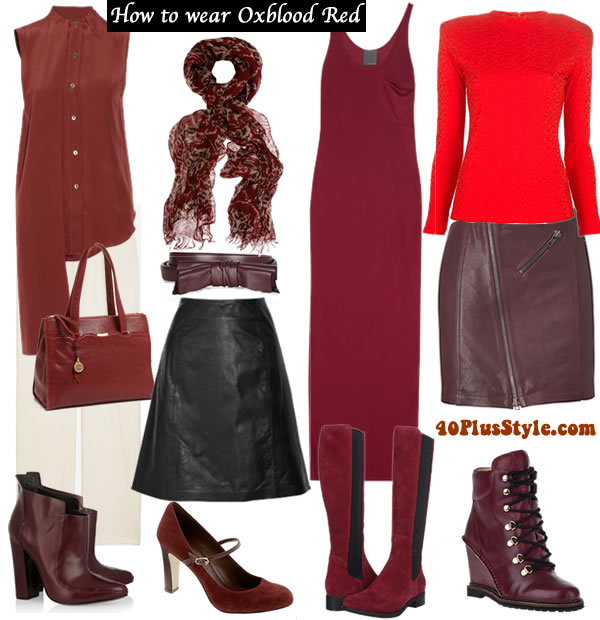 All the above are available online!
Are you going to wear oxblood red this fall or winter? How are you going to wear it?

Colour palettes from Colourlovers: Parlor Chair, Curtain Closed, Any Given Thursday, Basic Neuroscience  
This article contains affiliate links
Related posts: