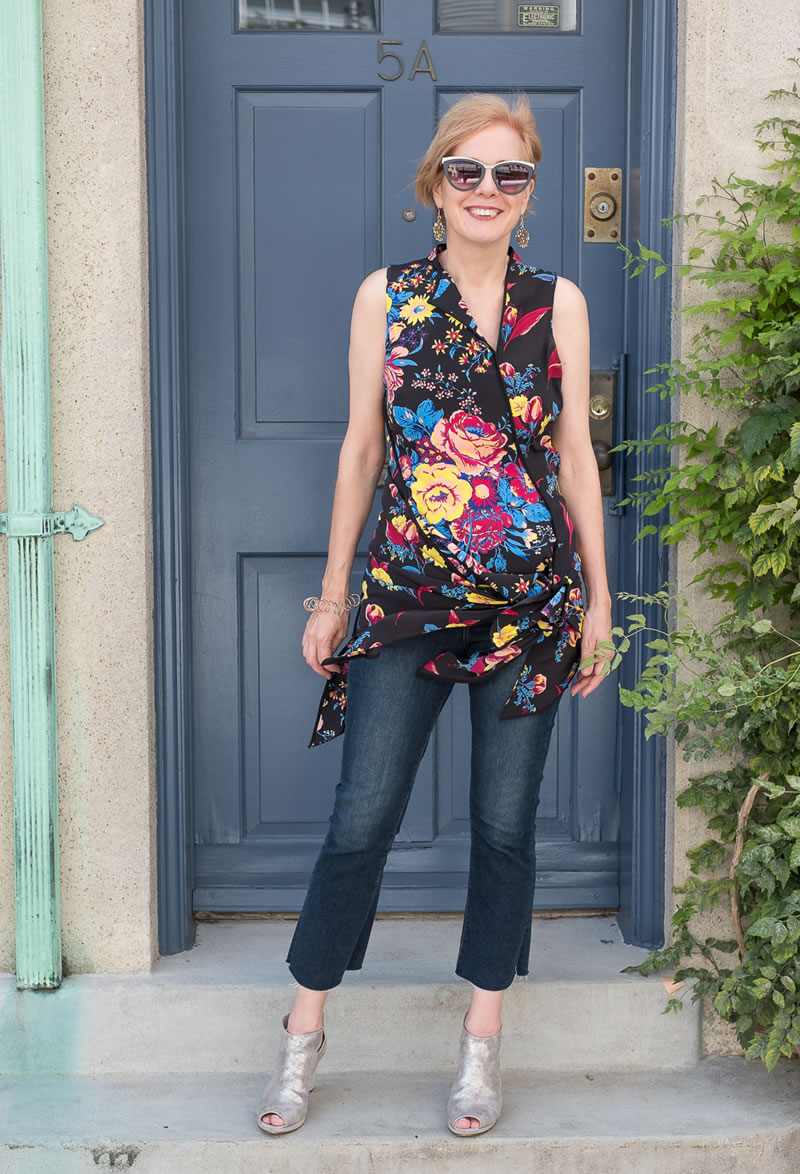 Jeans look great on many women, no matter what your age is. But in order to look stylish in them over 40 you should choose your jeans with a little more thought. Here are some general guidelines to follow for wearing jeans after 40.
Opt for a dark solid color. This looks dressy and has the added advantage of making you look slimmer.
White jeans also look great. More tips on how to wear white pants here.
Heavily stone-washed or bleached jeans are harder to wear and I personally avoid these.
I've seen many 40+ women looking great in ripped jeans but I personally avoid these too.
Crop flare jeans are really hip right now and they are my current favorite. I love my Paige cropped jeans.
You can also opt for another solid color, like grey or black. Just make sure the color is solid.
Make sure that the jeans don't cut into your stomach area. Muffin tops over jeans are not flattering!
Do not show your stomach. Either tuck in your tops or wear tops big enough so they cover your stomach area.
You shouldn't have this problem if you have covered up your stomach / back area properly, but just to make sure: don't show your g-string!
Flared jeans or wide legged jeans look great on many older women. It's nice to wear high heels under them and ensure that the jeans have good length and almost touch the ground. This will really lengthen your legs. You may like to check directions for your body shape to see which jeans would be best for you.
Skinny jeans or legging jeans will look great with tunics and longer tops. You can see more tips for wearing leggings over 40 here.
Jeans will already make you look younger so go easy on the rest of your outfit and your accessories. Best to keep it reasonably simple and classy.
Cropped jeans can look good too if you have a decent length. These usually look best when tapered and are best worn with heels. More directions on cropped pants here.
As mentioned before, it's best to dress up your look a bit while wearing jeans, so dressing in denim from head to toe is not recommended.
Boyfriend jeans are great for a casual vibe and are still very popular. You can also roll up your straight leg jeans.
Avoid really low rise cuts. Best to choose models with medium rise fitting. No mummy jeans please, as those look unflattering and will age you. NYDJ is very popular amongst 40+ women and so is Kut from the Cloth. This season high rise jeans are back in, so you may like to stock up on them. Another great brand that I love is Paige. You can see how I wore them here.
I like comfort so I usually opt for jeans with some stretch. They usually also fit better.
Avoid really baggy jeans. Boyfriend jeans, however, are popular and can look great for casual days.
Ensure that the jeans fit you well, and don't go for jeans that are too tight. You need to be able to bend in them.
Don't overdo the embellishments on jeans (or avoid them altogether).
Getting the height of your jeans is very important. When you find a pair you love, buy one to wear with flats and one to wear with heels!
As always these rules are not always meant to be followed and as any stylish woman will know, you should on occasion bend and break the guidelines! Jeannie who is over 50 is still rocking her ripped jeans and is looking very stylish indeed.
Recommended brands
My personal favorite jeans at the moment are my cropped flare jeans by Paige. (these are similar) which I wear with short cropped tops and longer tunic style tops. The 'top' on the left is actually a silk DVF dress which I tied in an asymmetrical way.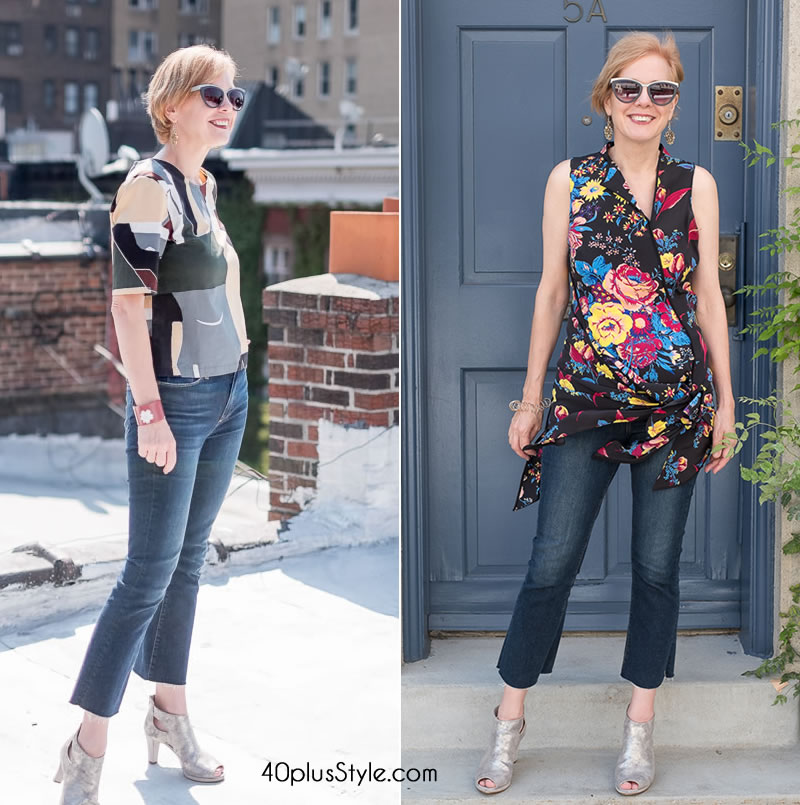 I can also vouch for the Paige denim 'Transcend – hidden hills' bootcut jeans  (these are similar) as I love them! They fit like a glove and feel soft on the legs. Buy them long enough to wear with heels and your legs will look a mile long.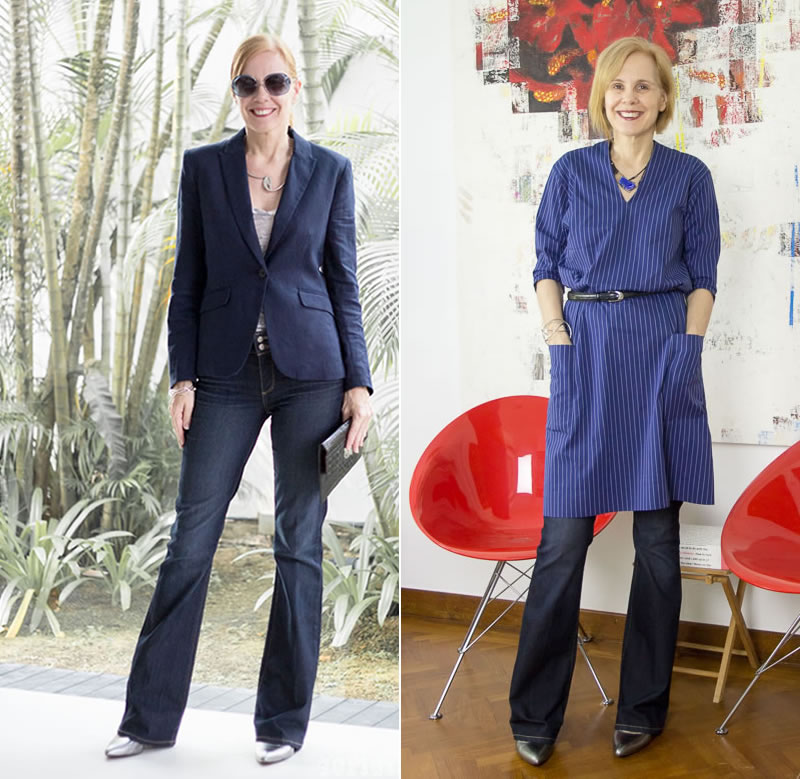 The below are more casual jeans from Lois which you can dress up with a nice jacket (more images here and here).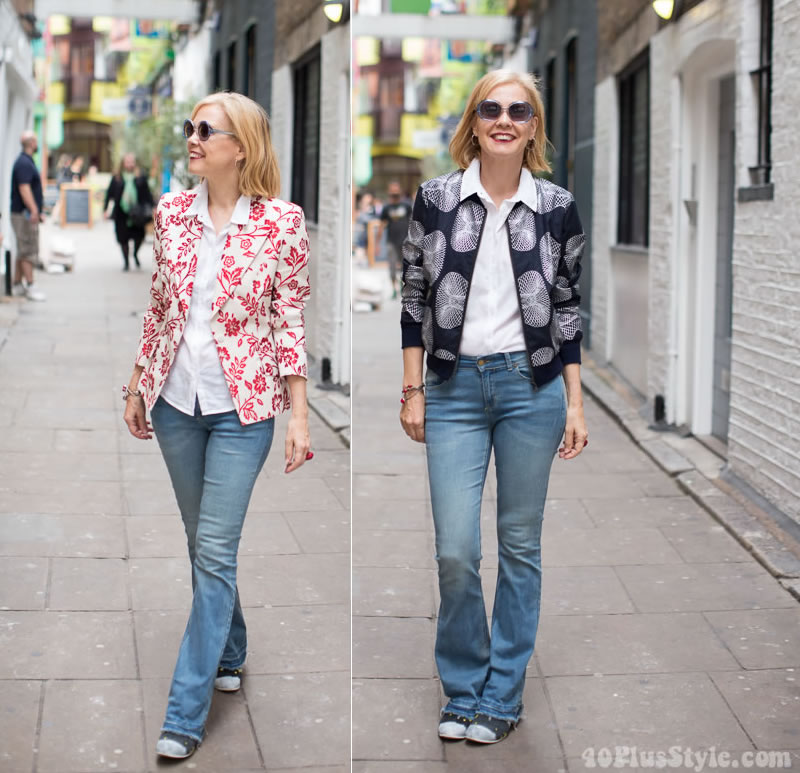 More guidelines for jeans
Get inspiration for your outfits from these examples that you can shop online!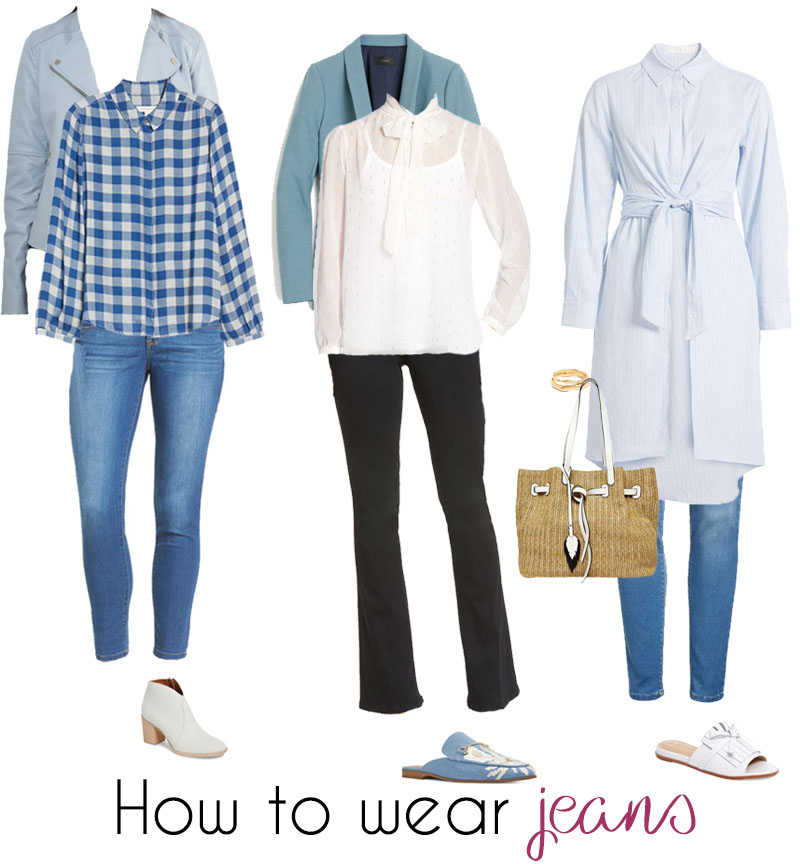 Look 1: Bagatelle blue biker jacket – Frye white bootie – Wit & Wisdom jeans – Treasure & Bond checkred blouse
Look 2: J.Crwe blazer – Catherine pussy bow blouse – Wit & Wisdom bootcut jeans – Nine West mule
Look 3: ASTR tunic – 1822 jeans – Marc Fisher white slide – Quinn chunky bangle – Urban Original straw tote
Here are more ideas from some of my favorite brands: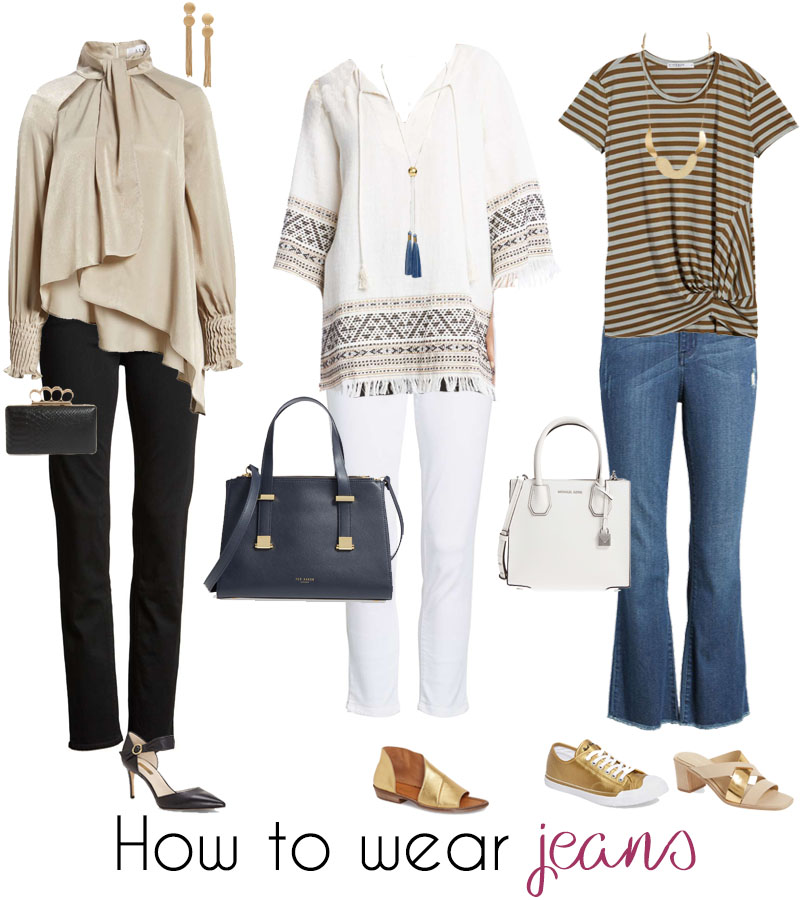 Look 1: NYDJ ankle jeans – Elliat blouse – Natasha knuckle clutch –Louise black and gold pump –BP drop earrings
Look 2: Karen Kane tunic – Mara straight-leg jeans in white – Free people gold sandal – Gormanja blue tassle necklace –Ted Baker blue bag 
Look 3: Converse gold sneakers – Halogen kick flare jeans – Statesmen striped top – Etienne Aigner mule – Michael Kors white tote bag – Madewell pendant
Here are more jeans from Paige, Kut from the Kloth and Not Your Daughter's Jeans: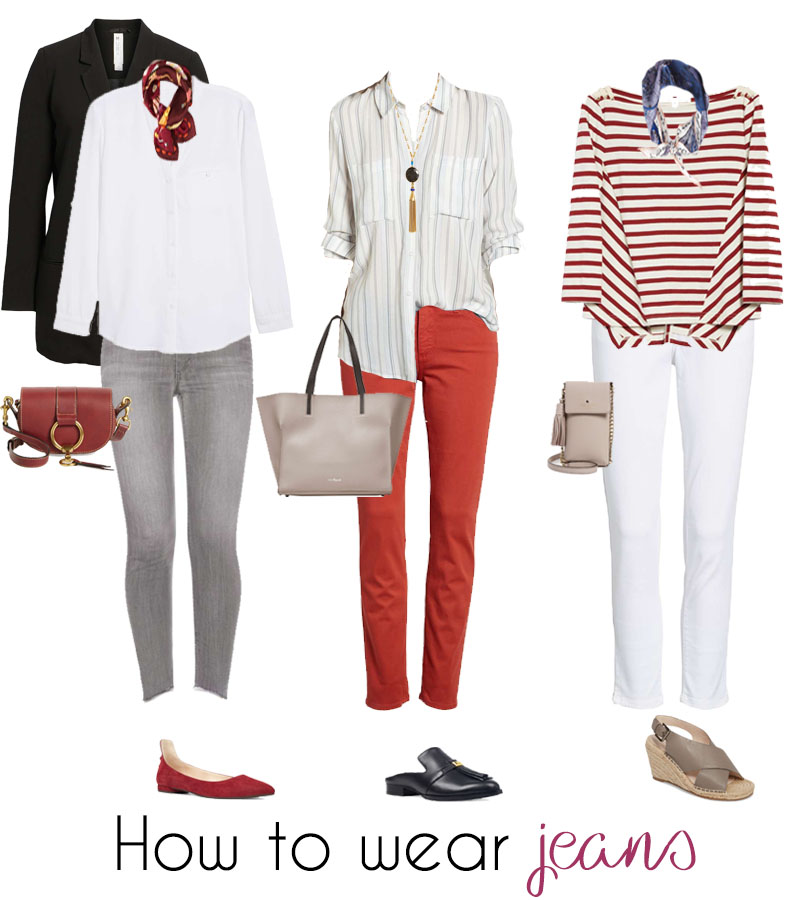 Look 1: Mural black blazer – KUT White shirt – Topshop gray jeans – Frye red bag – Nine west red flats – Coach bracelet watch – Karen Mabon scarf 
Look 2: AG red jeans – BP striped shirt – Nine west mule – Urban Originals beige tote – Gas Bijoux tassle necklace
Look 3 : Veronica Beard mariner top – Vince Camuto white crop jeans – Kate Spade crossbody bag in gray – Caslon wedge – Vince Camuto scarf
Some more great options from flattering brands!:



How do you like to wear your jeans? 
Like this article? Save it on Pinterest!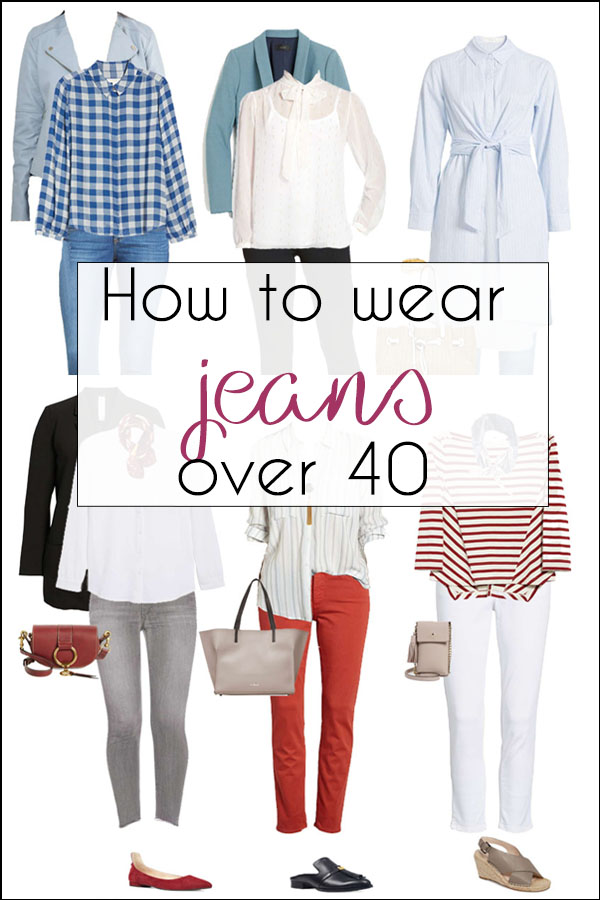 Top image photographed by Denton Taylor