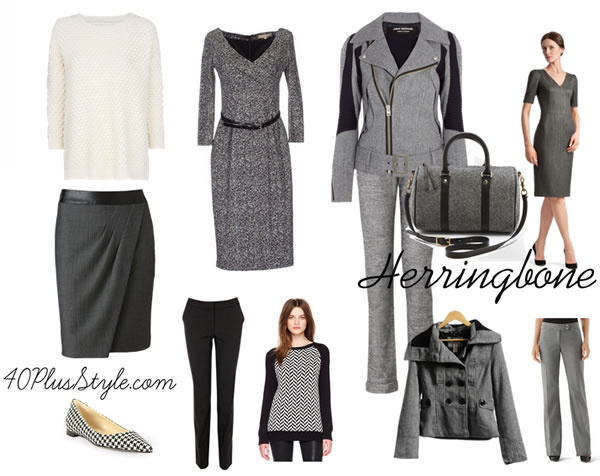 Herringbone is one of the manly and classic prints that is in fashion this season. Traditionally herringbone is worn in grey and is often cut in classical shapes. The trend becomes very interesting when these classical items are worn or created with trendy or more casual pieces.
Here are a few ways to wear herring bone
1. Classical traditional look
If you want to be understated and classical, nothing beats the classical herringbone suit or one of the dresses shown above. If you find yourself looking a little bit too classical or grey, combine your suit with a blouse with a trendy collar. Or make your look more modern with your trendy shoes, like those showcased in the mid heels shoe trends report.
With your dress, you can opt for a flashy color shoe or other colored accessories.
2. Mix with black (leather) for a more edgy look
Very popular this season, is to mix your classic grey herring bone with more rock and roll black. I absolutely adore the Junya Watanabe biker jacket above. Very pricey, I know, but I think it would be such a versatile jacket for a colder climate. Why not combine your herringbone print top or jacket with leather black pants?

3. Mix the herringbone grey with a bright color
Grey is like black. It goes almost with everything. So it's very easy to add an extra color, like a shirt in a bright or pale pink!
4. Create contrast between the classic and casual
Why not pair your classic herringbone blazer with jeans and a white shirt? The contrast between the two will make for an interesting look.
5. Pair it with white
You can also wear the grey with beautiful winter white for a very sophisticated clean look.
6. Wear it in a casual way
Buy a herringbone pattern in a casual cut! I recently wore an old herringbone boyfriend's jacket from my mum with white jeans. This is a full-on casual look, since the jacket is wider and more casual.
Will you be wearing herring bone this season? What do you think will be your favorite way to wear it?