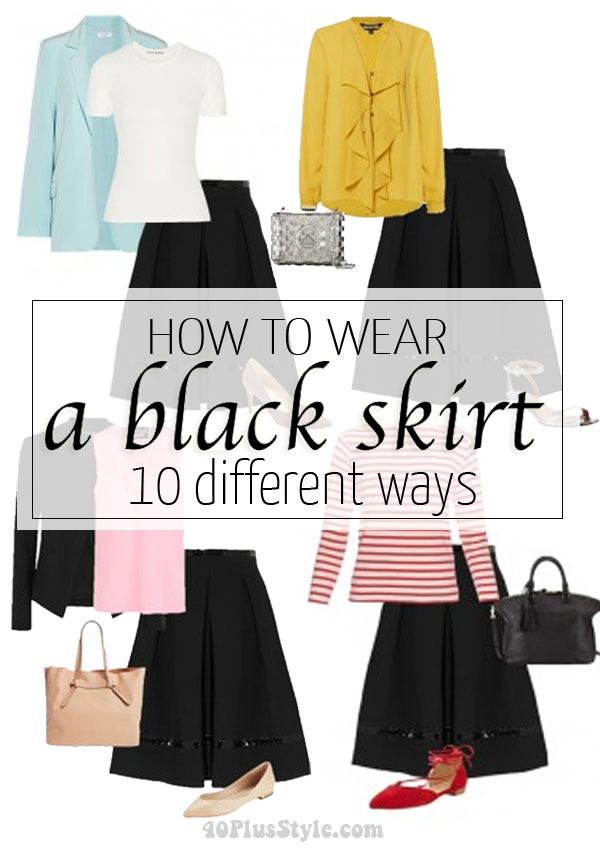 There is one powerhouse item in your closet that you probably take for granted on those days when you're trying to put together a chic look–the black skirt.
Often times, on its own it does not look too appealing (especially when you begin to compare it to the other more exciting options). We might relegate it to an office look, but never think twice for an eye catching evening or after work look.
Casual
For a casual spin on a classic black skirt, we paired the skirt with classic and trendy tops that tone down the seriousness of the skirt. A denim top is an effortless way to add a casual and relaxed tone to a look, while still keeping it polished.
We also went with a graphic t-shirt, which we contrasted with a more polished, tassled shoe to keep the look both fun and visually interesting. Other options for keeping the look casual are to go with a looser top that is not as structured as the skirt, or a bright colored Breton top that offers the right pop.
Work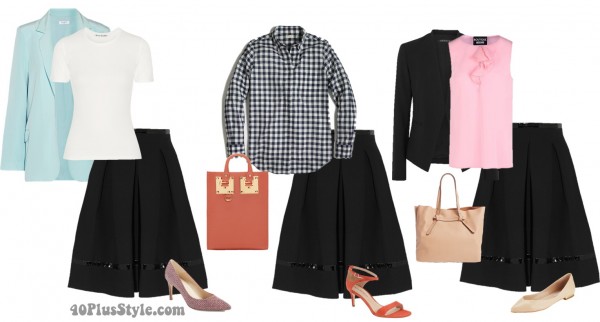 A black skirt is an office look staple. The key here is to find new ways to keep it exciting. We went with a very spring appropriate blue blazer, which when paired with contrasting lighter pink accessories immediately lightens up what could be a heavy look. It is still office appropriate, however, the look still has a fresh tone.
A gingham button-up with such a classic a-line skirt adds a trendy spin to your office look (depending on your office environment a blazer can be added). For pops of color we went with a pink structured bag and heels.  A classic skirt suit is a must have for many offices. To infuse a bit more personality into the blazer-skirt combination, adding a pop of color with a top alongside nude accessories goes a long way in creating an approachable and less severe look.
Evening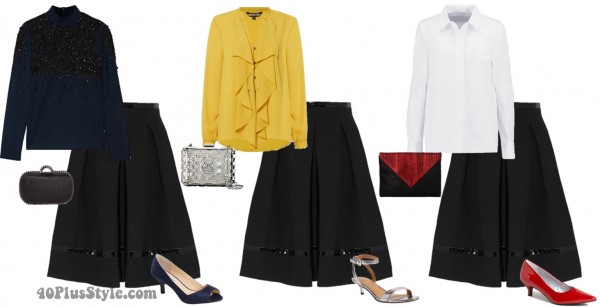 For an evening look, taking the black skirt up a notch requires experimenting with various textures and colors to add to the look. In this instance, we paired the skirt with a blue evening top embellished with contrasting black sequins.
A pop of color with a silk front ruffle blouse adds a fresh pop of color to the evening, while the material and cut still keeps it formal enough for an appropriate evening look. To keep the look elegant, we also added silver evening heels. For a classic formal look, we went with a basic white button-up. When paired with red pumps and a luxe leather clutch, the look goes from basic to a chic ensemble.
What is your favorite way to wear a basic skirt?

Shop the items featured above below