Taking a look from day to night is always a covetable outfit or clothing piece trait.
The ease of switching around one or two pieces and being able to head to whatever the evening holds is not as difficult as it might seem. It just takes some foresight, planning, a well tailored closet (see our guides on how to do this here and here).
In this article, we take you through various looks, styles, and quick tips to take your summer daytime look into one that is both comfortable and appropriate for an evening look.
Black and white dress
Here's one transition that gets you from the office in heels to a comfortable, yet chic evening look. The shift dress we selected is versatile and light enough to be dressed up or down. For the office, we went with a contrasting red look by selecting red heels and a work tote.
For evening, we channeled the red tones from the day with glamorous red lipstick that immediately adds evening legitimacy to the look. The black sandals work for an evening look due to the all black and tassel look. A coordinating evening clutch cinches the evening look.
Blue jeans
For this look, you start of with an errand appropriate daytime look of blue jeans and a basic top (with a ruffled top to add a little extra to the look). Simple orange sandals and an orange crossbody bag add pops of color, yet still keep the look casual and light enough for a summer day.
For the evening, we opted for season appropriate, structured pieces. A sleeveless embellished blouse and a sheer sleeve light black blazer create a very chic look, which is also cool enough for a summer evening. Low heel ankle strap black heels keep the ensemble dressy enough even if (and when) the blazer is taken off. A severely structured black handbag pulls the whole look together and adds a classic tone to the evening.
Multi-colored skirt
A well cut and flattering skirt can take you from day to night with a few easy changes.  With such a great graphic print, you can make the look more casual by pairing it with a simple white short-sleeve jersey t-shirt. It keeps you cool during the day and also keeps the look very casual.
A luxe take on the straw bag is kept casual enough by the white trimming that keeps it very appropriate for day. Coordinating lace up sandals with a slight heel is comfortable and bright enough for a chic day look.
For evening, you can play up the warm peach hues of the dress, by pulling that shade out with a coordinating sleeveless blouse. A matching structured handbag (which is always a must have if you ever want to dress a look up with one powerful accessory) and heeled sandals instantly make this an evening look.
Khaki shorts
With a few simple changes in accessories and makeup, this look can go from day wear to night time appropriate with a few simple tweaks.
For day, we made the look semi-tropical with a straw bag that brings down the seriousness of the top and shorts that can be dressed up or down. Flats immediately add an off duty feel to the look, alongside mirrored sunglasses and very subtle, shimmery makeup.
For the evening look, we went with golden tones (reflected in the ornate evening clutch, gold bib necklace, and cocktail ring), a nude lip to bring focus to the glamorous smoky eye look, and light peach pumps that play off of the burnt orange tone of the top quite well. All together, the look is a very gilded and modern ensemble that reflects the warmth of the season.
White jumpsuit/tomper
We took this romper from a glamorous day look to an even more glamour night look.
The stark white of the jumpsuit is begging to be paired with gold accessories and tones. For day, we chose a long wooden necklace as the focal point of the look. Warm blush and light pink lips keep it a perfect day look, alongside gold sandals whose rubber material keeps them playful and casual enough.
For night, a 70s inspired horn necklace was added that pulls that decade out of the jumpsuit. Coordinating gold heels and a box clutch add that Saturday Night Fever feel to the look, without being overwhelmingly kitschy. Peace based smoky eye and a red lip add to the  look without being too over the top.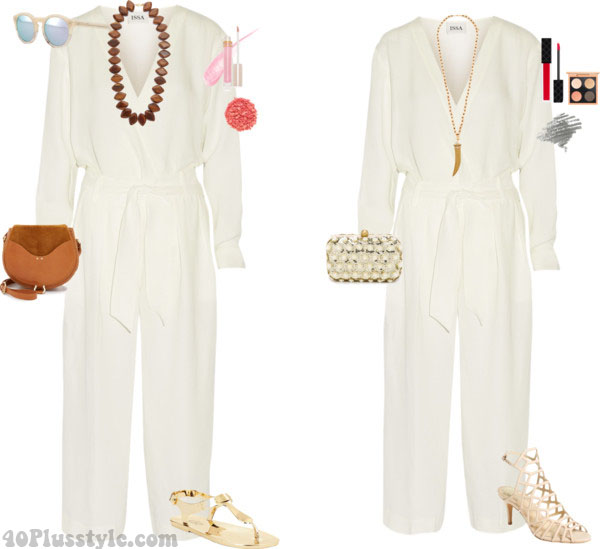 Take a look below to shop the items featured in this post

What is your favorite summer look? What tricks do you use to go from day to night?