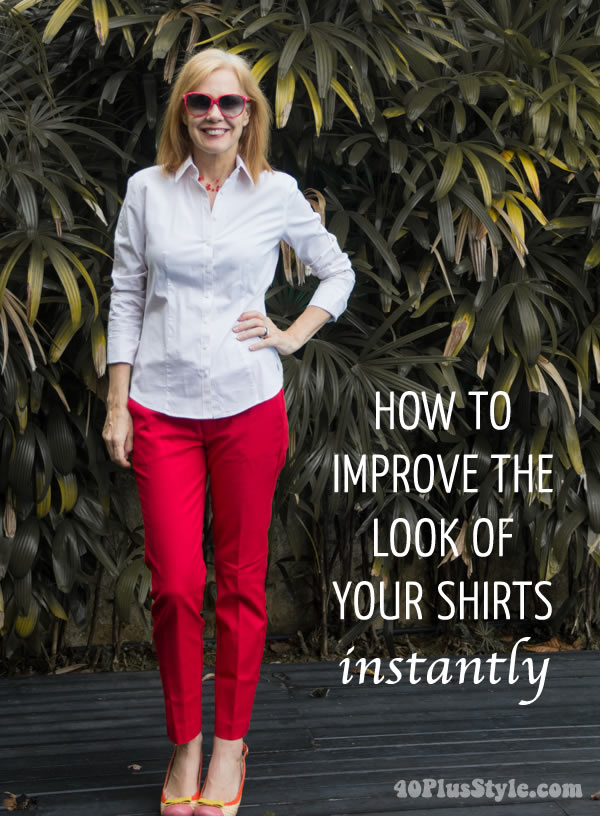 I love wearing shirts. If I would work in an office or lived in a cooler climate, I'm sure I would wear them more often.
I find shirts especially good for business meetings as they add that bit of professionalism to a an outfit.
However, sometimes the shirt can let you down. I know I have had this situation where I wanted to wear a shirt to look smart but was not happy with the final result as the upper part of the shirt just looked messy.
That is why I instantly understood the purpose of this new unique patent pending product called ShirtProp and agreed to write about it here.
They created easy-to-apply adhesive strips that sit in the inside of your shirt and will instantly give the blouse or shirt the structure that it needs to look smart.
Have a look at the image below: do you notice that the shirt looks a lot smarter in the second image?
Here is how it works:
Get ShirtProp
Pop them on the inside of your shirt
Wear shirt as usual but look instantly smarter!
Here is one of my own blouses that I took to the test.
In addition to looking smarter with the shirt, I think that this solution has the additional advantage for women of not needing to button your shirt high. The collar naturally stands up and creates good structure within the blouse, which gives you more space around the bust.
I think it's brilliant for men too.
I know that my husband never wears ties anymore. Not even to business meetings. He still needs to look smart and professional though and will wear a shirt and sometimes a jacket. It's especially important for him that his shirts don't look sloppy.
I will certainly find it easier to wear my blouses again!
If you like to give ShirtProp a go, head on over to their website for more information or buy it straight from Amazon.

This article was created in collaboration with ShirtProp