Your hair frames your face so it is important that it looks the best it can be. Earlier Anja shared her tips on how to manage curly hair and control the frizz. But here are also my personal tips for the best hair products to give you luscious and fizz-free hair!
To beat the Frizz
Kerastase Elixir Ultime — hands-down winner for best fragrance. A little goes a long way, so don't be deterred by the semi-high ticket price
Shu Uemura Essence Absolue — hairstylists are all swooning over this Japanese cult line and the colossal bottle pretty much guarantees you'll never run out.
Moroccan oil Frizz Control — a lightweight version of the grand-daddy of them all. Comes with a spray, but spray into your hands and smooth over hair. You can always add more, but never less.
For on the go Hydration
Aveda Pure Abundance Style-Prep – Designed to prep your hair based on your hair concern or desired style and leave your hair in the best condition possible.
Redken Smooth Detangling Crème – Breathe new life into your lackluster locks with this leave-in conditioner.
Ouidad Moisture Lock – It creates a "moisture foundation" by infusing individual strands with conditioners vital to healthy hair and great-looking curls!
Quick & Easy Styling Products
Do you have any favorite products that beat the frizz?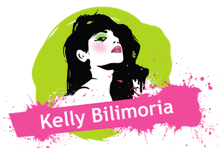 Kelly is 40+Style's makeup and beauty expert writer. She is a professional makeup artist currently residing in Singapore. For more information or bookings contact her through her website.
Related posts: