We have all had those moments where we're standing in front of the closet completely baffled as to what to wear. That moment of panic is a common experience.
In this article, we go over how to create the perfect outfit without succumbing to the old adage of, "I have nothing to wear."
When creating an outfit, the key is being open to experimenting with new pattern combinations, pairings, and styles that you have kept in the back of your closet.
Also, keep a rotation of "go-to" items you know look great on you separate from the rest of your clothes. Rotate these out every two weeks or so to keep yourself creative and to keep from wearing the same ensembles day after day.
Get organized
When beginning to put an outfit together, it's important to get organized by thinking and planning ahead. Begin by asking and answering the following questions:
Where am I going?
Think of this in both the geographic and event contexts. If you're going to work, then for many individuals your look will be slightly different than if you were going to an evening cocktail.
When am I going? 
A daytime look might be quite different from an evening look (even if it is for identical events). As an example, what you wear to a Saturday cocktail party at 1pm might be less formal than what you would wear to a Saturday cocktail party at 7pm.  It is also important to look at the weather, in order to plan an outfit most appropriate for the elements.
How do I want to feel?/What do I feel fabulous in? 
As you select the perfect outfit, it is important to remember that feeling confident in a look immediately takes it to the next level. If you know you feel uncomfortable in that red dress you picked or the too high heels you chose to wear, it will be evident that you are not at all comfortable. Ask yourself what you really feel comfortable and sexy wearing, and follow up by asking yourself how you want to feel for that particular event.
What do I own? 
Taking stock of what is already in your closet and what fits you well is the best way to have an organized closet. Once you have all of the questions above answered, take a look through your closet to see what you own and that would comply with all the answers to the questions above.
Need a step in the right direction to get your closet organized? Our articles "How to wear the clothes already in my closet" and "How to create and update your casual wardrobe" will help.
Find your base item
An ensemble's base item is the first item you want to wear and build your outfit around. The base item can be anything from a pair of  red pumps to a bold, floral print scarf.
Do not put much pressure on yourself  by initially thinking ahead as you select your base item. Focus on that one item you are drawn to.
Let's look through at a few items that could serve as inspiring base pieces.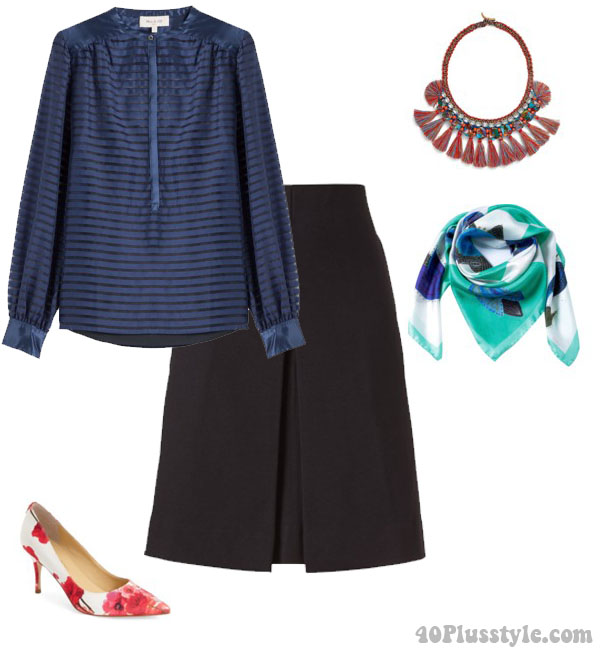 For this exercise, say we're trying to create an outfit for a business casual day at work. We want something dressy but not too formal for the office. We also want something comfortable that we can take with us to the evening drinks we have scheduled right after work. We decide we're feeling a bit playful, but also want to wear something we have not worn for some time.
Looking through our base items, we find ourselves drawn to the blue striped silk blouse. It is tastefully sheer in some places, which is a bit fun, but is conservative enough for the office. With a quick change of shoes or our skirt, we can easily take this look to our evening plans.
Add your layers
Once you select your base item, begin to select the pieces that will go around them.
Now that we have selected the striped blouse as our base item, let's begin with selecting a bottom for our top. Looking at what appeals to us, we take out blue pants, light and dark floral skirts, and white cropped pants.
The shade of blue of our pants is a bit too different to create a true monochromatic look to our ensemble. So we decide to wear these another day.  The darker floral skirt is a bit too somber for what we had in mind, so we opt not to wear that piece. Our options are now between the lighter floral skirt and the cropped white pants.
While we like the juxtaposition between the stark white pants and the solid blue top, we really want something playful and flirty. We decide the lighter floral skirt is our best bet for the look, and the bonus is that it can take us right into our evening plans.
Next, we decide whether we should wear another layer to our look. We pull out 4 pieces we could consider for our look. We consider a few blazers, however, we do not have any major meetings in the office on that day and the blazers we have on hand do not really deliver on the playful and casual tone we need.
We choose not to have any outerwear as part of this look, however, we remember that it is going to be a cool morning and a cool evening.
We decide to go with out classic and favorite trench coat for the morning commute and evening drinks.
Set your best foot forward
Shoes are one of those ensemble components that can make it either a very glorious or failed look. Once again, you want to take where you are going and what you will be doing into account.
For our purposes, we will be at the office with a divided amount of both sitting and standing. We also know we will be joining friends for drinks after work. We're not in the mood to change much, so the shoes we wear to the office will be what we wear out. We go into our closet and pull out some options for our look.
Ultimately, we decide to go with the blue heels. The blue helps to ground the look and can take us into well into the evening.
Add your accessories
For our accessories, we know with the blush pink and gold hues in our look we want to go with a rose gold look for the day and evening. We select a statement necklace that is light enough for the day (and does not look too ostentatious ) and can also hold its own in the evening.
Matching earrings that do not compete with a statement necklace are our best bet, alongside a coordinating, minimalist watch. We have two bag options, which both look great. However, we decide to go with the multi-colored satchel, as we are feeling more playful than we are structured.
Capture your outfit
Finally, it's a good idea to capture the outfit in some way. You could use an online wardrobe manager to keep track of your outfits. This will give you ideas for the future but can also record how you felt in a particular outfit.
Did you feel fabulous? Then you may like to wear the same outfit again on another occasion.
Did you not feel your absolute best? You may like to make some changes to the outfit for another time.
Of course a fun way to share your outfit is to go to our Private Facebook group (just subscribe here to get access) or to share on Instagram with our special hashtag #40plusstyle and stand a chance to be featured on this site.
What are some of your biggest challenges when creating the perfect outfit? What is your go to strategy?

Take a look below to shop the items featured above

Want to get more articles from 40+style in your inbox, subscribe here.
You can also connect with 40+style on Facebook, Instagram or Pinterest.
Support 40+style by using the links in our articles to shop. As an associate for Amazon and many other brands, we receive a small commission (at no cost to you) on qualifying purchases which enables us to keep creating amazing free content for you. Thanks!