If you're not familiar with color blocking, you're missing out on a fun, vibrant way to express your style personality. Here is how to color block.
What is color blocking and why is it flattering?
Color blocking involves using "blocks of color" in your outfit to create a bold, eye-catching look.
The look can be very effective and flattering on women over 40 whose skin tone tends to cool and gray with age, because vivid color uplifts and revives your skin's appearance.
Here is your guide to how to color block your outfits and my secrets to easily mix and match colors.
Color blocking inspiration
To get started, take a look at Pantone's Fall color trends for the 2019 season.
This color chart covers the winter and fall 2019 season and features some surprising pastels, but also some rich, deep shades perfect for the changing weather.
Also take a look at the best color trends for Fall 2019.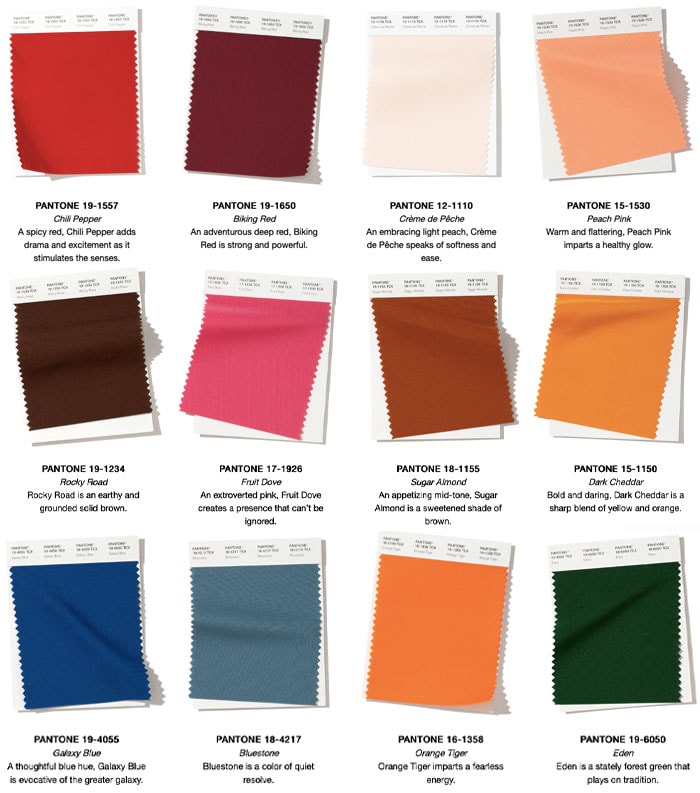 When I look at the color chart, I get inspired right away. And this is how it all starts.
Choose a couple of your favorite colors to combine. As you can see, any of these colors would go beautifully together.
It really depends on how much contrast you want between your colors as to which ones you choose.
How to use color blocking fashion to flatter your figure
As well as being bang on trend, color blocking can also be used as a useful tool to flatter your body, no matter what your shape.
You can use darker blocks of color to disguise areas you aren't so keen on showing off.
Or, you can use strong, slimming stripes to create a column of color which would give a slimming, elongating effect.
Also look at the tips in how to look taller and slimmer.
Three ways to use the color blocking technique in your outfit
When creating a bold and fashionable outfit, there are three main ways you can go:
1. Monochromatic
To use the monochromatic technique, pick one color and layer different shades and tones of it.
If you go back to the Pantone color chart, you can combine Galaxy Blue and Bluestone (blues) or or Peach Pink and Orange Tiger (oranges) or Chili Pepper and Biking Red (pinks or reds).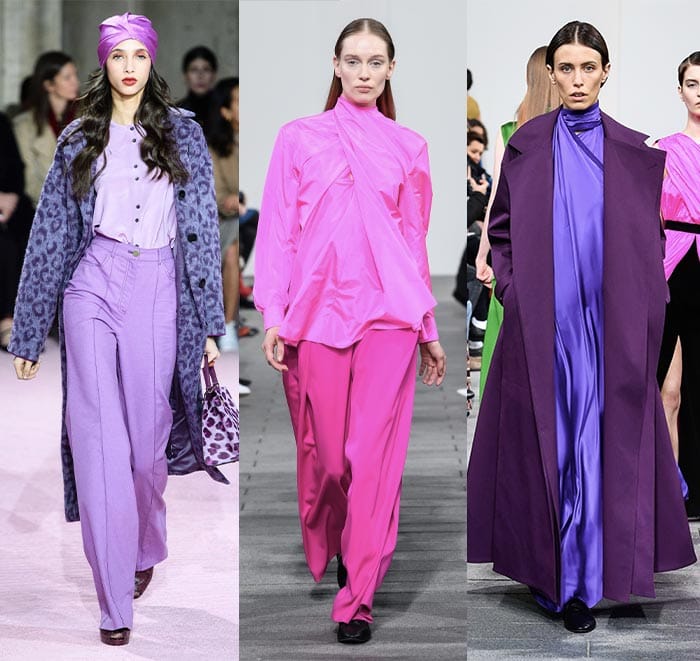 Kate Spade New York – Maison Rabih Kayrouz – Maison Rabih Kayrouz
Now look closely at the 2019 Fall/Winter runway images above.
I love how each designer went monochromatic but also made it interesting by mixing up the fabrics and textures. I see matte and shiny and soft and vibrant.
Take inspiration from this by also mixing the textures in your monochromatic color block outfit by using woven with silky or monochromatic pattern with solid or pleating with leather or suede.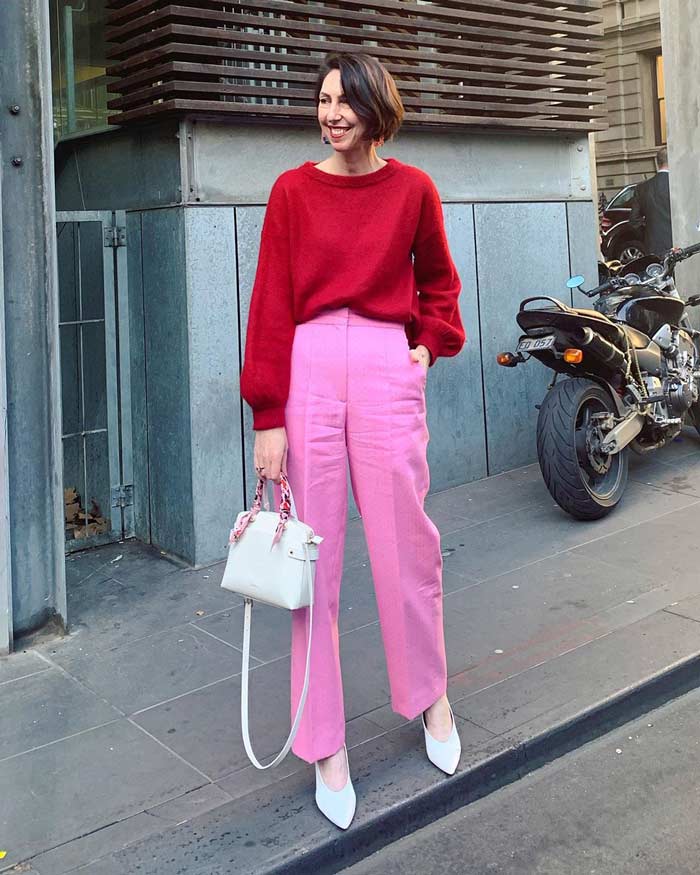 Sally (above) chooses a monochromatic look pairing colors from the red spectrum.
Check out this similar sweater, wide leg pants and shoes.
2. From the same color family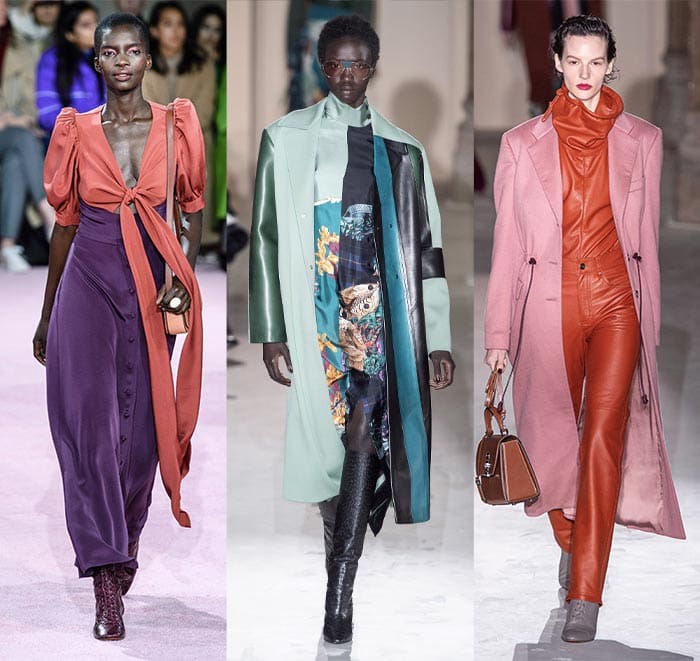 Kate Spade New York – Salvatore Ferragamo – Salvatore Ferragamo
These looks from the 2019 Fall/Winter runway shows of Kate Spade and Salvatore Ferrgamo show how colors from the same color family combine nicely.
I especially like the idea of adding a pattern or print in the tones to tie it all together.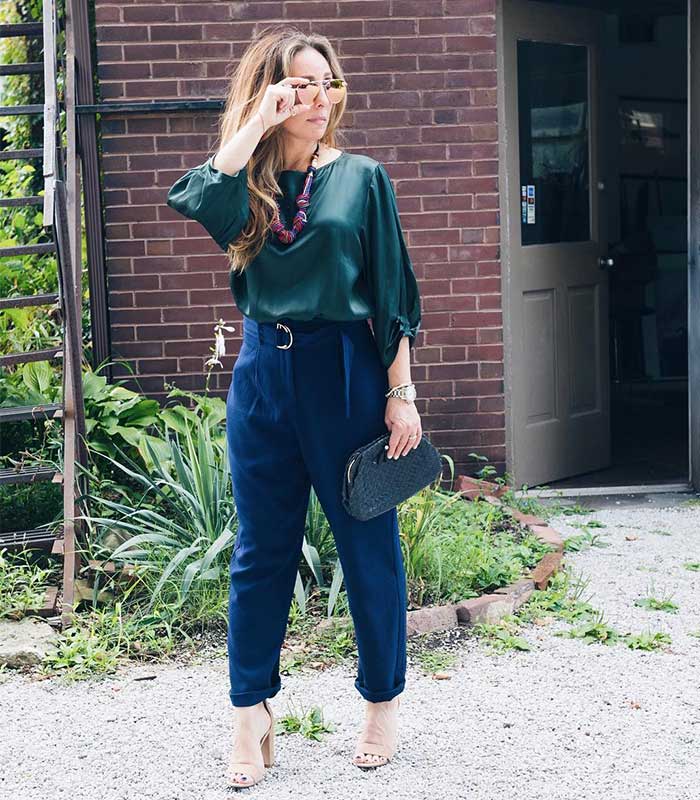 Hallie (above) combines colors from the same family, and lets her clothes stand out by keeping her shoes neutral.
Get this similar satin blouse, pants and block heels to recreate her look.
If you're wondering how to mix colors in this way, I'll share this: I learned my secret to organizing colors in second grade.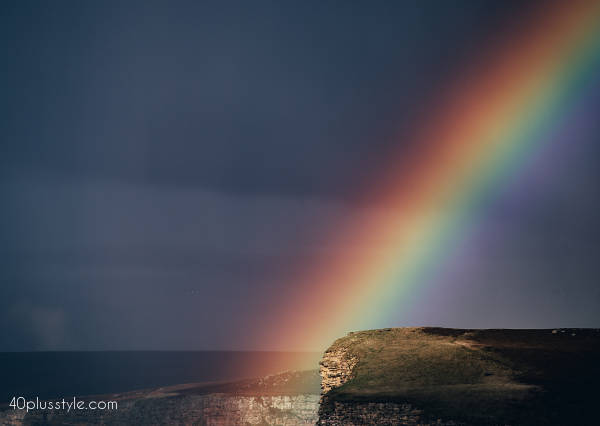 Remember your rainbow color order?
If you look at a rainbow, the colors flow as purple, blue, green, yellow, orange and red. Use the rainbow as your guide.
All purple, blue and green shades are in the same "family" or end of the rainbow.
Yellow, orange and red are the other side (including pink).
When color blocking this way, choose one side of the rainbow family and have fun.
3. Contrasting tones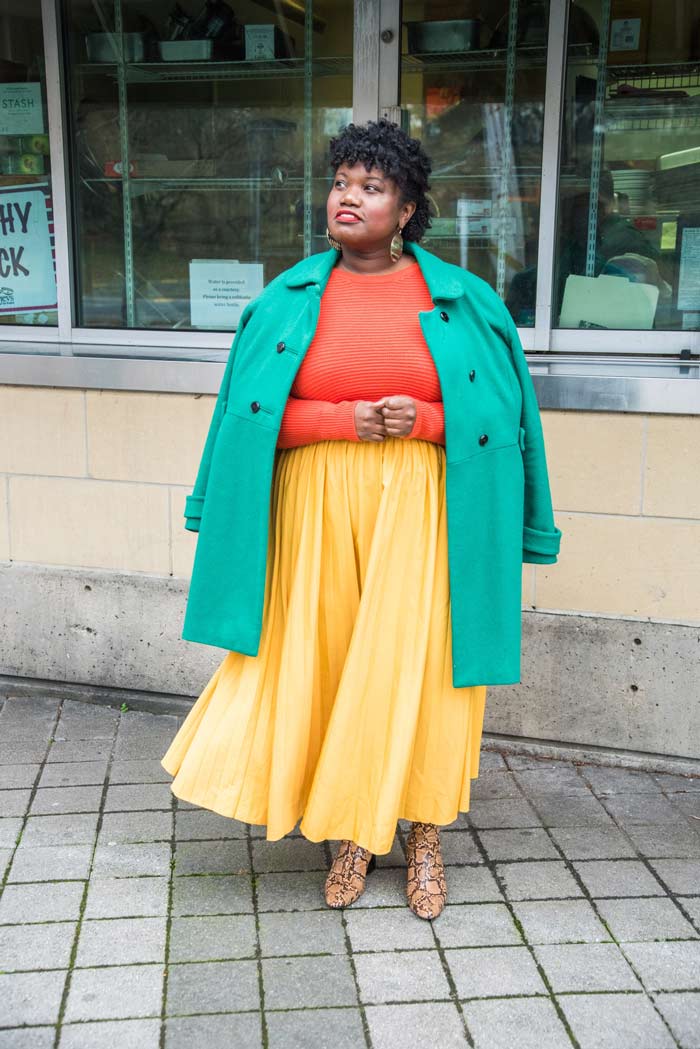 Georgette (above) color blocks with some beautifully contrasting tones.
Get this similar long sleeves top, pleated skirt, coat and booties to copy her look.
If you want to get adventurous, choose colors from opposite ends of the rainbow.
For example, blue with orange. Or yellow with purple.
This one is tricky, so be careful how you mix these very opposite colors!
A good rule of thumb is to choose a saturated color and block it with a softer shade of the opposite color (instead of two bright rich opposites). Unless you are trying to replicate the 1970s.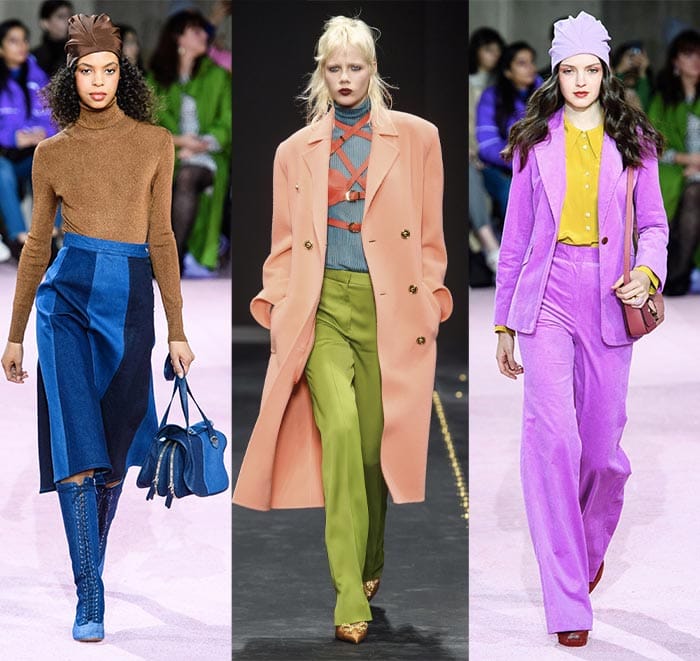 Kate Spade New York – Versace – Kate Spade New York
A perfect example from the color chart above would be Galaxy Blue (bright) with opposite Dark Cheddar (soft or muted).
12 of the best color block pieces
One easy way to color block without even thinking about it is to choose clothes and accessories where the color blocking has been done for you.
Here are some of the best color block pieces in stores now.
Color block dress
Boden is a good place to take a look for color blocked clothes. It's designers frequently create dresses and coats with color block detailing.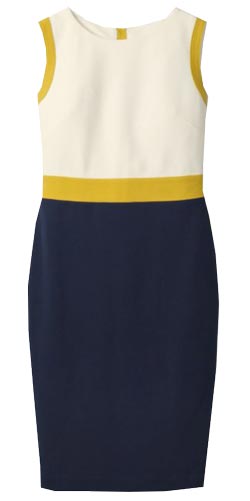 Color block sweater
A color block sweater could be perfect for fall.
By choosing a darker color on the bottom and a lighter color on top, you can emphasize the bust while helping to hide a belly.
Take a look at how to hide your belly with fabulous clothes.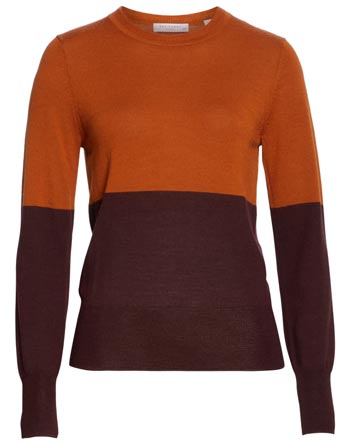 Color block shirt
Color blocking doesn't have to be high in contrast. You can also opt for subtle shades.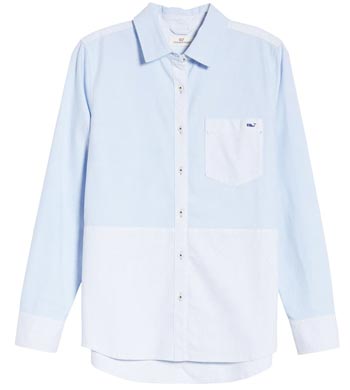 Vineyard Vines button-up shirt
Color block shoes
Adding a new pair of shoes to your closet is always an easy way to give existing outfits an update.
Color block jacket
Adding a color block jacket to your outfit can give some pizzazz to even the simplest of looks.
Just pop over your jeans and a black or white tee.
Color block coat
If you're looking for a new coat this winter, how about a color block option?
It's sure to win admirers as you walk down the street.
For more coat inspiration here is a complete guide to buying a winter coat.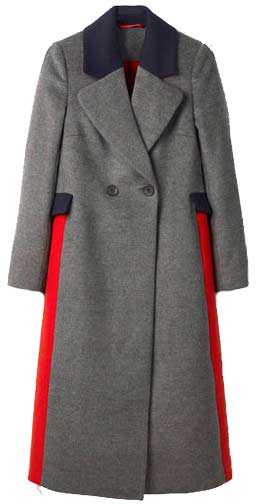 Color block skirt
A skirt featuring strong blocks of color would look beautiful worn with a simple t-shirt or white shirt.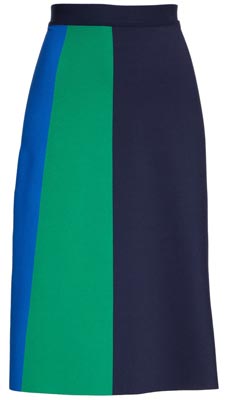 Color block scarf
I love this scarf which is not only made from soft cashmere, but also features a strong and more muted color block.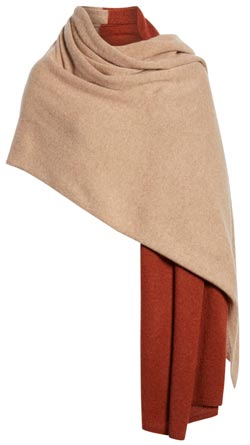 pink and red color block dress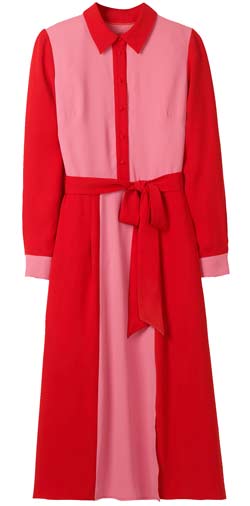 Color block jeans
You can also use color blocking to create a slimming effect by including vertical color block stripes in your outfit.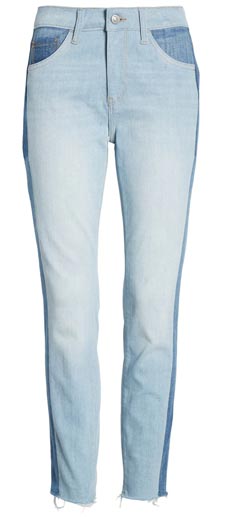 Color block top
Opting for a color block t-shirt is an easy way to elevate your everyday style.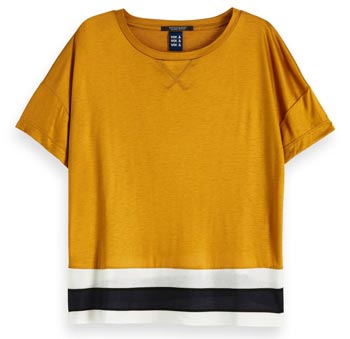 Color block jumpsuit
A color block jumpsuit can look very stylish either worn with sneakers for daytime, or with heels for evening.
I would keep the rest of your jewelry simple.

Color block handbag
Just as with adding a new pair of shoes to your look, a handbag in a certain trend can update your existing outfits without trying too hard.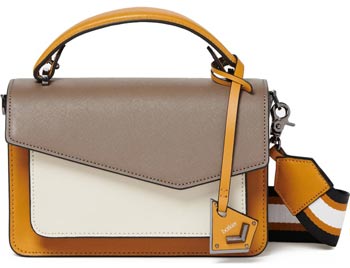 More tricks on how to color block
One of my tips in the early days of this site was to always use at least 3 colors in an outfit.
Greetje has taken this tip to heart and she often still references it.
I love how she applied it to this outfit (where she actually wears more than 3 colors) where she color blocks, red, blue and green. Notice the fabulous green shoes and the green accents in her bag.
The extra dimension of the green turns this outfit into something special.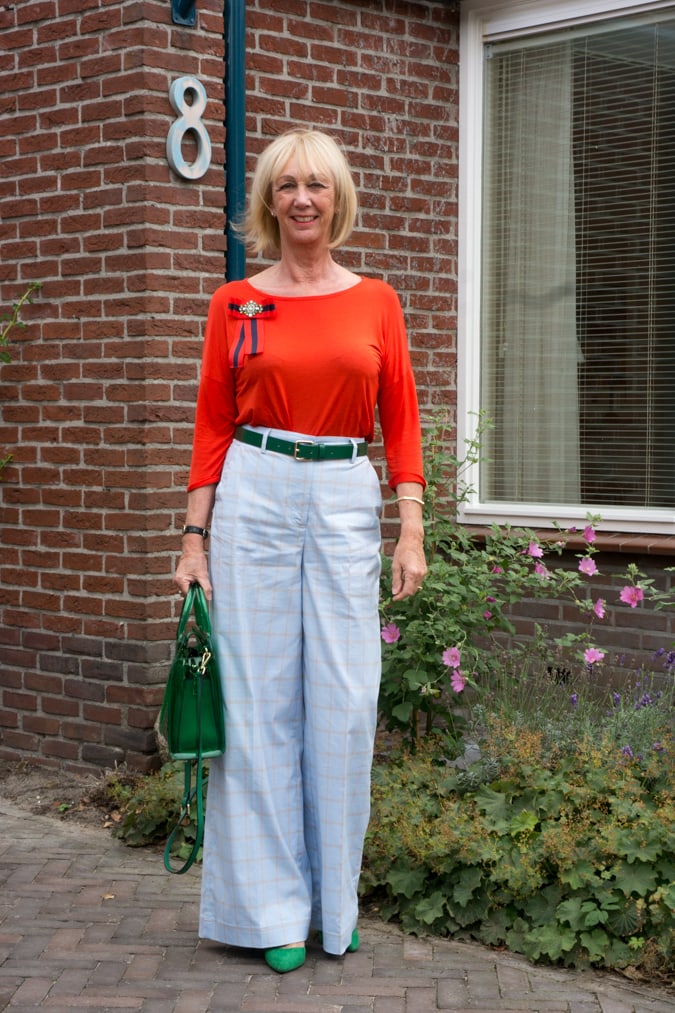 Color blocking do's:
Use at least two colors. If you want to start off slowly, use one bold color in your outfit and the second bold color in accessories.
Add a neutral like black, grey, tan or white to the mix, like Style Club members Natalie and Karen did.
Layer at least two separates to color block. A dress plus jacket, or pants plus top plus scarf and/or cardigan.
Choose the brightest, most flattering color as your top to accentuate and enhance your gorgeous face.
How to color block and still look tall and slim
Lengthen the look of your legs by using the darker, richer color for your pants or bottoms.
Wear shoes in your skin tone color or in a similar color to your pants or skirt.
Add a bold jacket or cardigan to lengthen you, add structure and hide your belly.
Stick to one color from the waist or hip area down so you don't chop yourself up.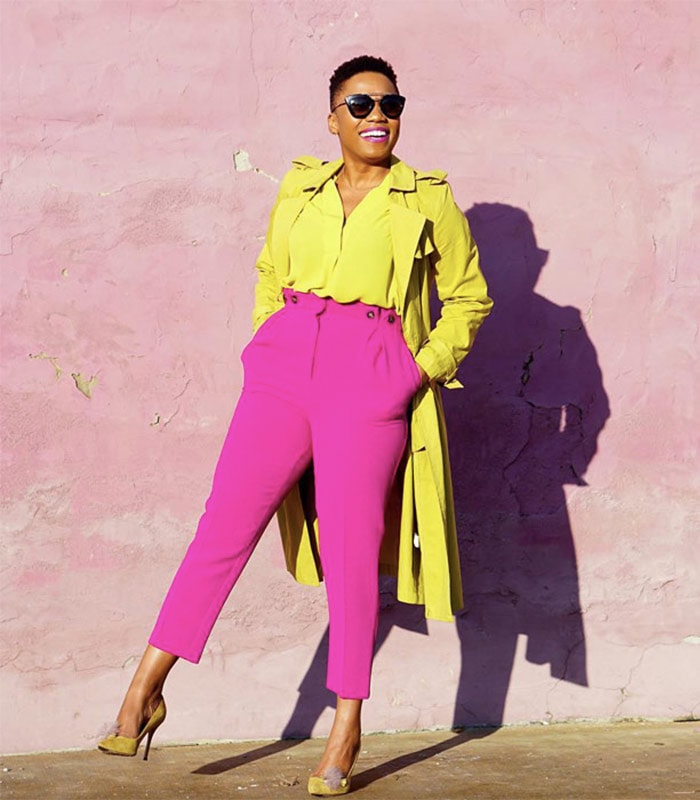 Psyche (above) has perfected the art of color blocking by using shades in contrasting tones.
Check out these similar ankle pants, blouse, coat and pumps.
Here is more advice on how to look tall and slim.
Now that you have some guidance on how to color block, give it a try and post your looks in our Facebook group or on Instagram, hashtag #40plusstyle.
What colors will you mix and match?
Continue reading:
Like this article on how to color block? Share it on Pinterest!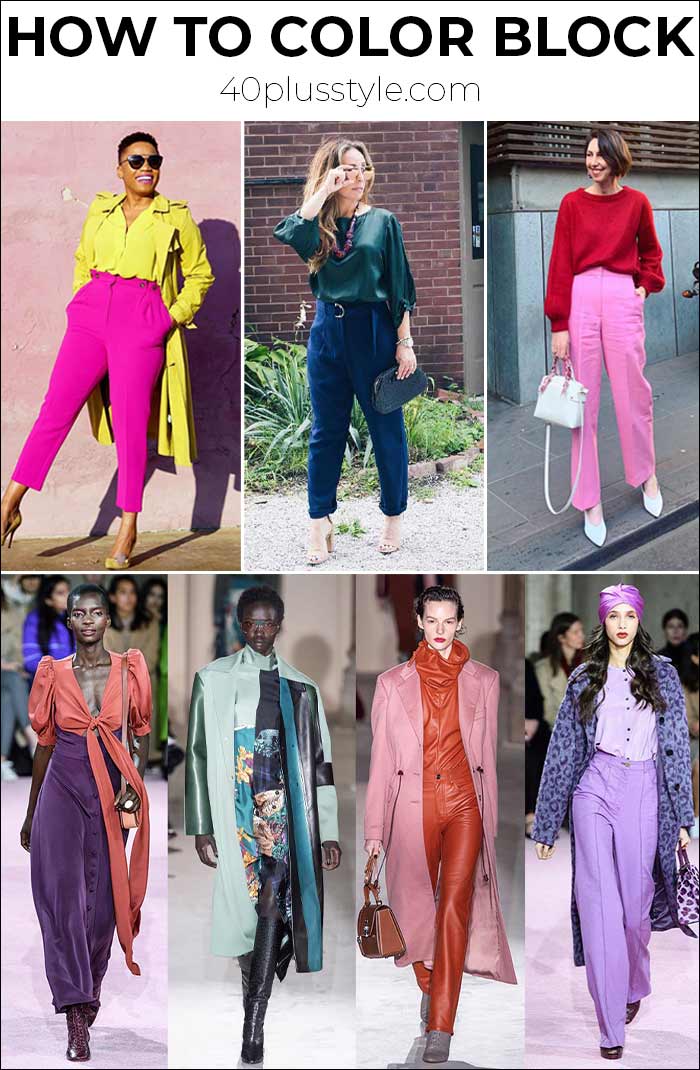 Feature image by Psyche
Want to get more articles from 40+style in your inbox, subscribe here.
You can also connect with 40+style on Facebook, Instagram or Pinterest.
Support 40+style by using the links in our articles to shop. As an associate for Amazon and many other brands, we receive a small commission (at no cost to you) on qualifying purchases which enables us to keep creating amazing free content for you. Thanks!