It's always fun to incorporate some of the latest trends into your wardrobe and one of the biggest trends this season is knitted sweaters. Especially big, bulky and oversized sweaters.
I'm happy to join in as I'm planning for a short trip to Europe and am currently curating a beautiful winter capsule wardrobe with knits being a major part of it.
How to wear knitted bulky sweaters?
For a balanced and slim silhouette, it's good to combine your bulky knits with something structured and slim fitting. I'm going to wear my sweaters with a straight skirt as well with (relaxed) fitting skinny pants.
If your knitted top is short enough, you can also wear it with knee-high or longer a-line skirts and wider trousers. Although mine is not short enough for my fitted A-line skirt, I'm able to tuck it in to still get the effect.
Let's have a look at a few examples of each.
Knitted bulky tops with straight skirts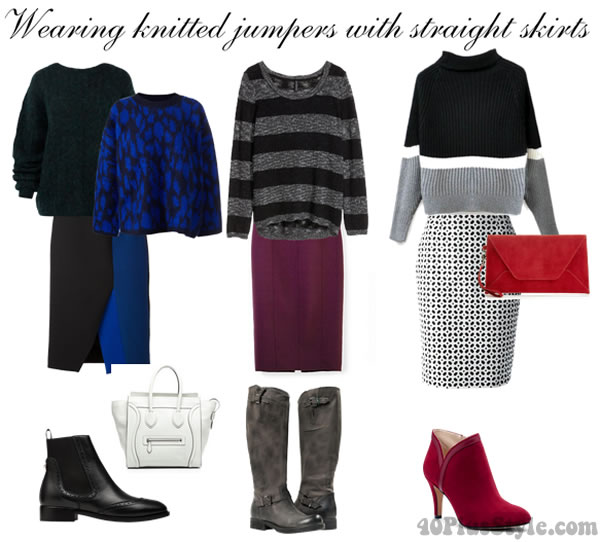 My favorite look of the season.
Especially trendy are the straight skirts with slits and I love some of the asymmetrical options. My skirt has a slit as well and a color block effect.
Straight skirts can work with shorter as well as longer knitted jumpers. They are also great with asymmetrical knitted jumpers. You could even layer them with a shirt popping out underneath.
The shoe of the season is the bootie and that is my shoe of choice with the skirt. (find some great options here). For more warmth, you can also opt for long boots which are also very hip. You can find a list of some knee-high boots here.
Knitted tops with fitted a-line skirts
Knitted tops also look good with fitted A-line skirts.  Those skirts that fit tightly around your hips and then flare out. It's best to keep the top realtively short here. Asymmetrical tops also work really well.
Again I have opted for both booties as well as long boots to wear with it. Booties are comfortable and keep me warm. Then get some good opaque tights that match the color of your skirt and you are good to go.
Wearing a knitted jumper with skinnies
Creating a juxtaposition between the bulky and roomy versus the tight and fitted often creates a great look.
Skinnies are an obvious choice for your longer tunic sweaters but you can also create great layered looks. Let a longer shirt peek out underneath your shorter jumper.
You can wear all kinds of shoes with this look. Booties are great, but so are loafer, brogues and pumps.
Other options for wearing a sweater
Of course there are many other ways to wear your sweater but the three options above are the ones that I will apply in my winter wardrobe.
There is just so much variety in the kind of knitted tops you can get this season and you can play with many different kinds of silhouettes.
Get a long knitted tunic sweater and wear as a dress over leggings
Create a long and sleek silhouette with a long fine knitted top worn over a knitted straight skirt
Create a relaxed look by wearing them over relaxed pants.
Layer with long vests or shirts
Wear a really short knitted top over a (printed) shirt
I selected some clothes based on the inspiration above that you can buy online right now.

Show me how you will wear your knitted tops this season!
The sky is the limit really and I would love to see your creativity! How will you wear your knitted tops this season? What is your favorite silhouette?
You can create your own collages at Polyvore.com. Then share the link in the comments and I will share your creations in this article as well!
I will show you more of my winter wardrobe next week.
Do you like the knitted sweater trend? How will you wear it this season?

Collages from readers