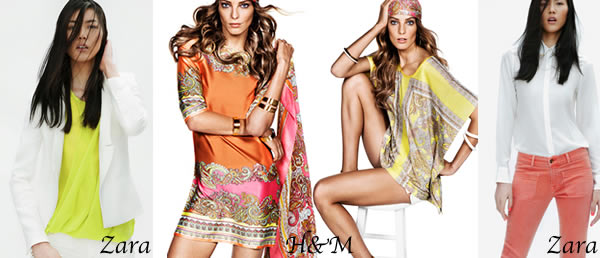 Dressing is very psychological. I don't know about you, but when I dress myself in bright colours, I automatically feel happier. It is actually quite a good tactic to force yourself to wear something bright when you are in a bad mood. Not easy to do, I know, but it sure is effective.
With all the brights in the shops, it certainly has never been easier to do so. Can you imagine being sour and depressed while dressed in those bright yellows? I'm not sure if I'm just in a positive state of mind or I get influenced by the trends, but I'm suddenly very attracted to yellow. I've got my eyes on a pair of Calvin Klein flats in a combination of nude and yellow. I've also spotted several tops in that colour as well, like the Zara top shown above. I was very good at resisting temptation today, so I'm just window shopping the internet. Here are some of my colourful finds.
Bring in the sun and your happy smile with yellow
1. Philip Lim 2. Zero & Maria Cornego 3. J Crew 4. Milly 5. Helmut Lang 6. Reed Krakoff 7. Calvin Klein
Feeling a little more timid? Then opt for bright green!
1. JCrew 2. Sonia 3. River Island 4. Nine West  5.Old Navy
Do clothes and colours lift your mood? Have you ever experienced feeling much happier after dressing in a particular colour?

This article contains affiliate links
Related posts: