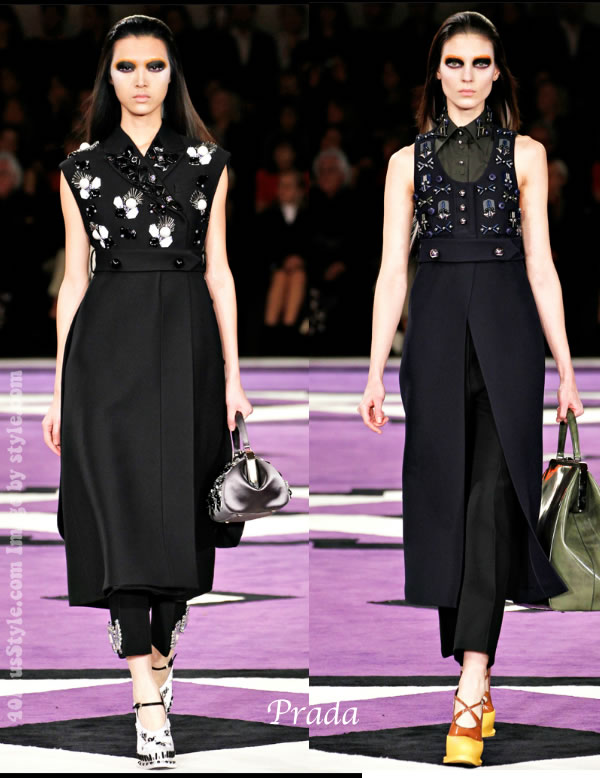 Although the attention was firmly on the waist in many other collections for this Fall, Prada mixes things up by going for an empire waist which was seen throughout the collection. I'm loving the new silhuette shown here. Another characteristic of this collection were the ankle height pants. Not an easy look to pull of for many women, but this trend doesn't seem to go away. Also note the dresses worn over pants, another favored look here at 40+Style!
Gucci
Gucci's collection was darkly glamorous. To me it had a romantic bohemian feel. It featured a lot of frills, leather and velvet, which I have seen in other collections for Fall, so that may become a Fall trend.
Max Mara
Max Mara showed a lot of sailor and military looks and dresses that looked like pinafores (if that is the correct word). I think that would be a fun look to wear over a nice woven shirt as seen above. I'm still not tired of stripes either and Max Mara offered a lot of those!
Fendi
Fendi too featured leather in the collection but they mixed it with lots of other fabrics. So instead of pattern mixing we now get fabric mixing. This collection also featured lots of puff sleeves and a firm accent on the waist.
Sportmax
I think I pinned almost the whole Sportmax collection to my pinboard as I loved almost all of it. I loved this purple-pink colour and the interesting designs of the dresses. I have always had a 'thing' for Japanese inspired fashion and this collection was inspired partly by the martial arts. It has great lines, fun details and a lovely lengthening silhuette.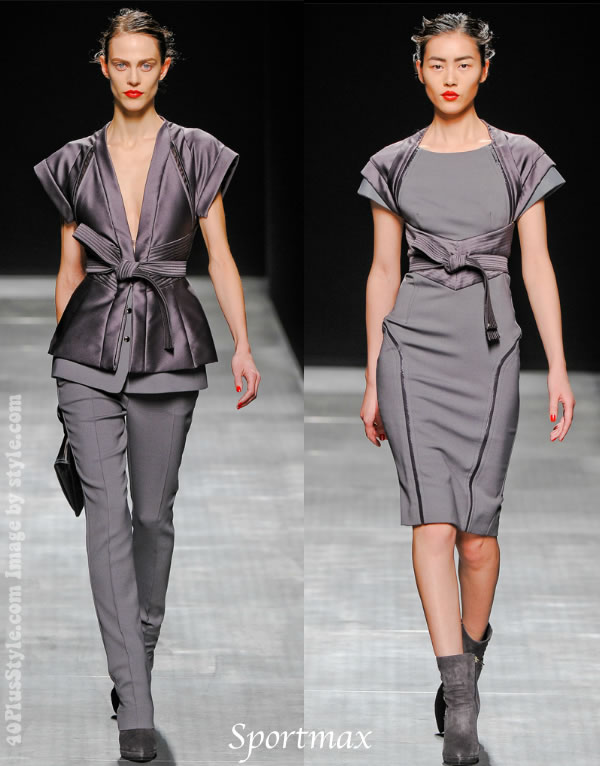 An interpretation of Stella McCartney's 'slimming' dress was also seen here various times and I love this blue / black interpretation. And how fun to combine these booties with these dresses.
Burberry Prorsum
There was much to love about Burberry Prorsum's playful collection as well. Busy skirts that fell just over the knee and military / marine influences, together with owl t-shirts peaking underneath the jackets. I've always been a fan of those military style jackets, so it suits me fine that several brands are re-introducing that. Burberry put a  firm accent on the waist and almost every outfit featured a waist belt. Velvet also featured in several designs as well as the peplum style.
This concludes my wrap up for this week. All my favorites from the fashion shows can be viewed at my fall 2012 Pinboard. Also, congratulations to all Oscar winners! All my favorite dresses for this year are on my Oscars pinboard.
What did you spot that really took your fancy?