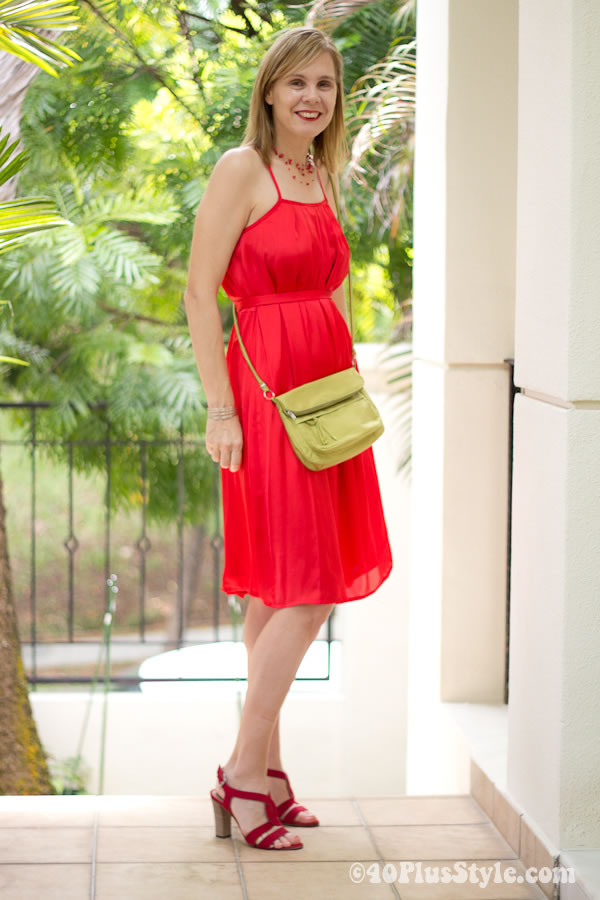 A few weeks ago I showed you all my bright blue dress which was a gift from Dresstronomy, a new online shop for clothing and accessories. What I didn't tell you then, is that I was given a second dress especially for my readers: this gorgeous georgette satin bright red dress! To give you an idea of size and to show you how good it looks, I'm showcasing it for you today! All it needs is a few accessories and one of them you can actually win as well!
It's a lovely flowy dress great for hot weather, but of course you could easily combine it with a cardigan for cooler weather as well. It was a great opportunity to wear my new red lipstick! I also purchased this moss green silk bag in Cambodia recently and it looked great with the red dress, so it's perfect for a bit of colour blocking as well!
The size of the dress is a UK 10 (see conversion chart for the size in your country) but please note that this particular dress is large to size. So if you normally have a size 12 (US eight) then this dress will probably fit you. More information on the dress can be found here.
Although the red dress in itself is a great reason to enter this giveaway, I realise that not everyone may have this exact size. So in order to make this giveaway attractive to everyone, I will also include this beautiful contemporary sterling silver bracelet which has a total value of $85. This bracelet was part of my contemporary jewelry collection that I used to sell a while ago. I believe it is a timeless bracelet that looks great with this dress and probably many other items in your closet.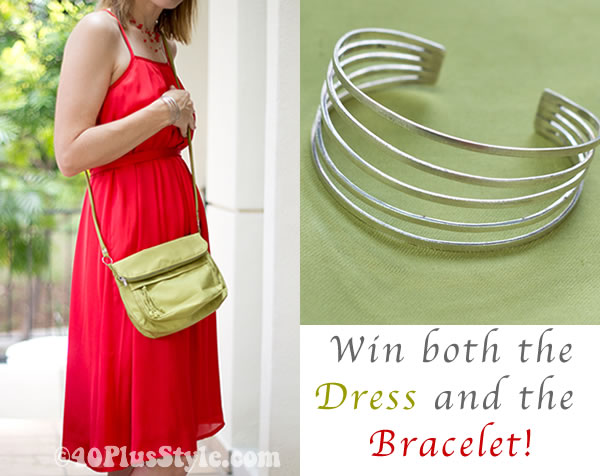 Since my last giveaway was only valid in Singapore, I really wanted to do something for all my readers all over the world. So this fantastic giveaway will be open to all. Please make sure you enter a valid email address, so I will be able to contact you. There are many ways to enter this giveaway and all you will have to do is answer one simple question, which will give you one entry. However, if you would like to spread the word or subscribe to my blog etc. (of course if you are already subscribed then that counts too!) then that will give you extra entries to win.
I will leave the form on the site for 2 weeks after which Rafflecopter will randomly pick a winner, so the more entries you have the higher the chance that you will win.
Although the dress is sponsored by Dresstronomy, I am personally sponsoring the bracelet and postage charges. Both the dress and bracelet are brand new and have only been worn for this photoshoot. I hope you will all spread the word and participate in this giveaway! (Linking to visible Monday and Monday Mingle)
I look forward to receiving your feedback on the dress, bracelet and giveway and wish you all good luck!