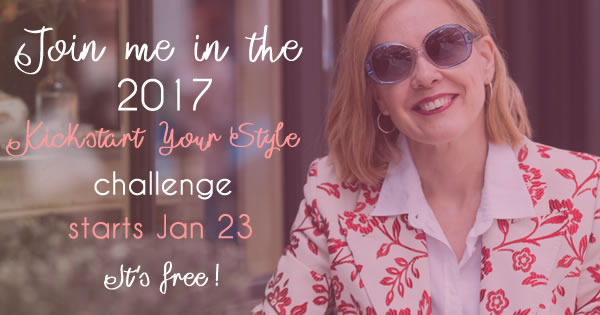 Wow, can you believe it's already 2017?
How time flies!
If you're like me then you want to think ahead and plan a bit.
You may like to think of your goals and what you want to achieve this year.
You may also ponder how you feel about yourself and how the way you look affects your life.
Do you feel beautiful? Do you have the confidence you need to live your life to the fullest?
Do you want to spend less on clothes and only buy those that are sustainable and will last longer?
Do you want to make dressing an effortless, enjoyable activity that adds joy to your life?
If you feel that your style is letting you down and is taking away from your overall confidence and zest for life, you may like to set some style goals for the year as well or find out what it is that makes you feel beautiful and confident.
And the good news is, I can help you with that!
I'm organising a FREE Kickstart your style challenge.
It's a fun challenge where I give you a small style assignment each day.
It will get you right on track when it comes to looking good and feeling amazing every single day.
It will run over 5 days and will not take up much of your time, but you will get lots of clarity on your style and where you want to take it in 2017.
Sounds like fun?
Then sign up on this page. It's free so you have nothing to lose.
The challenge starts next Monday.
Get ready to feel and look amazing this 2017 and have some styling fun.
I look forward to seeing you in the challenge.

P.S. There will be some fabulous prizes too and a free private group where you can interact with all the other women who are doing this challenge. You don't want to miss this!
Related posts: