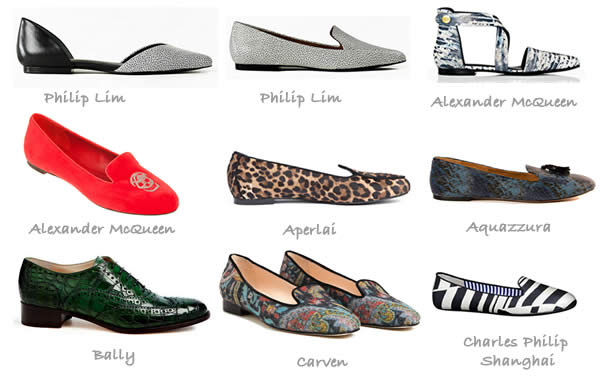 Unlike many women my main focus has always been on clothes. But I'm getting increasingly more interested in shoes now! I believe shoes can really make a difference and together with the right accessories can really spice a standard outfit into something extraordinary. Especially, as you get older, accessories become increasingly more important. There are no limits as to what you can do with them, regardless of age!
Last week I showed you the best mid heel shoes from the fall collections, this week let's focus on practical flat shoes.
It is quite obvious from looking at all the pictures that a big trend this year for flats are shoes that appear to look like bed slippers. They are almost in every collection I have seen and come in a huge variety of colours and prints. A very fun way to spice up any outfit.
Shoes can also be an excellent way to add some colour to your outfit if you prefer not to do that with your clothes. Match with a scarf, jewelery or a hat and you look instantly fashionable, even with basic clothes.
What do you think of the evening slipper style shoes? Anything on your shoe wish list?
Images by Style.com

Related posts: