Happy International Women's day!
It's the perfect time to celebrate innovative female fashion founders. These are women who have created their own fashion brands, and changed the way we dress.
Below, you'll find a few inspirational women who have been established in the fashion industry for decades or are up-and-coming fashion superstars.
I realize that this is only a small fraction of the many trailblazers and female fashion founders, so please leave a comment below the article and tell me which woman has inspired you!
Eileen Fisher
"There's a magic that happens when you put on a piece of clothing that's been pared to its simple, pure essence. It comes alive on your body. It makes you move differently. it changes the way you feel about yourself."
Eileen Fisher started her eponymous brand back in 1984 because she was having trouble getting dressed. At the time, she was working as an interior and graphic designer and had an idea for simple shapes for clothes in great fabrics and proportions.
Although she had just $350 in her bank and she couldn't sew, she designed four shapes and took them to The Boutique Show in New York where she got 3,000 orders. Now, she has grown to a worldwide brand with her "system of shapes that worked together and made getting dressed easy."
Eileen Fisher Short Sleeve Organic Linen Dress
Stella Carakasi
"A number is just a number, but some of us let the number on the (clothing) label destroy our confidence. Even worse, we body shame ourselves to the point where shopping for clothing becomes a humiliating experience, especially when brands don't offer our size."
The Stella Carakasi brand was born in 2012. Stella says she felt a disconnect to what the fashion industry was telling women as many designers dress for the "ideal" women's body rather than for real women.
She describes her brand as at the "leading edge" of a fashion revolution that is not ruled by anything of the moment, or by trends. Stella Carakasi prides itself on being body shape, size and age inclusive as well as choosing eco-friendly and sustainable fabrics and processes.
Stella Carakasi Take Note Vest
LIYA KEBEDE – lemlem
"If you don't have a dream in life, I don't know what you have. You have to want something beyond your reach; it's exciting when it works out."
Founded by 42-year-old supermodel Liya Kebede, the idea for lemlem came after Liya took a trip to her native Ethiopia where she met a group of traditional weavers who no longer had a market for their craft.
Lemlem, which means to bloom and flourish in the Ethiopian language of Amharic, is now committed to supporting artisanship and employment across Africa.
From a design point of view, lemlem is the go-to for easy-breezy, beautifully crafted swimwear, beachwear and summer dresses that are sure to garner plenty of compliments during the warmer months.
lemlem Kelali Stripe Pattern Kaftan Dress
SARA BLAKELY – spanx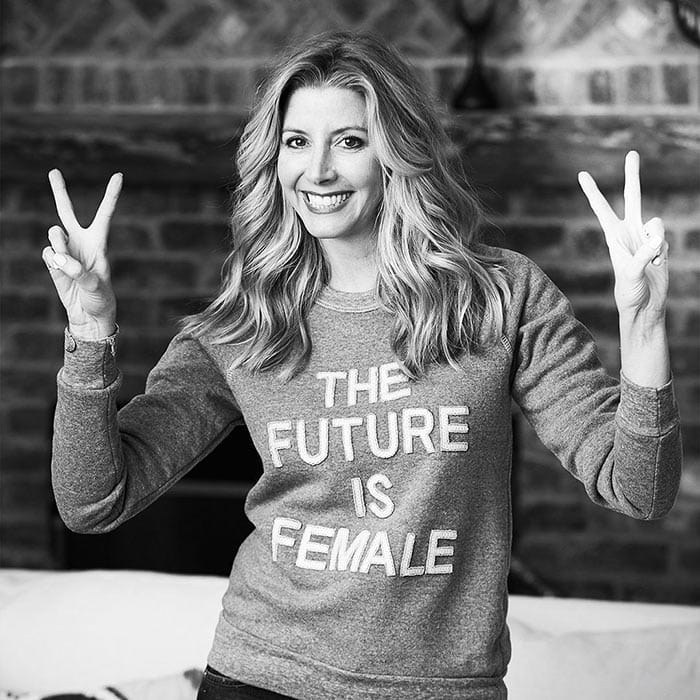 "Don't be intimidated by what you don't know. That can be your greatest strength and ensure that you do things differently from everyone else."
One-time Disney employee Sara Blakely came up with the idea for Spanx while working in the Floridian heat as a door-to-door fax saleswoman. She disliked having to wear tights but liked the way the top of the pantyhose made her body appear firmer and more streamlined.
At the age of just 27, she ploughed her $5,000 savings into her idea and the rest is history. In 2012, she appeared on the cover of Forbes magazine, named as the youngest self-made female billionaire in the world. Her products have been worn by everyone from Oprah Winfrey to Kim Kardashian, and are a must on the red carpet.
Vera Wang
Image from Hello!
"I want people to see the dress, but focus on the woman."
Something of a late bloomer compared to some of the other inspirational female fashion designers on the list, Vera Wang is living proof that if you want to make a career change, you should go for it.
It's safe to say she already knew a thing or two about the fashion industry, having been an editor at Vogue. But, it wasn't until she designed her own wedding dress at the age of 40 that she decided to make fashion designing her career.
She made her name designing wedding dresses and red carpet gowns, but she also has a more accessible range with Kohl's called Simply Vera.
Simply Vera Vera Wang Buena Satchel
Diane Von Furstenberg
"I made this dress that tapped into the Zeitgeist. It was sexy but effortless. Easy and functional. It was empowering just as women were beginning to feel empowered. That was a once-in-a-lifetime thing."
Diane Von Furstenberg was just 27 when she designed her iconic wrap dress in the 1970s. After selling 5 million dresses, she wound up on the cover of Newsweek as the embodiment of female fashion success.
Her business hit a stumbling block, like many others because of the pandemic, but Furstenberg says she is of the belief you should "own" whatever life brings rather than complain, and is switching up her business model to breathe new life into her brand.
She hopes her designs will give other people confidence every day. "That's really what I did with my clothes," she says. "You put on the wrap dress and all of a sudden you're a better version of yourself."
Diane Von Furstenberg Michelle Silk Crepe De Chine Midi Dress
Tory Burch
"There's always a stigma attached to the word 'ambition' and women. I've embraced it. Ambition is NOT a four-letter word and women have to embrace that."
Tory started her company in 2004, from her kitchen table and her business exploded a year later when she was endorsed by Oprah Winfrey, who called her the "next big thing in fashion".
Today, her designs, which combine classic with a modern sensibility, are all over the world and she continues to prove that you can be comfortable AND stylish. She has also launched the Tory Burch Foundation, which empowers female entrepreneurs by providing access to capital, education, mentoring and networking opportunities, supporting female fashion designers of the future.
Tory Burch Minnie Multi Logo Ballet Flat
ADE HAASAN – NUBIAN SKIN
Image from afronoire
"My company emerged out of a genuine need. In 2011, I couldn't find any options for nude undergarments for women with darker skin like me, so I decided I would create what I was seeking."
Ade Haasan set out to create what she couldn't find herself – undergarments that perfectly matched her skintone and didn't show through her clothing. In doing so, she is helping to redefine the concept of "nude" in the fashion industry which, as she rightly points out, is so often used to describe a shade of pale beige.
Her company, Nubian Skin, now sells underwear, shapewear and hosiery in a variety of shades and has gained celebrity fans including the singer Lizzo.
Nubian Skin Cocoa by NS legging shorts
TAMARA HILL NORTON – sweaty betty
"Activewear was masculine and shapeless and I thought it was time to create clothes that made active women feel beautiful and powerful."
Founder, creative director and mum-of-three, Tamara Hill Norton has always lived an active lifestyle, but couldn't find stylish activewear for women.
So, when she was made redundant, she decided it was time to take the plunge, opening her first Sweaty Betty store in 1998. Tamara names the Zero Gravity leggings as her favorite Sweaty Betty piece – as they sculpt your bum as well as being lightweight and technical.
Sweaty Betty Zero Gravity High-Waisted Running Leggings
Grace Wales Bonner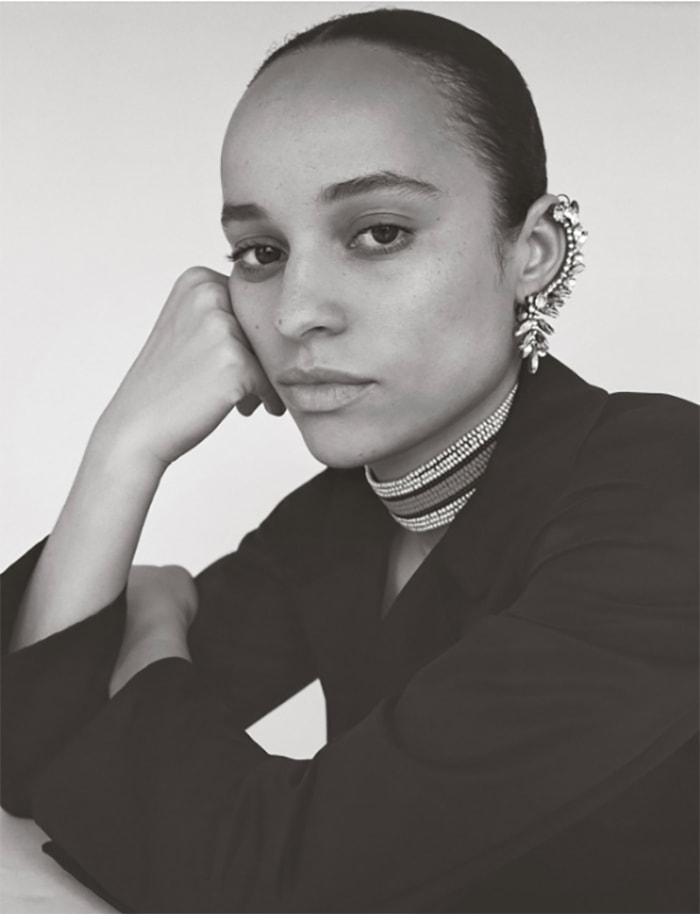 "I'm connecting to a lineage and a history where there are many examples of the very elegant, sophisticated characters that were part of a narrative that just weren't being included."
Her brand Walles Bonner may have been established just a few years ago, but Grace Wales Bonner has quickly garnered a following. Her Jamaican grandfather was a tailor and she is now renowned for her own signature style of suiting.
Mixing European and Afro-Atlantic approaches to design, as befits her own ancestry, Grace's collections also feature influences from the Caribbean music scene. She has collaborated with Dior, and has also just created a very covetable collection with Adidas, in a color palette inspired by Bob Marley.
Wales Bonner Saint Ann Crochet Panel Rib Knitted Skirt
Stella Jean
"I didn't begin my career in fashion to make beautiful dresses – I can't even draw. For me, fashion is very conceptual; I want to share ideas and tell stories through my work; to create a sort of marriage between marriage between my Italian background and international patterns."
---
Roman by way of an Italian father with a Haitian mother, Stella Jean feels she represents an intersecting point between two seemingly opposite cultures.
She narrates through fashion, which she understands to be a tool and not solely an aesthetic landing point.
With bright patterns and colors, Stella Jean's designs are perfect if you want to stand out from the crowd. The Haitian-Italian designer has been worn by a growing army of celebrity fans including Beyoncé, Rihanna and Zendaya.
She has also captured the attention of Giorgio Armani who appreciates her design aesthetic which mixes Western inspiration with the colors of the Global South.
Stella Jean Chemisier Dress with Colibri Print
Jennifer Bailey – CALLA
My lightbulb moment came about because I have suffered from bunions my whole life and it got to a point where I just really struggled finding fashionable shoes to fit my feet or that didn't have my bunions hanging horribly over the side of straps.".
Jennifer Bailey was made redundant six years ago, which coincided with being pregnant with her second child.
She decided to take charge of her life. Having always struggled to find beautiful shoes for herself, she decided to do something about her idea and investigated how shoes were made as well as talking to a podiatfor friend about the complexities of making shoes for bunions.
She launched Calla in 2016, with a small collection of heels and flats for women with bunions and problem feet. Since the launch, Calla shoes have been sold to women in more than 50 countries around the world and the collection is growing every year.
Check out. her collection at Callashoes.com
Special offer: To celebrate International Women's Day and International Foot Week, Calla shoes is offering 40plusstyle readers 20% of all full-price items until the end of March 2021.
Just use the code 40PLUS when prompted at the checkout.
RIHANNA – fenty beauty
"The minute you learn to love yourself, you won't want to be anyone else."
She may have a few more years to go until she can officially join the stylish women of 40+ Style (Rihanna is 33), but her achievements certainly can't be underestimated.
In 2019, the popstar-turned-entrepreneur became the first black woman to head a luxury label for Louis Vuitton (LVMH). Her Fenty fashion house stands along with her lingerie brand Savage x Fenty and her cosmetics firm Fenty Beauty.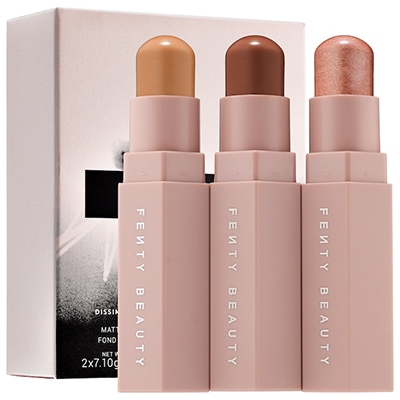 FENTY BEAUTY by Rihanna Match Stix Trio
Which female fashions founders or other women inspire you? Let me know your favorite female trailblazer in a comment below.
Continue reading about other inspiring women:
Like this post on inspirational female fashion founders? Share it on Pinterest!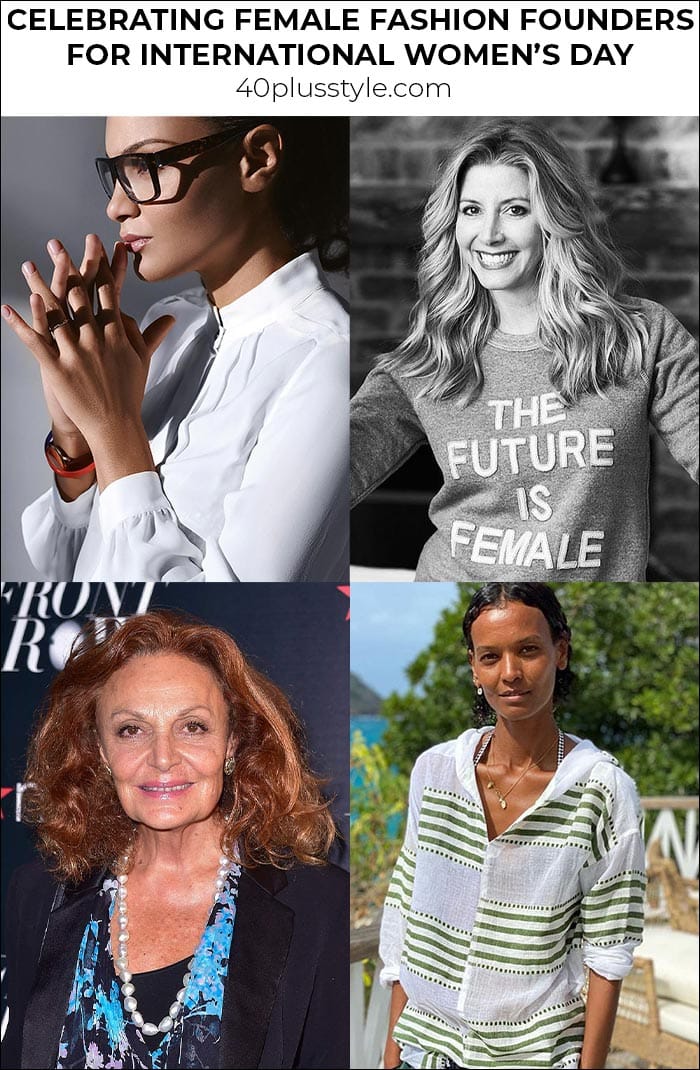 Want to get more articles from 40+style in your inbox, subscribe here.
You can also connect with 40+style on Facebook, Instagram or Pinterest.
Support 40+style by using the links in our articles to shop. As an associate for Amazon and many other brands, we receive a small commission (at no cost to you) on qualifying purchases which enables us to keep creating amazing free content for you. Thanks!