It's been a busy few months with travelling, some projects and family coming over. But today life will almost return to normal when school begins for my son. I'm personally still a big mess though with my hair the surest sign of neglect. Time for some much needed love from the hair stylist and colorist!
As always I'm wondering how to cut and color it. So what better way to find out by looking at the new hair trends for Fall 2013?
These looks were shown during the Fall 2013 fashion presentations but  how can 40+ women apply these hair trends?
1. Relaxed and messy
The trend is towards more casual for Fall and that is reflected in the hairstyles which are more relaxed and messy. Although this style can look good in certain situations and on young models, 40+ women should approach this style with care as it can easily result in a frumpy appearance. The wet look was seen at Prada, Oscar de la Renta, Alberta Ferretti and Roberto Cavalli. Messy textured looks were dominant at Proenza Schouler, Helmut Lang and Vera Wang.
2. Low pony tales
Very casual hairstyles with low pony tales were seen at Rachel Zoe, John Galliano, Chloe, Moschino, Oscar de la Renta and Lanvin. You can tie it either in a very relaxed way as seen at Rachel Zoe or go for a more sleek and strict style as seen at Chloe. Of course this is an easy style to wear for anyone with a bit of length in their hair but women over 40 should wear this style with caution. It can easily look frumpy. So be sure you wear something hip and modern with this style so you will not look dowdy.
3. Sleek
Although messy and unruly were popular, many designers had their models walk the runway in a very sleek hairstyle. Either parted in the middle or at the side or tied in a pony tail. I particularly like the style of Chanel model above although this style can look severe on 40+ women (as mentioned in my 7 best hairstyle tips) Sleek hair can be a very elegant style for women over 40 with the right cut in place.
4. Fake fringes
Another way to create a casual, tomboyish style is with a fake fringe, where the hair is swept over the forehead. This could be a slightly more modern look for those with long hair. It would give you a slightly edgier look that would fit well with more androgynous clothing. This style was seen at Dries van Noten, Marni, Tracy Reese and Rag & Bone.
5. Braids and buns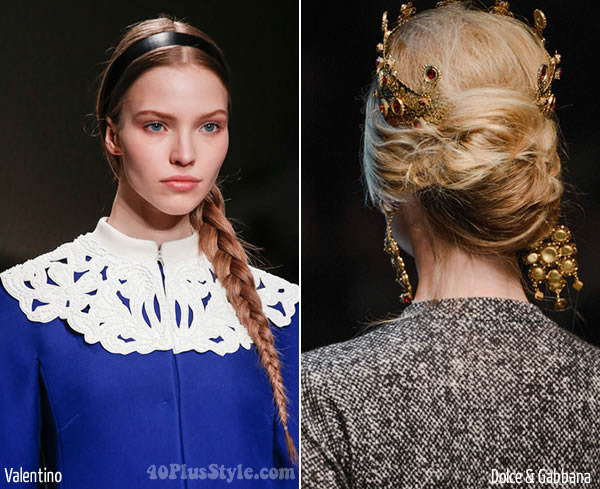 The braid was back as well and seen at Valentino, Rodarte, Christian Siriano and Fendi. Not an easy style for women over 40 and I feel most 40+ women would fare better with a deconstructed bun which was seen at Dolce & Gabbana, Marchesa, Zac Posen and Prabal Gurung.
6. Bobs
There were not a lot of bobs on the runway but I loved these ones at Anna Sui. I feel that many hairstyles presented at the fashion shows were more suitable for younger women, whilst shorter hairstyles like bobs and short cuts that traditionally look good on women over 40 were underrepresented. This style still follows the tomboyish trend and would be a great option for the modern 40+ woman.
7. Short cuts
Not many models have short hair and that may be one reason short hairstyles were not well represented. Mary Katrantzou's models showed a bowl hairstyle which was also featured at Chanel.
Inspiration from other women over 40 and Pinterest
Although the catwalks can give a good idea of overall hair trends, I often find I get more inspiration from my fellow 40+ bloggers. I'm inspired by Catherine's bright red hair color, Stephanie's asymmetric cut, Ann's beautiful bob and Lissy's younthful bob with fringe.
I can also rely on my trusty hairstyles pinboard where you will find lots of examples of haircuts that will look amazing on women over 40, so be sure to check those out and follow the board!
What hair style are your planning for Fall 2013?

P.S. Stay tuned for the fall 2013 fashion trends coming up later this week!
Catwalk images by Style.com
Related posts: