This week, it's all about the fabulous 2015 Nordstrom Anniversary Sale! One of the best sales of the year as you can get discounts on the new collection! Although I'm sure that many of you are familiar with it, here's a quick recap:
It happens every year, usually in July.
The discounts are on the clothes and cosmetics in the annual Pre-Fall collection, not on any other part of the Nordstrom catalog.
The Pre-Fall clothes and cosmetics are usually items that are either exclusive to Nordstrom or will be released to Nordstrom quite a bit before other big stores – in other words, very exclusive goods.
Nordstrom Rewards members have Early Access benefits – that means that members get to shop the Pre-Fall sale between July 9 and July 16, 2015, before the sale is opened to everyone on July 17.
Non-members have access to the sale between July 17 anf August 2, 2015.
Exciting stuff, but surely with timelines as tight as these, one needs to do a bit of advance planning, right? There are several things you can do. First of all, you can preview the catalog here, which is very useful for planning ahead. You can also head over to Nordstrom's to scope out the Pre-Fall stuff yourself.
Or take a look at a few look books I've curated in advance from clothes that will likely be included in the pre-fall sales, available as boutiques to make clicking through as easy as pie. I've grouped them into broad themes that I've seen emerging from the F/W 15 RTW shows, so happy browsing!
I realise that these clothes are very premium but they may serve as a trend guide in order for you to select more affordable pieces.
Sturm und Drang Colors for Fall – Petrol Blue, Storm Grey, Sludge Green, and Deep Wine
The advancing storm clouds, gray clouds, piles of leaves, and general cosiness of Fall require a similar change of mood in the colors we wear. For Fall, sludgy, moody greys, blues, teals, and maroons are just perfect. Wear them with slim black pants or dark denims for maximum impact.

Alternatively…Go Candy Bright
If you're the type of person who faces into winter with a heavy heart, why not fight back against the blues by filling your wardrobe with pops of bright primary colors? There is nothing that lifts the spirits more than grabbing the straps of a tote the color of the candies you might find in your children's Halloween goody bags! Go crazy with fuschia, cerulean blue, and hot orange – just remember to limit it to one piece and to set it off against a palette of neutrals or plain black for maximum impact and chic.

Modern Retro – the 70s with a Sleek Twist
The 70's look was one of the key looks of the season in F/W 2015, and will of course appeal to anyone with a sense of nostalgia for the good times back then! My curated boutique here shows a series of stream-lined, rather modern pieces that while being inspired by the 70s, are not totally beholden to them. The key is to retain as much simplicity of line as possible and not to get clogged down in too many 'authentic' details, such as fringes and so on – keep these details to the edges, i.e., to the accessories and shoes.

Seeing Red
Red is a clear emerging trend this season. Nothing draws heat and attention more than the color red – it is passionate, sensual, bold, and also direct. It requires a maturity and sophistication of attitude on the part of the woman wearing it to pull it off. But done correctly and with panache, red is the most stunning color of them all. Femme fatale or woman in charge – it's up to you how you want to wear it.

Architectural Clothes – Statement Pieces
Here is what is fiercely chic right now – take one core piece of your look (your coat, your shirt, your top) and make it an architectural talking point. Clothes can be architectural too, you know – look at jagged hems, asymmetry, boxy cuts, and 'away from the body' tailoring. All of these features are designed to shape the space between your body and the clothes in the way a building makes a shape through the air. All of the clothes in the boutique below are standalone statement pieces, and will provide that sharp, modern effect that you get when you are looking at a Frank Lloyd Wright building.

What do you fancy for coming Fall?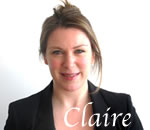 Claire Vukcevic is a mother of 2 who is passionate about fragrances and how it relates to style. She contributes articles on fragrance, style and dressing to 40+Style. She currently lives in Ireland.
Related posts: