First of all, the Nordstrom Anniversary Sale finally opens to the public today! The early access sale has ended, which means that the sale is now opened to those of us who do not have membership cards.
This is one of the best sales of the year as it offers discounted prices on NEW items for fall!
The sale is on until August 2, so take a look at the looks I've put together below, and click through to the sales item in question. Sylvia has also added some of her favorites in a second boutique at the bottom.
But there are other great sales going on at the moment which I'd also like to highlight for you today.
J.Crew has a 30% discount valid on the purchase of select items in J.Crew stores and at jcrew.com from July 13, 2015, 12:01am ET through July 20, 2015, 11:59pm ET. The discount is valid on items marked "30% off with code GOSHOPPING" at jcrew.com. However, on the site itself, you can find items that are also up to 60% off, so there are great bargains to be had all around.
Rag and Bone has an additional 25% off sales items – use the code HURRAH25 at checkout. Rag and Bone is great for cool jeans, jackets, shirts, and shoes – all modern, cool, minimalistic clothes that would make any outfit instantly cool and young-looking.
Need Supply Co. has an extra 30% off all sale items now on, if you use the code GRAB30. This store is great for key items to pull a look together. The offers are really good, with heavily discounted items available.
Azalea is another great store with a collection of clothes and brands carefully curated to appeal to the fashion-conscious shopper on the look-out for that one key piece. Azalea currently has a further 30% off all their sale items, code REDWHITE30, which gives you some fabulous deals.
The inspiration for today's looks: one great pair of jeans…..
Jeans are probably the most versatile piece of clothing in our wardrobe, as they can be dressed up or down according to your needs, are made of tough material, and are easy to care for. Therefore, this week, I am going to choose one great pair of jeans (always start with the best you can afford, if it is a key piece) and dress it up and down for four different scenarios.
The jeans I have chosen are the 7 for All Mankind "Josefina" jeans in dark wash, an exclusive for Nordstrom. They cost $129.90 in the Nordstrom Anniversary Sale, down from the regular price of $198, representing a 34% saving (just to remind you – come August 2, the sales price will revert to the regular pricing).
Look 1: Country Casual
In this scenario, I imagine you taking a trip out to the family log cabin by the lakeside for the weekend. There will be a lot of walking around leafy lanes, cooking outdoors, and general chilling-out going on. The weather is always a little cooler out in the countryside, so a cozy (but also lightweight) poncho, like this great Curio color block poncho, is nice option. This particular poncho costs $84.90 in the Nordstrom sale, down from $128, for a 34% saving.
I've paired the poncho with a lightweight summer beach sweater from the J.Crew sale, $89.90 down from $95, but with the additional 30% off with the code GOSHOPPING, it comes to $62.93, representing a total reduction of 34%. A pair of brown leather boots, like these ones from Frye, would be excellent for kicking leaves ($279.90 in the Nordstrom sale, 33% off), and this stunning Collina Strada black leather bag with ribbon detail (originally $395, but now $207.89 with the code GRAB30 at Need Supply Co.) is both stylish and roomy enough to collect the more interesting leaf specimens you spot.
A nice black felt Fedora from the Rag and Bone sale, $101.25 when you use the code HURRAH25 at checkout (a 48% reduction on the original retail price), and a nice pair of navy sunnies from Need Supply Co. ($97.29 down from the original price of $185, for a saving of 47% – remember to use the code) complete this casual look.
Look 2: Biker Chic
Turn the jeans into a chic, tough biker look with a draped collar leather jacket, leather ankle boots, and edgy silver accessories – no matter what age you are, this look is timelessly cool and urban. The perfect look for a day out shopping in town or for a lunch with friends.
Here I've paired the same pair of jeans with a Trouve leather drape collar jacket from the Nordstrom anniversary sale – $219.90 down from $328 (33% off the regular price), a silky black Excel shirt by Rag and Bone (originally $350, but now $131.25 in the Rag and Bone sale using the code, for a saving of 62.5%!), a gorgeous black Rebecca Minkoff Moto Hobo bag (Nordstrom sale, $216.90 down from $325, a 33% reduction), and a chic Louise et Cie 'Zalia' ankle bootie in black leather, another Nordstrom exclusive ($119.90, down from $178.95, for a saving of 33%).
A stunning silver ring – chunky enough to stand out but slim enough to still be classy – finishes off the look. Here I've chosen a Lauren Wolf Stingray Spike ring from the Azalea sale – reduced to $42 from $150 when you use the code REDWHITE30, which is a whopping 72% reduction in price.
Look 3: Beachcomber Babe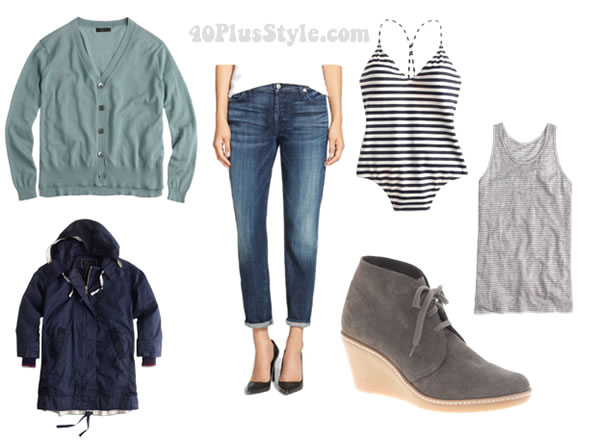 No need to sacrifice chic for comfort when going to the beach – after all, who knows when the weather will turn and you need to be ready to head to the nearest cafe or hotspot? Come prepared with lots of light layers that can be taken off as and when needed, and think about putting a timeless one-piece swimsuit, such as this blue and white striped one from the J.Crew sale ($31.99 when you use the code GOSHOPPING on the sales price, a 67% saving from the original price of $98), underneath so that you don't have to struggle to change on the beach.
I've paired the jeans here with lots and lots of light layers for maximum maneuverability and combinations depending on the weather. First, there is a lightweight J.Crew summer cardigan, as thin as gossamer (originally $79.50, but now $32.99 when the code GOSHOPPING is applied, for a 58.5% saving), a stripey J.Crew linen tank top ($13.99 with the code, 60% off the original price of $35), and gray J.Crew suede wedge booties ($55.99 when the code is used, which is almost 72% reduced from the original price of $198).
I've also scoped out a wonderful resin-coated twill jacket from J.Crew that is lightweight enough for summer but will perform as hoped in sudden downpours! The jacket originally cost $198, but when you use the further 60% off code GOSHOPPING on the sales price of $79.99, the final price goes down to an unmissable $31.99! That's an incredible total saving of almost 84%!
Look 4: Night Out
Finally, I am taking that great pair of jeans out for a night on the town! For the ultimate in flattering fit and fabrics, I've gone for a loose silk blouse by Tibi in soft nude / pink ($159.90 in the Nordstrom anniversary sale, down from $245 – a 35% reduction) and a loose, boxy-cut, collar-less jacket in the eternally cool 50's style from the Azalea sale ($36.40 with the code REDWHITE30, down from $131, for a total saving of 72%). Not only does the loose styles of these items flatter, but the blush color of the blouse will light up your face like candlelight and the black and white pattern of the coat is less severe than all black for a night out.
The accessories bring a little bit of sexiness and glamour to the stylishness of the main pieces, namely a pair of high-heeled leather pumps by Joe in black ($99 in the Nordstrom anniversary sale, 34% off the regular price of $149.95), a '440' leather embossed clutch by Diane Von Furstenberg ($165.90 in the Nordstrom anniversary sale, 34% off the regular price of $248), and a sleek brushed bronze/blush chunky bracelet by J.Crew to finish off the look ($15.99 using the code GOSHOPPING, a 79% saving on the original price of $75).
If you've enjoyed these looks, why not shop our boutique!

Some of Sylvia's favorites from the sale!
Here are some of the reasons behind Sylvia's picks:

What are your favorite picks from the Nordstrom anniversary sale?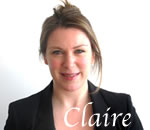 Claire Vukcevic is a mother of 2 who is passionate about fragrances and how it relates to style. She contributes articles on fragrance, style and dressing to 40+Style. She currently lives in Ireland.
Related posts: