We've spotted a few great sales going on this week!
Here's a round-up of some of the best:
Nordstrom has a summer sale on at the moment, with discounts of up to 40% off RRP. The sale ends on June 28, so be sure to check it out before then.
J.Crew has a fabulous sale on right now! There's a 40% discount available on all sale items in J.Crew stores and at jcrew.com – just look for items marked "Extra 40% off with code GOSHOPPING."
Old Navy has a 50% off sale running at the moment, including on their newest stock – a perfect time to stock up on casual tees and shorts in time for the beach.
For footwear, check out Ninewest.com – they're running a 25% sale on all summer sandals at the moment, and there's up to 50% off RRP for all other types of women's shoes in the sales category.
Forzieri has an amazing sale on their designer handbags and accessories – I've seen discounts of 40, 50, and even 60% off RRP! If you have your eye on a beautiful handbag, head on over there ASAP! I spotted a beautiful blue leather choker by Marni that used to be $1,136 and is now $284 (the choker is in the boutique below, but still carries the old price – head directly to the store to get the discount).
For chic investment pieces, head on over to Farfetch.com. They are running a 40% off sale. If there's something exclusive you have your eye on, this might be just the time to pick it up in the Farfetch sale.
In a similar vein, Barney's is running a sale of up to 60% for their menswear, but we've checked, and their women's designer pieces are also heavily discounted in the sales section – up to 50% off RRP.
Saks Fifth Avenue has a sale of up to 60% off selected items in their high-end designer lines.
Stylebop.com has a sale on as well – up to 40% on selected items. Check it out!
Some Super Chic Looks Using Summer Brights
I've been scanning the sales this week, and I've picked out a few pieces in bright summer colors around which to build chic looks. Summer brights such as pink, yellow, blue, and green can add a juicy pop of color to an outfit and look very eye-catching. In each of the three looks I've put together, I've chosen one core piece in a bright summer color, and shown you how to build around it using neutrals, pastels, and black.
Look 1
For the first look above, I've chosen a banana yellow tailored pant by 3.1 Philip Lim, $210 in the Stylebop.com sale, a 40% saving on the retail price. I've chosen this pant because not only does it come in a summery color, but it is also very tailored, chic, and lightweight, making it a perfect choice for a daytime look for a businesswoman.
I've paired the bright pant with a light grey cotton flounce top from J.Crew ($17.50 when the GOSHOPPING code is applied on the sales price, representing a saving of almost 65%), a white textured crop jacket from Armani Jeans from the Farfetch.com sale ($125.53, which is 50% off the original price), and a chic pair of gray-and-white Andriana pumps from the Ninewest.com sale ($49.99, down from $79, for a total saving of 36%).
Gray and white pair well with bright, summery colors such as lemon, custard, yellow, and banana – they tend to bring the brightness down a bit and render it a tasteful look for daytime.
Look 2
A fabulous, bright pink-and-pastel fitted skirt from J.Crew is the cornerstone of the next look – it costs $89.99 in the J.Crew sale, down from $118 (a saving of almost 24%). This is a great little piece, because not only does it come in a mouth-watering juicy watermelon color, which is perfect for summer, but it is has an asymmetrical cut in the front panel, which brings it in line with the asymmetry trend seen in the S/S 15 RTW shows.
For this look, I've chosen to go tone-on-tone, pairing the bright pink of the skirt with a softer pink in the blouse and an even brighter, hot pink in the shoes. This type of tone-on-tone looks so fresh and pretty, and would look extremely elegant for a client meeting or a corporate event held outdoors.
The soft pink shirt is a drape silk top by 3.1 Philip Lim from the Farfetch.com sale, and costs $176.19, down from $352.38 (a saving of exactly 50%). The shoes are the bright pink Deputy D'Orsay flats from the Ninewest.com sale – $39.99, a saving of 42% off full retail price.
Look 3
This look is a little tougher, sexier, and perhaps more suited to a night out – but with a few adjustments it could be worn as a daytime look too, in the office. The centerpiece of this look is a bright blue and black fitted dress by Diane Von Furstenberg, $128.42 in the Farfetch.com sale, which is a whopping 65% off the original price!
This is a wonderful piece because it is bright, but also has a black and blue pattern panel running down the center of the dress that makes it extremely slimming. The print itself is ethnic-inspired, and it brings an edgy, tough, urban edge to the dress.
I've paired this with a black, fitted P.A.R.O.S.H. Raquel Jacket that has an edgy, asymmetrical zip up the front to accentuate the urban look of the outfit ($137.89, which is 40% off). Korkscrew pointed pumps in black (but with a low, comfortable heel) from Ninewest at $59.99 (24% off retail) and a black Rebecca Minkoff quilted mini Affair bag from Nordstrom ($156, which is 20% off the regular price) complete this chic look.
If you're interested in shopping for these or similar 'summer brights' items, take a little wander through our boutique here: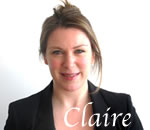 Claire Vukcevic is a mother of 2 who is passionate about fragrances and how it relates to style. She contributes articles on fragrance, style and dressing to 40+Style. She currently lives in Ireland.