Isabelle Persenda, the owner of In Situ in Singapore is a smart woman. Her interior design shop is one year old and instead of just celebrating with a simple party in her shop, she invited some great designers over from The Philippines to showcase their jewelry and fashion.
She knew that people like myself and Anja can't resist discovering new designers so we accepted her invitation to come and have a look.
Here are just a few impressions from the event.
We were offered some special green wine.
It wasn't quite clear who the designer of these tribal inspired pieces was.
Some of the interior pieces from In Situ.
I was very taken by the jewelry of this designer Ken Samudio and bought 2 pieces.
He makes some fabulous hand bags too.
Another great jewelry brand from the Philippines was The House of Serafina. Here is one of the owners in a beautiful Chanel dress (photo by Anja).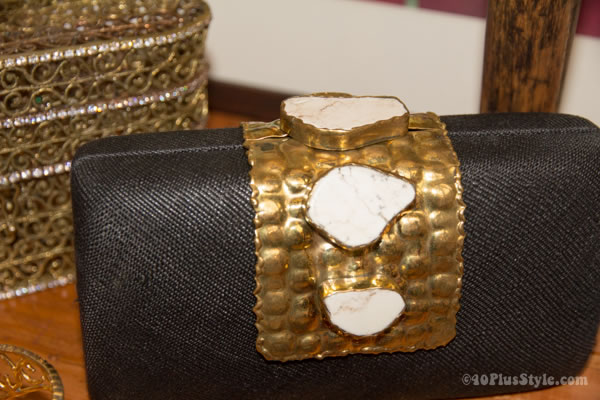 2 fashionable looking ladies.
And here are Anja and me in an outfit that I created especially for the short jacket challenge.
We were spoiled with these sweet canapes.
Thanks Isabelle for a lovely little party and the great necklaces I found!
I actually wore one of them the next week in this black and white outfit.
I hope you found something that inspired you in this article? Would you be tempted by any of the products on offer?